Greenwood Lake's "Champagne Lady"
or 'The New Jersey Connie'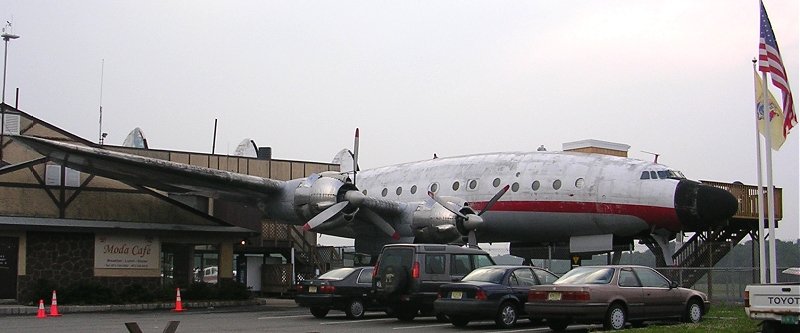 [Photo: John W Rosa] [July 19, 2005, serving as a flight school office, the Lady awaits rescue.]
Lockheed Constellation, Model L-049-46, Lockheed's first civilian Constellation Model
Construction # 2072, Air France's first Constellation
Initial registration F-BAZA (Air France), 1946-1950
Subsequent registration N9412H, 1950-present
Click here for specifications and advertisements for the L-049 and other Connies!
Click here for a detailed history of this classic airliner! **UPDATED August 2, 2007**
Click here for details on its condition as of 2006!
Click here for information on what the future may hold for this grand lady!
Click here for information on some vintage Connie photos I've discovered among family photos!
NOTE: If you have solid information about, and/or more photos of this particular airplane from anytime between 1946 and 1990, please contact me to include them here! Click here to Email me!
What's so special about it?
Volumes have been written regarding the Constellation's place in history, her beauty, her utility, and her performance. I can't tell you more than has already been said in those regards.
The above question, though, applies to this specific plane…this one airplane.
She is the third-oldest Connie still existing in the world. The oldest, a C-69 model, is also in the USA.
This plane is the only L-049 in the USA. The only other existing L-049 is in South America.
The older two Connies are not currently flyable, though the C-69 is in very nice shape, on display in Arizona.
If this Connie returned to the air, she'd be the oldest flyable Connie in the world.
She is the only surviving Air France L049.
If those aren't reasons enough to restore her, note these facts-
This Connie is special because she was built early on, so she received the cockpit skylight windows, the astrodome bubble, and a retractable tail bumper skid. These features were dropped after a short time, so it's rare for these features to be on a civilian Connie. Even earlier in production, the nose gear did not steer- the plane turned by applying the brakes on one of the two the main landing gear and throttling up the opposite-side engines…yuck! Luckily, this plane was built when the new, steerable front gear became available…whew! Thus, the combination of steerable front gear AND the extra glass on top was a matter of being in the right place at the right time for this bird.
Another nifty feature of the L049 Model Connies is that the wings have internal crawl spaces so that, if really necessary, a flight engineer could access the engines directly, by hand, by dropping through a hatch in the passenger area floor to the cargo hold below, then crawling inside the wings, right up to the engine having trouble!! While this feature was rarely, if ever, used in flight, it's another oddball feature not found on the later Connie variations.