Greenwood Lake's "Champagne Lady"
or 'The New Jersey Connie'
The History of N9412H
Compiled by John W. Rosa
from numerous sources in print, online and direct contact with contributors.
Most dates here are indicated by month and year. For day-specific information, and much, much more on all the 'Connies',
I recommend you get Peter J. Marson's 2007 revision of his 'The Lockheed Constellation', published by Air Britain.
NOTE: If you have photos of this particular airplane taken at anytime between 1946 and 1990, please contact me to include them here!
Generally speaking, Lockheed's design for the Constellation was finished in 1939. Howard Hughes immediately ordered the first 40 "Connies" for TWA, expecting a two-year-plus exclusive before another carrier could get their own. But World War Two caused initial production to be commandeered by the military, so TWA, and others, would have to wait until the war's end in 1945. At that time, TWA quickly bought the military's Connies, 'C-69' models that Lockheed converted to L-049 specs, in addition to taking delivery of many of the first new planes Lockheed was building.
1946
Air France had ordered four new L-049-51-26s (meaning the 049 model with '51'-model engines and the code-'26' 'over-ocean' 47-seat configuration) and the first (F-BAZA, construction number 2072) was delivered to French hands in New York in time for it's first New York to Paris flight (non-passenger ferry) on July 9, 1946 (based on the Captain of that flight- see photo below). It arrived at Orly on the 11th.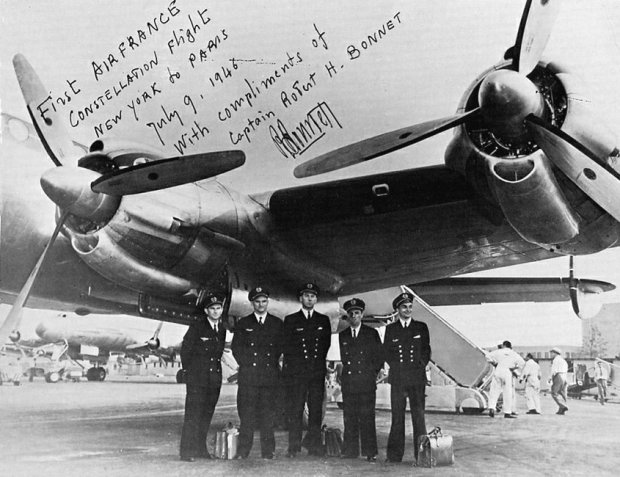 [Original Photo, Unknown] Here is the flight crew for F-BAZA's first Atlantic Ocean crossing. Some sources state this plane was delivered in September, 1946, but this photo is signed by the Captain of the flight, clearly dating it in early July. The plane's dash shows it was constructed in June 1946. So the September suggestion is wrong.
Soon after delivery, Air France decided they wanted to change their order to have the '46'-model engines, so F-BAZA was ferried back to Lockheed for the conversion…before ever carrying a single paying passenger!
The remaining three Air France L-049 Connies were construction numbers 2073 through 2075, and were registered F-BAZB, F-BAZC and F-BAZD. They were not delivered until mid-October through early-December, 1946, as they, too were converted to L-049-46-26 versions in Burbank, California. All four of these planes still featured the military's C-69-type 'eyebrow' windows and a dorsal 'astrodome'.
1947
Finally, on January 3, 1947, F-BAZA flew Air France's inaugural Paris-New York flight (four days BEFORE receiving an official Certificate of Airworthiness!! Try getting away with a stunt like that today!)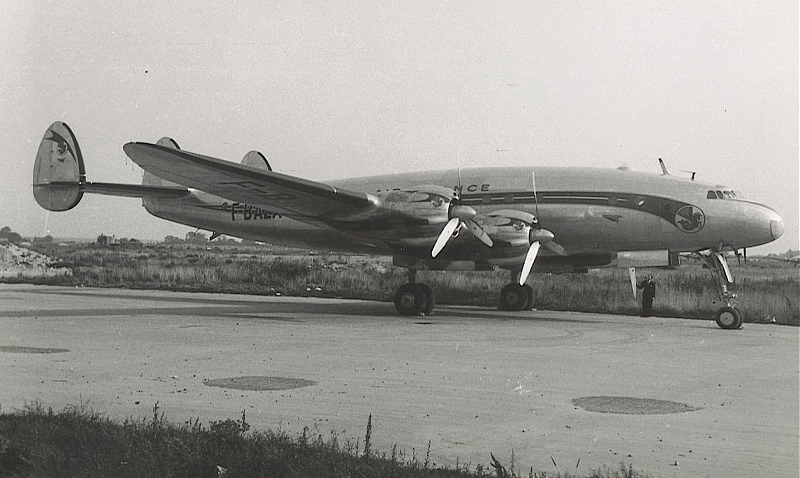 [Original Photo, ….. ] Here is our Lady in her original livery for Air France.
NOTE her rare, retractable tail skid, fully extended here!

[Original Photo, FRANCEPRESSE 42.147 F EUR] This photo, taken on July 1, 1947 at LaGuardia Airport in New York City after her starboard main landing gear collapsed.
The plane was less than a year old!
F-BAZA had a significant mishap on July 1, 1947 at LaGuardia Airport in New York City after the starboard main landing gear collapsed. Note that, in the photo above, all three prop blades on each starboard engine have their tips bent, and the plane is mostly off the pavement, in the grass and the forward gear has dug a trench. I would guess it was taxing under power when perhaps a hydraulic failure caused the gear to unlock and retract under the plane's weight. The pilot got this far off the taxiway before the wing contacted the ground. The engines were likely stopped very quickly as the wing was dropping as damage to the props is rather minimal. The outer starboard #4 engine is covered in foam but appears minimally damaged. Perhaps it was coughing up a lot of smoke, and foam was applied as a precaution. Again…these are all my assumptions based on the one photo.
Thankfully, damage was mild enough that she was not 'written off' (scrapped) and she was repaired and returned to service. She came awful close to having one very short life!
Also note that the plane is in service for Air France and has its astrodome and skylight windows prominently visible.
A postcard exists from the era featuring a painting that shows F-BAZB wearing slightly refined livery. It shows a white-top fuselage, no rear stabilizer flourishes nor the logos on the engine cowlings, and the extra top glass pieces are gone. My personal opinion is that the artist based this painting off of first-hand viewing of the new L-749s, but borrowed the registry of F-BAZB for some odd reason. This is because the white-top paintjob began in 1951, but BAZB was sold in January 1950 to TWA…so it never had such a painjob.
1950-1959

[Photo: Unknown] This photo is represented elsewhere online as being N9412H, but I can't personally confirm this as the photo is too grainy to determine the tail's registry number..
Air France upgraded by 1950 and in January sold their four L049s to TWA, which christened c/n 2072 F-BAZA as 'The Star of the Azores' with her new US registration number being N9412H. TWA returned the planes to Lockheed for preparation to TWA 'First Class' standards. This included the addition of several windows on the fuselage and new seating arrangements. TWA then had them painted in their red and white livery (the red/silver scheme was no longer is use). N9412H was converted yet again in 1952 (to 'Coach Class') and flew through September, 1959 before TWA sold all four former Air France L-049s off.
1959-1962

[Photo: J. Roger Bentley] This photo is represented elsewhere online as being taken in Jun 1966,
but is more likely from early 1963, as reports indicate the plane was with other airlines throughout 1966.
Click here for another photo of this Connie in its Air Burundi livery.
N9412H was bought by 'California Airmotive' in August, 1959 who resold it to 'Las Vegas Hacienda' in September. By this time, regulations required all airliners to have weather radar installed. By July, 1962 it was leased to 'World Wide Airlines', then to 'Royal Air Burundi' in December, where it was re-christened "Umuganwa Ludovika Rwagasore" (catchy, eh?). Photos of this plane in 1962, and after, show it sporting its longer, black, radar-equipped (and to my eye, less attractive) nose.
1963

[Photo: Peter M. Bowers] This shot is likely from sometime in mid to late 1963.
By June, 1963, she was back off-lease and stored in California, but before the year was out, it had been leased to 'Edde Airlines'.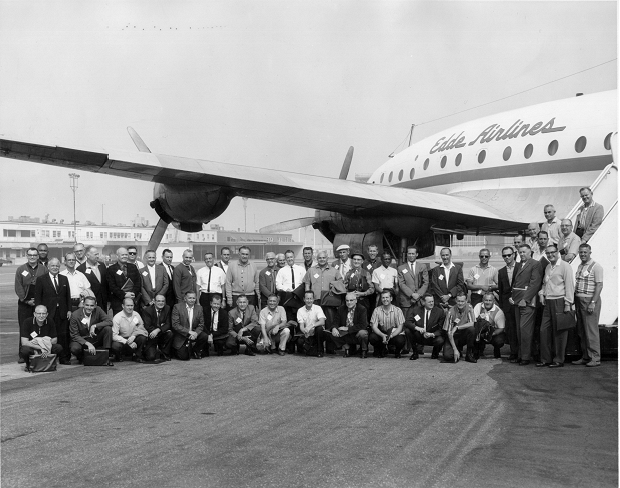 [Photo: Unknown] I have it on good authority that this is a shot of passengers (possibly a Moose Lodge group) under one of Edde's two Constellations.
Chances are 50/50 it is or isn't N9412H but my guess it is NOT. Note the wider stripe and thicker lettering than the prior photo.
From 1963 to 1965, though ownership changed several times (to Trans World Insurance Brokers in December, 1964, then back to Las Vegas Hacienda in April 1965), its lessee remained 'Edde Airlines'.
1966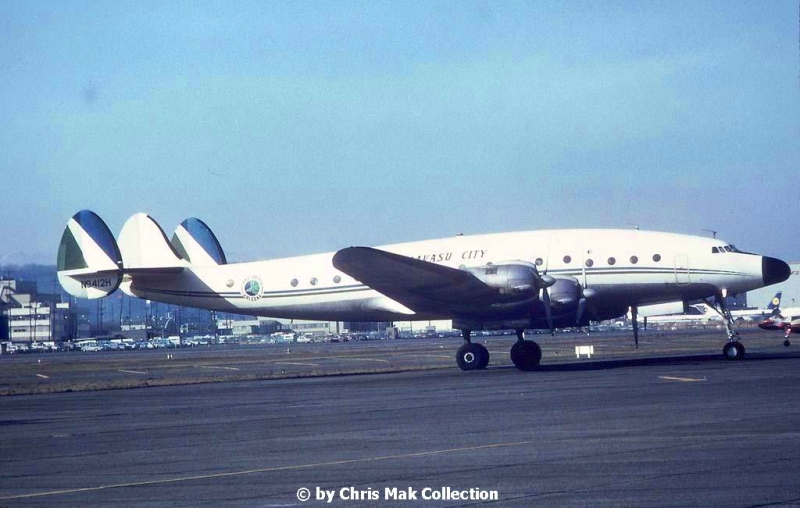 In May, 1966, she was sold to 'McCulloch Properties' flying under the livery of 'Lake Havasu City'- a free shuttle service for potential home buyers to visit new properties in Arizona. Note that the twin-stripes paintjob will not be changed again until the plane is retired from flight to New Jersey.
1968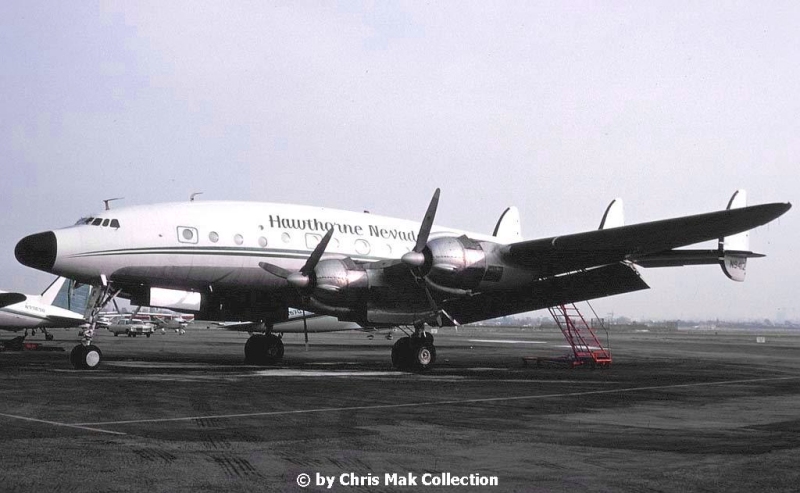 In June, 1968, she was sold to 'Mineral County Airlines' flying as 'Hawthorne Nevada Airlines', then…
1969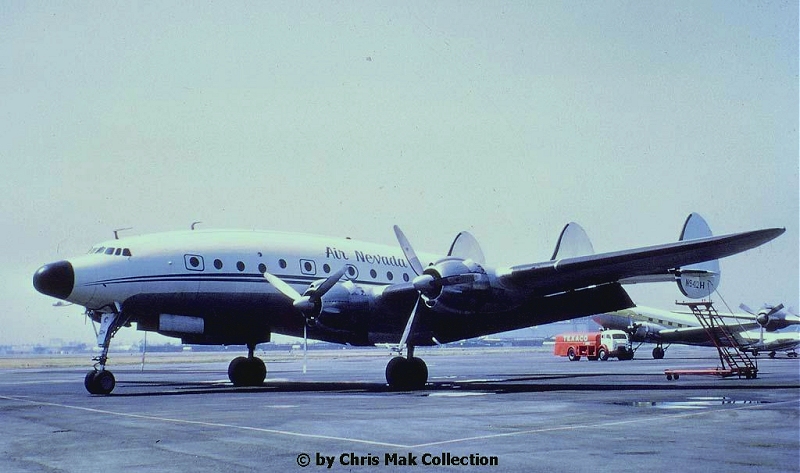 'Hawthorne Nevada' was renamed 'Air Nevada' in March, 1969, shortly before the airline folded that same September. It is likely that during this final livery is when she was christened 'The Champagne Lady' and had her nose marked as such.
Meanwhile, between 1964 and 1970, her three Air France sister ships had each been scrapped- N9412H is the only surviving Air France L-049.
1970-1976

[Photo: Jack Bol] This shot was likely taken in the early 1970s while stored in Arizona.
From late 1969 through 1976, she was shuttled between various storage facilities in California and Arizona, awaiting a new buyer and a return to regular flight.
That, of course, has never happened.
1977-2007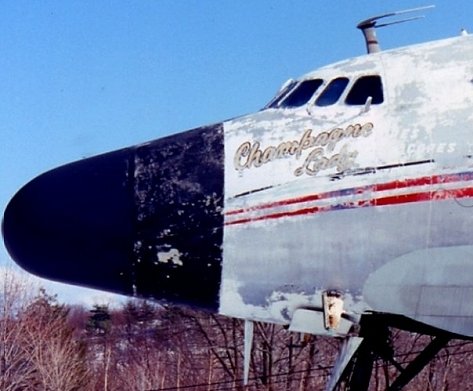 [Photo: Daniel L. Berek] Nose markings still visible in 1992. Note the TWA 'Star of the Azores'
remnants in a brighter white, just to the right of the 'Champagne Lady' logo.
In 1976, Frank Lembo Enterprises (owners of Grenwood Lake Airport in West Milford, New Jersey) bought her for $45,000 for use as a restaurant & lounge project. The plane was serviced for her final flight and made the journey around July of 1977, landing on GLA's short, 2700-foot runway. She was placed against the airport's main building and anchored in place.
To date, she has never flown again.

[Photo: Daniel L. Berek] Greenwood Lake Airport, West Milford, New Jersey, 1992
Despite Frank Lembo's death in 1979, by 1981, the interior changes had been completed, a stairway built and large doorways cut into the fuselage, port-front and starboard-rear. The restaurant opened in February… and quickly closed in December due to a lack of customers.
The plane then sat, unused and neglected until 1996 or so, when it was used as a pilot's shop (selling gear for the private plane owners that frequent the airport). But once again, the plane was closed up and treated as a storage shed.
Rumor has it that around the time she served as a shop, someone decided to see if they could get the long-idle engines to fire up. While three of them seemed unwilling, #2 was said to have started and run quite well.
In 2000, the State of New Jersey purchased the airport…and in the same deal, got the plane. Still, the plane sat unused. But in 2005, a flight school began using the plane as its office, so changes were again made inside, and a large deck added to the front, port side of the fuselage. The tarmac was also treated to a new chain-link fence surrounding the plane. In 2006, new asphalt was laid all around the Connie's pen (but not under her…cuz she's heavy!)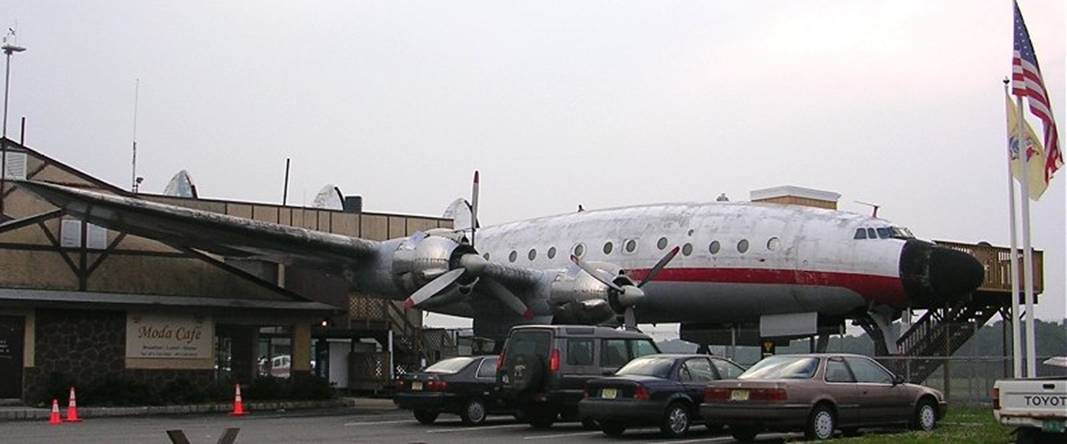 Photo: John W Rosa, June, 2005
So….who wants to make this ol' girl fly again? Bring your checkbook!!
Here's a nice treat I found recently (July 2007)…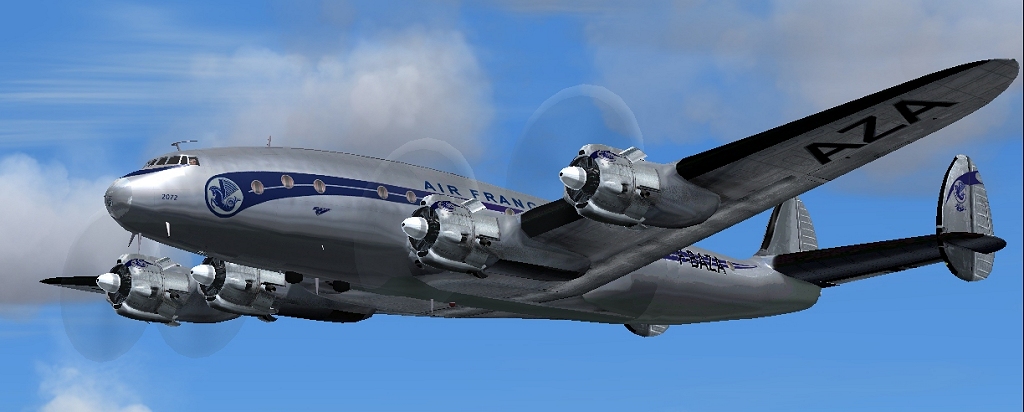 A group of Flight Simulator hobbyists created an 'add-on' plane model for Microsoft's 'Flight Simulator 2004'
which adds a very accurate L049 Connie to your choices of flyable aircraft.
It is supplied with three liveries: Silver & Red 'TWA', Silver & Blue 'KLM', Silver & Blue 'Pan American'.
Further, another pair of Connie fans went and created a proper Silver & Blue 'Air France' paintjob for it! That paintjob marked the plane as our lady's sister, F-BAZB.
Naturally, 'close' isn't close enough for a guy like me, so I went to work modifying this paintjob for my own use.
It now sports black 'F-BAZA' markings, as well as construction number 2072 on the nose!
Other corrections include 'Constellation' logos forward of each wing, as well as additional Pegasus logos with blue flourishes on the engine cowlings.
I also corrected the 'AIR FRANCE' text to a more proper font, and traded the black anti-glare 'V' on the nose for a proper blue 'W'.
Most of these changes can be seen in the picture above, which is a screen-capture of my paintjob during a flight over (where else?) Paris.
Now that this paintjob is finished, I may recreate her current appearance…peeling paint and all (without the deck attached)!
I wonder if I can add her and her surroundings as a static structure to the airport in the game….hmmm….
Soon, anybody will be able take the Champagne Lady back to the clouds anytime they want,
as I'll be making this paintjob available as a download! Stay tuned!