Greenwood Lake's "Champagne Lady"
or 'The New Jersey Connie'
This Phoenix awaits her rise.
In 2006, she will turn 60 years old, and fully half her life will have been spent awaiting a return to the skies.
She has not flown since 1977.
Her graceful, smaller nose has been gone since 1962.
Her 'eyebrows' and 'astrodome' windows haven't allowed light in since 1950.
What's next?
Only time and money will tell.
I wish I could afford to buy and restore her, but I can not. If I could, my thoughts are these…
TWA is the airline most often associated with the Connies. As such, a beautiful L-1049 Super G is restored to her original early-1960s white/red livery and flying around the USA at this time. Also, a C-69 was restored in the 1970s to late-1940s L-049 specs and silver/red TWA livery, and it is on display in Arizona today, still looking great.
While my initial instinct was that this plane should return to her 1950 TWA appearance, I now feel that, with several restored TWA planes around today (another static-display TWA Connie is in Great Britain), such a look would be 'redundant'.
And since this rare plane is one of just a few L-049s that received the C-69 eyebrows and astrodome, they should be opened back up for all to appreciate, and the planes livery returned to her initial Air France F-BAZA scheme, as shown in the altered photo below. Imagine such a fully-restored plane re-visiting New York, then crossing the pond to see Paris one more time!
The only argument against Air France livery is that less-knowledgeable US fans might not appreciate her in a foreign livery as much as they would in a US-carrier's markings. (The post-9/11 reactionaries that would dislike the plane for its French affiliation would be cheerfully ignored by me for their ignorance)

[Original Photo, Lockheed, altered by John W Rosa]
Another, more-radical thought of mine was to return the port side to Air France livery (above) and the starboard side to TWA's white/red livery (below). In this configuration, she'd be quite a unique sight wherever she goes. Visitors would get the opportunity to see and photograph TWO historic Connies at the same time, using this one aircraft. Those that dislike one side can enjoy the other. Those that appreciate both get twice the happy experience. I'm not versed in FAA regulations, so how such a dual-livery's two registration numbers would be displayed is a mystery to me at this time.

[Photo: Unknown] [Registration unknown, but the Astrodome bulge on top suggests this could be one of the four Air France 049s during service with TWA]
A third option that avoids the TWA redundancy as well as the foreign carrier issues would be the Pan American Airways livery of the late 40s and early 50s. This would certainly please me, too, as my grandfather and uncle both worked for and retired from Pan Am after many, many years with them. 'Clipper Johannes Louwers' would please me and both of them, as well…and Pan Am flew them with the extra top glass, too…see the next photo!
The only argument against this scheme would be Pan Am's early abandonment of the Connie in favor of Boeing replacements in 1957. This was likely a slight aimed at Howard Hughes more than the actual aircraft.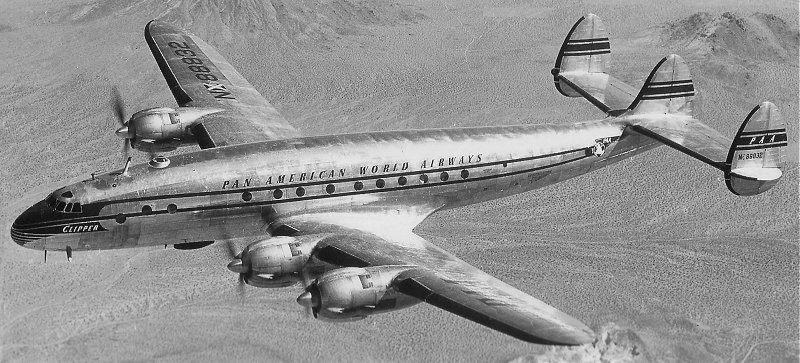 [Photo: Lockheed] [Registration NC88832, probably en route to final delivery to Pan Am- note the obscured "C' on the starboard wing and port stabilizer]
Whatever one's choice of livery, this unique lady deserves a proper restoration. Heck, the airport even lengthened their 2700ft runway to 4000ft years ago, literally paving the way for this bird to leave under her own power, whenever her rescuer finally comes along.
With half her existence spent sitting at Greenwood Lake, it would certainly be painful to see her leave. But if it meant her long-term survival was more assured when resting between flights in a southwestern climate, I suspect her absence here would be forgiven. Hey, with 4000 feet of runway, she could always pop in for a visit from time to time!