---
The Javelin 'Un-Cars' Gallery

Submit a picture of your 'different' car or truck!
AMC/Rambler/Jeep/Willys...AM General...whatever!
Back to the previous page
Ahead to the Next Page!
---
Look for the little colored ball like this-

at many of the entries below! It indicates that instead of the thumbnail picture leading to just a bigger photo, this entry leads to the car owner's own webpage and more pictures!
---
NOTE: Several of the cars on this page were submitted quite a while ago, and while I located the pictures easily, the names of their owners are buried in an archive. I'll post the names as I find them, but if you know this info, let me know and I'll add it sooner!
---

Bryan Morrow's Ambassador hardtop A 401 lurks beneath that hood!

Bryan Morrow's Matador sedan race car Rubbin' is racin'!!
The same car, a few years later....retired!!

Sandy Sandberg's Hornet X wagon One hot little family car! 304/727 and 14.8 quarter miles at 16mpg!

Larry Chapple's '67 American 440 343-powered Red and White beauty.

Unknown's Eagle wagon Last of the true AMC cars.

Unknown's '70 Javelin Mark Donohue Big Bad Green....I'd steal this car in a heartbeat!!

Mike and Traci Odum's '74 AMX A stroked 390-V8 !

Lu Crego's '65 American A Clean 196cid 6cylinder !
Rear angle


Dave McComb's '73 Javelin 304-powered!


Chris Ellmore's '77 Hornet! Under reconstruction- check out his Hornet webpage!!

Bart Mangrum's '73 Javelin 343-powered!
Side angle


Bill Dettman's '70 Javelin SST! Big, Bad Green and 401-Mean!


Paul Gable's '74 Gremlin! Check out his new 'Gremlin Time' website!

Paul Halter's '78 AMX! Still wearing it's original 'bird' on the hood!

Remy Arness' '72 Javelin! Not exactly pretty just yet, but getting closer every day!

Larry Blatt's '67 Rambler Rogue! 343 cubes in a tight little package!

Ron Evans' '72 AMX! Freshly painted beauty!

Ed Lavallee's '74 Javelins An orange 360 and Gold 304!


Steve Corbin's '66 Ambassador! A small pic but a sharp car!

Adam Folkerts' '70 Javelin! Big, Bad Green 360!

Derek Whiteside's '70 JavelinSST 304cid 4-speed in the great NorthWest!

Brent Havekost's '48 Nash Ambassador coupe Big, Bad, Beautiful!


Gremchile's '75 Gremlin! New photos on her webpage!

Francis Suarez's '68 AMX A 343-powered, auto-shifted, 'GO' package of fun!
Rear angle


Mike Wolf's '69 Rambler American wagon! and not to be outdone......!

Barb Wolf's '60 American 4door! Who says cars are 'Boy Toys'?!

John Rosa's '69 AMX! This 'John Rosa' is not the creator of this website...
just the same name on another AMC fanatic!

Steven Fournier's '69 Javelin '71 360-4V, '70 blistered-hood!
Steve's first Javelin, a '68 290.

Las Wojtek's '71 JavelinSST Guess which of these is faster!
Another angle


Josh Hildebrand's '73 TransAm Victory Javelin One Ultra-Rare Javelin found and being brought back!
Side angle
I'm an idiot! I deleted the Email that told me who owns this Rambler! If it yours, let me know!

Rambler American 440 !

Early Bender-Wirth's Pacer wagon One subtle blue wagon!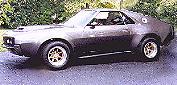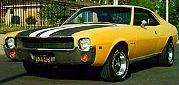 Hal Lynch's 1970 AMX Toting a Vintage TransAm racing engine!


Mike H.'s '69 SC/Rambler Dynamite by AMC... Lit by Hurst!


Mike H.'s Customized '69 Javelin Cool paint!

Jerry Casper's '78 Gremlin GT An Ultra-Rare AMC model!
Rear angle


Chelsea High School's Auto Mechanics Instructor, Mr. Thomas Benvie put his students to work between 1985 and 1987 and together they created these three award-winning beauties! I'm told they are STILL being shown and bringing home trophies! EXCELLENT WORK, GUYS!
A Newspaper clipping featuring the students! Another Newspaper clipping featuring Mr. Benvie!

One Kick-Ass AMX Colors just don't get any brighter!

A Javelin in blue Note the rare roof spoiler!

A Javelin SST RAGTOP!? Can you say Breeeeezzzzzzze!!!!


Top of page
Back to the previous page Ahead to the Next Page!
---
Know a nice car? Don't just sit there drooling! Let me know!!!
Send me your every thought!



JohnRosa@JavelinAMX.com