The Alabama Department of Public Safety
AMC Javelin Highway Patrol/Pursuit cars


'Sometimes, you have to fight fire with fire.'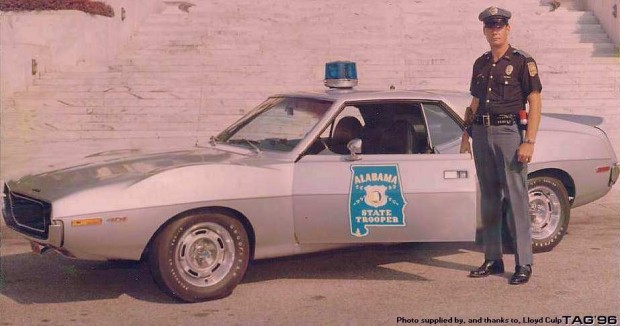 132 of these cost-effective cruise missiles went into service for Alabama.
---
The ADPS has their own page now, devoted to these special Javelins! Check it out at:
http://www.dps.state.al.us/public/misc/javelin/
---
The History of the ADPS Javelins
---
Normally, the ADPS sourced its vehicles from various US car makers through a 'lowest bid' procedure every two years (Whichever maker could provide vehicles within the ADPS specifications, for the lowest price, won). AMC, like the other major auto builders, produced special 'fleet' vehicles for use by businesses from Taxi/Limo companies to Police and Fire departments. These were usually big, four door sedans, like the Matador and Ambassador. But, in a budget crunch, the ADPS was looking to save money on its upcoming patrol car order, so smaller cars would be considered. AMC was looking to promote sales anyway they could, and Police service, especially for Javelins, would offer great public exposure, so AMC made huge price concessions to make this sale happen.
In 1971, Reinhardt AMC of Montgomery, Alabama, loaned the ADPS a Javelin-SST for evaluation: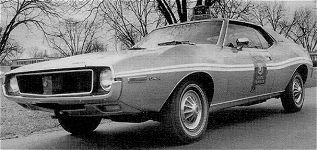 The 1971 Javelin SST with 304-2v V8 (click on the picture) proved too under-powered for pursuit use, so it was returned and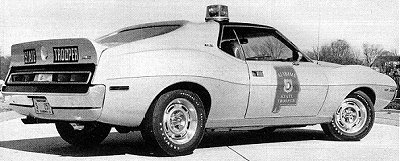 a top-of-the-line 1971 Javelin-AMX 401-4v was donated (not loaned) for testing.
This photo and its attached text (click on the picture) are taken from the August 1971 issue of 'Road & Track' magazine.
The letter is from the Vice President of Reinhardt AMC, explaining the testing of the car by the ADPS.
HELP US FIND THIS CAR!
If you have a 1971 Javelin, send us your complete VIN.
We'll check it against the possible VINs of this car.
---
Supplied thru Reinhardt AMC of Montgomery, the AMX was silver and adorned with standard ADPS markings, and given the usual roof beacon (Dietz model 7-11), antenna and radio. As this car was 'on the lot' and not ordered specifically for the ADPS testing, it's has some equipment not normally found on a police car...the most obvious of which is the vinyl top! The black tail panel and Machine wheels indicate this is a 'Go' package-equipped car, meaning it also has the Rallye gauge package, functional cowl induction system and more. Further, other photos of this car, not included here, show it also wore the optional black 'T'-stripe on the hood! One way-cool cop car!
This car was sent to tour the various Highway Patrol posts around the state to be field-tested by State Troopers, in real-world usage. One such trooper was Lieutenant (then-Corporal) David H. Parker, now retired, of the Dothan post. On his first night using the AMX, he was involved in the pursuit of a fleeing suspect, bent on crossing the border into Florida. Parker states that speeds were in excess of 120mph and his confidence in the Javelin's brakes, handling and power was such that he was willing to bring his car bumper-to-bumper with the suspect car at those speeds. He was that sure the Javelin would be able to react to anything the other guy did.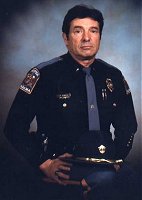 Lieutenant David H. Parker at his retirement in 1998.
Following the trial-run tour, the AMX was joined in regular service by 132 special-ordered 1971, then 1972 Javelins. The disposition of the ADPS '71 Javelin-AMX is not currently known, but it was auctioned off in November, 1974, well AFTER many of the later 71 and 72 patrol cars had already been sold off (most on June 24, 1974).
[Note: Reports of '133 ADPS Javelins' erroneously include this AMX, but it is not a 'special-ordered' fleet service car built specifically for the ADPS like the other 132. It is a normal, civilian AMX, drafted to serve as a police car. No less special, but not the 'same thing'.]
---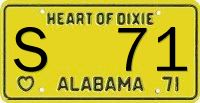 FACTS:
Headquarters had been impressed with the AMX's abilities, but further cost-cutting was needed on the cars, so the decision to go with plainer, base model Javelins was made... though the powerful drivetrain remained essentially unchanged. It was now late in the 1971 model year, but still an order was placed. They received 71 base-model Javelins. Of this total, 61 were all-silver while 10 were unmarked cars in various colors. The cars were supplied by Reinhardt AMC of Montgomery.
These pictures (submitted by Larry Daum) and the photo at the top of this page (submitted by Lloyd Culp) show one of the 1971 Javelin Pursuit cars. According to an ADPS Sergeant, the trooper's uniform is of 1971 vintage also, as in 1972, they switched to the 'Smokey Bear campaign hat' and a rectangular shoulder patch. The door decal also changed for 1972, and this car wears a correct '71 shield. 1971's shields read 'Alabama State Trooper' while 1972's shields read 'State Trooper Alabama'
.
In the rear angle picture, notice the '401' emblem on the spoiler where 'AMX' appears when the spoiler is used on a JavelinAMX. This use of the rear 401 emblem is unique to the ADPS Javelins.
Each '71 Javelin was a base-model wearing 'Machine' 5-slot mag wheels with Good Year Polyglas raised-white-lettered tires. They were powered by a special 'fleet service' version of AMC's new 401cid 4-barrel V8 engine, backed by a Borg-Warner automatic transmission. Other 'fleet service' items were underneath, like brake and suspension components. Each also received a full 'Rally' gauge package, including tachometer and 140mph speedometer (this speedometer was NOT a 'certified calibration' unit as found on Matador and Ambassador police cars.
While the bulk of the Javelins were indeed intended for Highway Patrol use, a little 'string-pulling' facilitated a few Javelins being ordered for use by some of the more 'privileged' members of the force. These cars remained 'unmarked' and had their antennae and radios mounted a bit more stealthily.
All ADPS Javelins got a rear spoiler, normally available only on a Javelin AMX model, but not for the usual reason, which is improved high-speed handling. Instead, it was needed to better display the "STATE TROOPER" markings on the rear of the car that would otherwise be unreadable due to the decklid's extreme angle. To fill the holes in the spoiler normally filled by an 'AMX' emblem, these cars got a third '401' emblem, to match the ones on each front fender. Oddly, the unmarked cars also got the spoiler and third emblem…strange since cost was a big part of the purchase. If not 'STATE TROOPER' marking would be on these unmarked cars, why add the spoiler?
The '71 marked-patrol cars were Silver, the interiors blue and spartan. Unmarked '71s came in several interior and exterior colors. Interiors of the '71s were in the standard 'Tampico' embossed vinyl.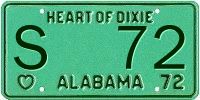 FACTS:
For 1972, the ADPS bought 62 more Javelins: 12 in the all-silver paint scheme which completed the initial '71 order for 83 cars total, then 42 in the new blue-over-silver scheme, and 8 more unmarked cars in various colors which were a second later order for 50 cars. The '72 Javelins were somewhat different from the '71 versions, just as the '72 Javelin you or I could buy were different from the preceding '71s including a new front grille and tail light treatment, and 8-slot 'Rally' wheels. And since the plainer 'base model' Javelin was no longer available, all the '72s were the more up-scale 'Javelin SST' models. This resulted in the interior trim being wood-grained instead of the aluminum-look of the '71s. SSTs also received rocker and fender well trim, and 'SST' emblems on the rear quarter panels.
The 401-V8 lost about 20HP, but was now backed by the 'bullet-proof' A727 'Torque-Command' automatic transmission, based on the Chrysler 'Torque-Flite' transmissions.
The earliest '72 SSTs were bluish silver all over, while the later ones had dark blue hoods, decklids and spoilers. Some folks at ADPS swear that the blue was put on by ADPS, not by AMC. I believe they painted the hoods and tails of the earlier all-silver cars after the last batch of cars arrived from AMC with the blue already on. This would have been done as each car came into the shop for normal service or repairs, to keep the 'look' of the earlier cars consistent with the newest ones.
All '72s received the standard 'Wellington' pleated vinyl seats. Also, some of the '72s received upgraded roof beacons, Dietz model 2-11, which was the same as the 7-11, but one of the four lights was angled upward slightly, increasing visibility of the cars.
The '72 cars were delivered through both Reinhardt AMC of Montgomery and Bill Whitten AMC / Datsun in Birmingham.
REPORTS:
Lt. Parker (ret.) recalls his '72 Javelin once reached 141mph as he was racing to join a pursuit. He states the car had more pedal left and was still accelerating when it became necessary to change direction, and he was forced to brake. Parker also recalls that most troopers found the Javelins to be terrific performers, and the only problem he can think of was that the suspension components wore out more often than expected. But the abilities of the Javelin more than made up for this inconvenience.
Captain Robert Applin (ret.) states his Javelin was clocked at 153mph using a 'Kustom' radar unit which was considered more accurate than the 'VASCAR' type, which calculated his car at 148mph over a 500ft. stretch. Regarding his specific car, he tells the following-
"What a rocket, especially compared to what we were used to. The (stock 401) Javelin would only run just over the 140 mark, but it would get it so quickly it gave us the pursuit advantage. After a few months, our Dothan mechanic (Charles) told me that whenever I had time to leave the car with him, he had learned how to make it a little better. So of course I made time. I do not know what all he did to it but I do know that he "shimmed" the valves, replaced the valves springs with a special kind (brass I think), bored the jets on the carb and I don't know what else but he assured me that it was all okay and not discernible to anyone who didn't know what he had put in it. When I picked it up, he and I took it for a test run. If you tried to start from a standing start, you would smoke the rear tires. At a rolling start, when you floored it the tires would still break loose until it shifted into second at which time it would lay several more feet of rubber. Shifting into high near the 96 mph mark it would again bark the tires. The speedometer would steadily climb as long as you stayed in it unlike prior to Charles' work when after about 128 - 130 it would slowly climb to the max. (of 141mph, stock)"
Robert also relates this war story...
"(I) also ran down a full house 71 Chevy 454 from Abbeville to Blue Springs. Caught him before we got to Blue Springs but finally forced him off the road at the top of the hill on the west side of Blue Springs, got him out of his car, stuffed him into the Javelin, then called in and told the station I had him in custody. The whole chase lasted 6 minutes. I turned around on him at the roadside tables just west of Abbeville. The distance was 13 miles. Dispatchers log shows the times of the call-ins."
Just to cover 13 miles in the full 6 minutes, the car would have to be at over 125mph for the entire distance. Subtract his time turning around and radioing in, accelerating to catch up, then coming to a stop, exiting the Javelin, pulling the suspect from the Chevelle, cuffing him, patting him down and stuffing him in the Javelin…you can see that 150mph isn't a stretch at all.
Prior to the Javelins, he tells that the department was unhappy with their 1971 Dodge 440 cars.
"In 1971, I was working out of the Dothan Post, assigned to Henry County. I was issued a 1971 Dodge with a 440 engine, single exhaust. I think it was more of a taxi car than a patrol car. Would only run 112 mph. Dodge called the cars back in, put dual exhaust and did something else to the heads (I think) which helped some. Now the car would run 118 - 120 tops. Rode and handled very good, but I got outrun several times while in this car. "
That info contrasts greatly with other reports (mainly from Mopar collectors) that state 440 police package cars were incredibly fast- something I would expect from an extra 39cid. It is possible Alabama's '71 Dodges were a 'Lite' Police Package car due to the purchase procedure of 'lowest bid'. Dodge would be forced to leave out certain components to keep the price down, so, in effect, Alabama would get what they paid for. But then comes this next report that Dodge tried to 'fix' the problem...
"Because we (the Dept) were so dissatisfied with the Dodges, they gave us a special built one to move around the state for evaluation in an effort to prove to us that the Dodge/Plymouth police cars were great performers. I had the privilege of running this car for three days (of testing) and it was little better than the '71 which I had used. I let (a) Reserve officer drive my Javelin. I told the Reservist that after we pulled out… let me go first, then pass me if he could. Well, I started off (in the Dodge), pedal to the metal, and he pulled in behind me (with the Javelin). As I shifted out of first, he was still behind me. Then I shifted into second and he was still behind me. Then about 80 mph he pulled out, got up beside me asking if I wanted him to go on. I nodded yes and he shot off amazingly fast and became a dot in the distance... I immediately radioed him to back off. There was no comparison between the 440 Magnum Pursuit and the little 401. .. (The Reserve officer) told me (later) that he thought I wanted him to stay behind me..."
"A side note on the Dodge/Plymouth evaluation car: It's speedometer was more than 10 mph off. It would register that you were doing 140 at top speed but you were actually hanging around the actual 130 mark. I realized that it was wrong the first day I had it when a farmer in his pickup passed me while I was traveling 60 mph (posted limit) down a two laned road. Of course I pulled him over and he swore to me that he had followed me for a distance at 48 to 50 mph and he thought it would be okay if he passed. I had felt like I wasn't really moving as fast as the speedometer was showing, so I advised my Corporal and we checked it against the radar and sure enough, at 60 it was exactly 10 off."
Prior to the Dodges, Robert reports that the department had used Ford Interceptors with a 428-V8…
"We started running 428 Interceptor Fords in 1968. In 1969, Ford improved the performance even more. The 427 Chevys (1967's) would walk away from the Fords but a few miles down the road the Ford would overtake the Chevy. Handling was more of a high speed problem with the Chevys, above 120 anyway. Then in 1970 Ford put a Motorcraft carb system (older ones had a Holley) on the engines and they did not perform as well as the 69's but they were still pretty awesome. Most topped out from 138 - 140. I never encountered a Mopar that would out perform a 428 Ford. (But) the Javelin beat the Fords off the line and would gradually pull away. From my experience, there is no doubt that the Ford would never catch the Javelin…"
Seems that little 401 didn't know the meaning of 'quit'! Robert eventually bought his Javelin when it was retired at 72,000 miles. He drove it before receiving an offer he couldn't refuse. When last seen in 1978, the car had been repainted all-silver, had doubled its mileage and was still going strong, despite being treated rather harshly after Robert sold it.
------------------------------------------------------------------------------------------------------------------------
ADPS records indicate that while the Javelins incurred an 'average' number of accidents, only one trooper was ever killed in a Javelin's crash. The true figure is zero.
On June 27, 1974, Sgt. Julian D. Stuckey was driving at a high rate of speed when a tire failed and his patrol car struck the side of a bridge and overturned. The trooper was killed the day before his planned wedding. See: http://dps.alabama.gov/Information/LineOfDuty.aspx

However, the June 28, 1974 issue of the Mobile Register (a local newspaper) reported on the crash, and included a photo of the Trooper's wrecked patrol car lying upside down next to the highway. The car is in no way a Javelin. It is a boxy four-door sedan, most likely a 1973 Ford LTD.

Below is a portion of the photo in the newspaper, rotated to show the car better.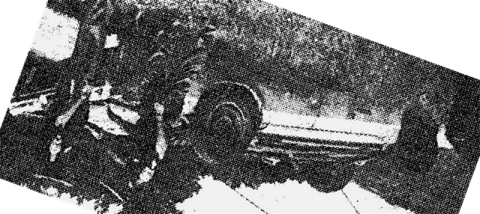 The entire article and original photo can be seen here.
Also, the bulk of the patrol Javelins had been decommisioned weeks earlier, stripped of their police equipment and markings, and were then auctioned off to the public on June 24, 1974, three days BEFORE this tragic accident.
Mind you, the wreck was not the fault of whatever patrol car model the Sargeant was driving. The problem was the radial tires, which were relatively new in the U.S. and prone to tread separation problems, especially on Ford LTDs. The article mentioned above also noted that Troopers on the scene of this wreck told of similar tire incidents occuring 'recently', and the very same thing happening to another patrol car that was responding to this accident the same day!
Ford had a similar issue in the late 1990s with their Explorer SUVs combined with specific Firestone tires. See: http://en.wikipedia.org/wiki/Firestone_and_Ford_tire_controversy
AMAZING 'ADPS Javelin' FACTS:
§ The ADPS Javelins are the first recorded pony car officially used by a major police department…ever… predating all those Mustangs and Camaros seen since! Alabama started a trend!
§ All ADPS Javelins came equipped with 60-series raised-white-letter tires- never blackwalls. As these wore out, they were replaced with 70-series bias-ply or 70-series radial whitewall tires!
§ While the ADPS Javelins incurred an 'average' number of accidents, no trooper was ever killed in a Javelin's crash. Only the 1988 Mustangs of the ADPS come close to that record during their service, with only one fatality in the Mustangs.
§ After two small modifications by ADPS Maintenance (improving oil flow and adding a 1st-gear lock-out), no ADPS Javelin ever blew its engine.
§ No ADPS Javelin was ever outrun in a pursuit. Several troopers report that they had their Javelins doing over 140MPH. Above, a modified '72 was reported capable of 153mph. That's faster than the 'official fastest police car' of the era- the 147mph 1969 Dodge Polara 440 (but then, the Dodge was bone-stock).
---

---
Still haven't had enough? OK, here's a bunch of pictures of various other ADPS Javelins.
First, comments on the current condition of some of the surviving ADPS Javelins. Many are in horrible shape, awaiting restoration. Others have been restored, but incorrectly, and these are the cars I want to comment on.
There are numerous and specific differences between the 1971 and 1972 cars, and even between the first batch of 1972s and the later batch. Some current owners, for their own reasons, are mixing up these features, resulting in ADPS Javelins that do not look the way they did while in service. I'll point out some of the problems-
1971 models were base models, not SSTs, for budget reasons. 1972 models were SST because no 'base model' was offered for 1972.
1971 models have the deeply recessed black grille. 1972s have the flush argent 'block' grille. At least two restored '71s wear '72 grilles. The remote possibility exists that the ADPS themselves put '72 grilles on '71s when the original grilles were damaged… simply to have the extra space behind the grille, to save parts cost and replacement time. But for 'factory-correctness', the '71 grille should be there.
All the marked patrol Javelins have BLUE VINYL interiors. Anything else is wrong.
All 1971s had 5-slot 'Machine' wheels. Some now wear the 1972 8-slot 'Rally' wheels…but this isn't really a mistake. As tires and wheels got swapped around due to wreckage and normal service, '72 wheels could have ended up on a '71 while the ADPS still owned the cars, making it 'semi-correct'…but the 5-slot wheels are 'factory-correct' for 1971.
1971 seats have a 'waffled' insert of round 'holes' that are screened to vent the foam below. 1972 seats have stitched seams running side-to-side.
---
The ADPS Javelin Registry
Click the VIN number of each car to see if a photo and/or info page is available for it!
VIN#

S'number

Property#

Duty Type

Current Location

Miles

Drivetrain

Reported Condition

Updated

?

?

Hwy Patrol

?

?

304/M11

unknown, unlikely to still exist

October 2005

?

?

Hwy Patrol

?

?

401/M12

Auctioned 11-7-1974, now unknown

October 2005

The above info is a 'place holder' for the original 'evaluation cars' used by the ADPS for trials. HELP ME FIND THEM!

A1C795Z309483

?

35-11542

Hwy Patrol

San Antonio, TX

?

401/M12

Stored outdoors, needs full restoration

October 2004

A1C795Z309491

?

35-11549

Hwy Patrol

Columbus, OH

?

?

Full Restoration begun for Winter 2005/06

October 2005

?

35-11559

Hwy Patrol

Huntsville, AL

?

?

Under Restoration, near completion

January 2003

A1C795Z309521

?

35-11568

Hwy Patrol

Buffalo, NY

?

401/M12

Stored, needs partial restoration

October 2005

A1C795Z309523

?

35-11541

Hwy Patrol

Summerdale, AL

?

401/M12

Stored, Awaiting Restoration

October 2005

A1C795Z309534

?

35-11522

Hwy Patrol

Birmingham, AL

?

401/M12

Under Restoration (will have 727 trans)

November 1998

?

35-11560

Hwy Patrol

Morristown, NJ

138000?

401/M12

Auctioned 8-23-73, Under restoration

January 2006

?

35-11575

Unmarked

W. Jefferson,OH

68163

401/M12

Auctioned 3-7-1977,

Full Restoration begun for Winter 2005/06

October 2005

A2C797Z154368

?

35-11588

Hwy Patrol

W.Blocton, AL

?

401/727

Restored & Drivable

January 2006

A2C797Z154371

35-11593

Hwy Patrol

?

401/727

Under Restoration

February 2003

?

35-11588

Hwy Patrol

Fleetwood, AL

?

401/727

Recently painted, drivable (was 1 of 2 in NC)

September 2005

?

35-11684

Hwy Patrol

Montgomery, AL

47509

401/727

Under Repairs (Transport Damage)

December 2004

?

35-11687

Hwy Patrol

Montgomery, AL

64392

401/727

Restored (near-correct), on display

December 2004

A2C797Z235013

?

35-11681

Hwy Patrol

Pikeville, NC

?

401/727

Stored outdoors, needs full restoration

January 2003

?

35-11663

Hwy Patrol

Powder Springs, GA

?

none

Bodywork started, under full restoration

October 2005

A2C797Z235057

S-219

35-11675

Unmarked

Manchester, TN

5xxxx?

401/727

Auctioned 5-22-1979, Stored, needs resto.

October 2005

REPLICA

Hwy Patrol

Concord, CA

401/727

72 AMX converted to ADPS SST replica

October 2005
Observations:
The first 10 cars listed (including the 'test' cars at the top) are all 1971 models.
The first 7 'Hwy Patrol' cars (Silver) are within 55 units of each other, so they were all built over the course of a very few days.
· The '71 unit listed in Summerdale, AL was found in early 2004 in Bon Secour, Alabama. It is now believed to be undergoing restoration.
· The last silver '71 listed, VIN ending '538' is owned by myself, this website's creator. I finally got one! Click on its VIN to see it!
The 10th 1971 listed, an unmarked car, was built a short time later as production changed paint color to 'Baja Bronze'.
The last 8 are 1972 models (from two separate orders).
The 1st two ('368' and '371') were built long before the next 6. They are very early '72 models, built to fill the balance of the first order for 1971s that came late in the '71 model year.
The next 5 cars were part of the second order of 1972 models, and were built during the same one or two days.
They are within 30 units of each other. Of the last four 'Hwy Patrol' cars, the first two are still owned by the ADPS, one is on display at their new HQ.
The last of the known '72s is another unmarked car, in 'Yucca Tan', and was the longest-serving Javelin of the ADPS, finally auctioned off in 1979!
---
CREDITS:
My thanks go out to the many informed contributors to this site, including:
Dwight Bryan

Jeff Kennedy

Brooke Mossgrove

Edwin Sanow

Lloyd Culp

Larry Daum
Special Thanks to the Troopers of the Alabama Highway Patrol and Department of Public Safety's Public Information and Education Unit, including:
· Capt. Roy Smith (retired), Montgomery
· Lt. David H. Parker (retired), Dothan
· Capt. Robert Applin, Dothan
· Sgt. Guy Rush, Montgomery
· Sgt. Greg Jones, Montgomery
· Sgt. P. D. Mahoney, Montgomery
The information in underlined red text, and one photo presented here are sourced from the book
"POLICE CARS: Restoring, Collecting, & Showing America's Finest Sedans" by Cpl. Edwin Sanow & Sgt. James Post.
All such items are used with the author's permission.
---
Send me your every thought!



JohnRosa@JavelinAMX.com
---