The


National AMC Police Car Registry

Home Page
Javelin: The first pony-car officially used by a major police organization in the USA.





The Alabama Department of Public Safety used 133 AMC Javelins for Highway Patrol and Pursuit duties.
Each had a 'fleet-service' 401-4v V8 and Automatic Transmission.
Above is a 1971 model, below is a 1972 model.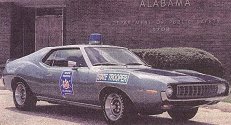 This registry is open to all American Motors vehicles
that were used for official Police duties, anywhere,
including (but not limited to) Javelin, Matador, Ambassador, Eagle and so on.
Vehicles that were not built especially for police use are welcome if
it can proven the vehicle did serve a police organization in an official capacity.

Alabama Department of Public Safety
            132 1971 and 1972 'fleet-service' Javelins were special-ordered by the Alabama Department of Public Safety's State Police. One normal-production 1971 AMX was donated to the ADPS, and after evaluation testing, went into normal service with the other 132 cars. Currently, we have 16 former ADPS Javelins registered to date.
            The ADPS also used 1971 and 1972 Ambassadors. Currently, we have no former ADPS Ambassadors registered to date.
On May 19, 2006, I received a note from a gentleman that stated he owns a '72 Ambassador formerly of the ADPS. However, due to a glitch, I've lost that Email and would invite and advise him to contact me again ASAP as I have some important information I wish to relay to him.
Muskego, Wisconsin Police Department
            The town of Muskego, Wisconsin also used Javelins (1973/74 models), though they were normal-production cars, not 'fleet-service' cars. Currently, none are known to still exist, but since they are regular 73/74 Javelins, each with a 401/Auto, they could still be around. We are seeking more details on these cars as well. Currently, we have no former Muskego Javelins registered to date.
            You can visit the Muskego, WI Police Department website at http://www.ci.muskego.wi.us/mpdp/index.htm
Photos of the Muskego Javelins.
Georgia State Police?
We have a few reports that two regular-production Javelins were loaned to the Georgia State Police soon after the ADPS special-ordered their cars. We are told Georgia chose not to order more and returned the two test cars to AMC. Currently, we have no former Georgia State Police Javelins registered to date.

Los Angeles Police Department (LAPD)
The Los Angeles Police Department used 1972 Matador sedans for regular patrol duties, as reflected by their use on the hit TV series, 'ADAM-12'. Currently, we have no former LAPD Matadors registered to date.

Any help you can provide in finding any AMC cars used for official police duties, their past and current owners or solid information about them (VIN numbers, current locations, etc) is appreciated. All submissions will be held in strictest confidence, and only the details you authorize to be publicized, will be.
For further information, to provide information, or to register a car, contact:
John W. Rosa (JohnRosa@JavelinAMX.com)
51 Skyview Drive.
Franklin, NJ 07416-9746
Phone: 201-888-1159 (Leave A Detailed Message)