---
AMC Toys and Collectibles: Diecast Cars

---
return to the main Toys Page
---
Send me your every thought!



JohnRosa@JavelinAMX.com
---
Here are a few of the AMC-related toys I've acquired and/or know of
I'm sure there are PLENTY more out there!
If you know of something not shown here...let me know!
Corgi Toys, Dinky Toys, Hot Wheels, Johnny Lightning, Matchbox, PlayArt, Tomica.

---
CORGI TOYS
---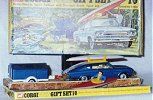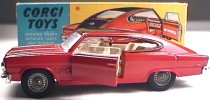 CORGI made these Marlins in 1/43 scale, available either alone or in a gift set with trailer.
The box for the Red Marlin.
---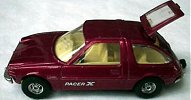 Click Here to view the above Pacer in the original box.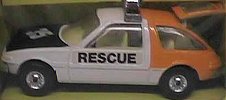 CORGI also made a few 1/43 Pacer variations.
---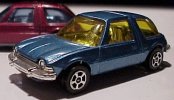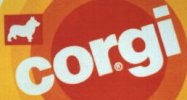 Here is a pair of CORGI 1/64 scale Pacer sedans.
Note the differences in body and glass colors, and wheel types.
---
DINKY TOYS
---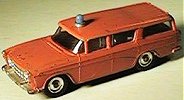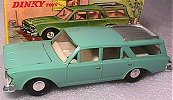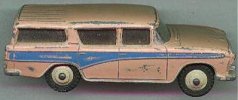 DINKY made many Rambler toys, including these.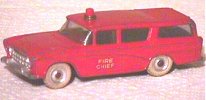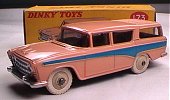 ---
HOT WHEELS
---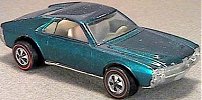 HOT WHEELS made this cool 'Custom AMX' in the late 60s and early 70s in many colors.
Custom AMX in the original package!
---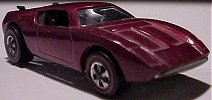 HOT WHEELS also did the 'AMX/2' prototype (left) in various colors.
During the early 1970s, it was renamed 'Xploder', then 'Warpath' (right).

By the 1980s, the mold was altered a bit, and it was again renamed 'Road Torch'.
---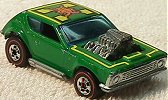 The green 'Gremlin Grinder' (with Redline wheels) is a HOT WHEELS favorite (Rear View),
and was followed later by the chrome-plated version (in both the above Blackwall and
Redline wheels versions).
Another tough-to-find version is green also, but has the 'Herfy's' logo on the doors.



A radically home-customized version! (rear view)
---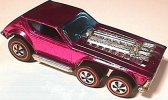 A very hot AMC collectible by HOT WHEELS has to be the 'Open Fire' 6-wheeled Gremlin,
fetching $200 easily in great condition...more if still packaged!
---


In the late 70s, this modified 'Greased Gremlin' was introduced.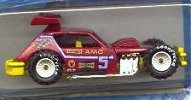 An ULTRA-RARE version of the Greased Gremlin received 'Real Riders' rubber tires.
I saw this pictured one sell for over $1200 in the original package recently!
Note the tampo on this version has the yellow and white tampo colors reversed
compared to the other version.
---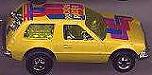 The 'Packin' Pacer' was made in several paint schemes.
---
JOHNNY LIGHTNING
---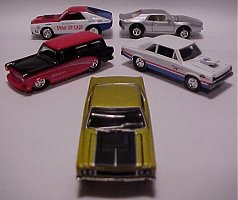 Johnny Lightning has gone hog-wild for AMC in the last few years,
producing many variations of the beautiful cars above.
---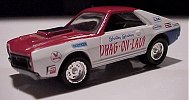 The Johnny Lightning 1969 'Drag-On Lady' SS/AMX of Shirley Shahan.
---



Several 1972 JavelinAMXs (Rear View), plus a home-customized version by David Palmer.
---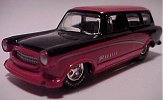 A Pro-Street 'Rumbler' Rambler wagon, from JL in 1998 (Rear View!).
---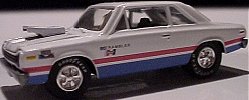 1969 AMC / Hurst SC/Rambler, also from JL in 1998, in 'B' scheme paint (Rear View) and 'A' scheme with dragcar markings.
---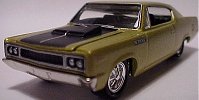 A 1970 AMC / HURST Rebel MACHINE, again from JL in 1998 (Rear View!).
Note the cross-ram intake under the hood!
Another tough-to-find version is all-white with the black hood, called the 'White Lightning' version.

---
MATCHBOX
---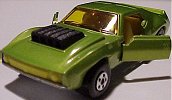 Matchbox made many versions of their 1971 'AMX Javelin' toy. I believe this is the first.
It's color is often called 'Lime' by collectors, and it has working doors.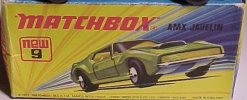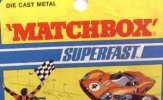 These pics show the car with it's original packaging....boxed or carded.
---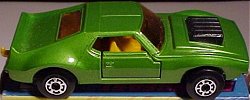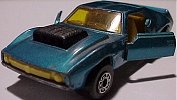 Here are two color variations of the same 'AMX Javelin', referred to as simply the 'Green' and 'Blue' versions.
Later versions of this car had their doors sealed.
---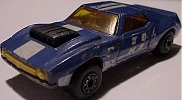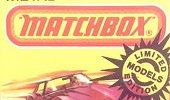 This version, with sealed doors, was a 'Limited Edition' release and was called 'Cam Cracker'.
It's also shown in the original package.
---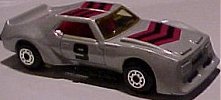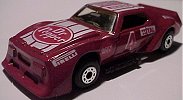 This variation was called 'AMX Pro-Stocker', and is shown with two different wheel types.
The red 'Dr.Pepper' version is a bit of a rarity.
---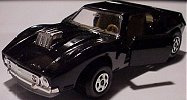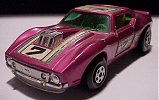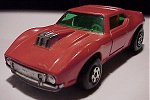 These three are variations of the larger Matchbox 'Speedkings' AMX Javelin.
All have working doors.
---
PLAYART
---


This PLAYART 1970 JavelinSST is very hard to find, and can cost quite a bit.
---
TOMICA
---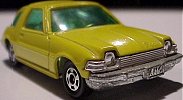 This TOMICA Pacer sedan is also tough to come by.
---
I have many Jeep toys also, but that is best left for a Jeep-dedicated site to handle. I'm always looking for more of these toys, so if you know of any available, let me know. Also, I have more cars en route to me constantly, and they'll be added here as they come in.
---
Send me your every thought!



JohnRosa@JavelinAMX.com
---
return to the main Toys Page