---

Back to the Javelin Home Page
---
AMC Racer's Gallery
---
This page is for all of you AMCers that race your cars...on a race track, I mean! If you have pics of a nice race-only vehicle, get it to me and it will be added to this page. And if you have nice pics of the Shahan Drag-On Lady cars, I'd love to put them here, too, along with any other racer AMC.

---
Send me your every thought!

JohnRosa@JavelinAMX.com

Here's a small bit of tech info on the 1969 TransAm Javelin: 69 TransAm Javelin specs.
WANTED!!: Any and all information available on the 1969 and older AMC Javelin TransAm race cars.
Pictures, technical...whatever. Please contact me!

---
The 'Roger Penske Racing' Javelins
---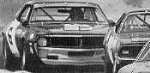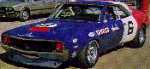 An Indycar driver of some note, a Mario Andretti, takes a spin in the new-for-1970 Javelin T/A race car.

Mark Donohue closes on the pack in a 1970 race.

A small pic of the restored Penske Javelin in 1970 trim, brought back to life by Brooke Mossgrove (bowing humbly).

---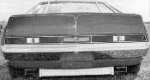 The restored Penske Javelin, side view.

Specifications of the 70 Penske/TA Javelin per Brooke Mossgrove.

At speed on the track.

A 3/4 rear view.

A large, pretty shot of the restored Penske Javelin.

A peek into the business class section.

HEY!! Get out of the car!!!!!!.

'The Five Liter that ate Chevy'........directed by Roger Penske, starring Mark Donohue.

The 1971 and 1972 look for the Penske Javelin AMX, shown here making short work of the competition in 1971.

Upon taking AMC's first TranAm Racing Series Championship, the Penske Javelin got a fresh coat of wax for a starring role in a special two-page advertisement.

---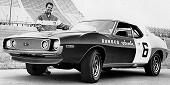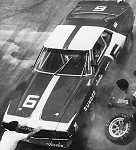 Mark Donohue stands aside his New-for-1971 JavelinAMX TransAm racer. Note that it's paint scheme is still like the '70 version- the colors seperate in vertical splits, which means this picture is a pre-71-season picture. When it raced, it got the slanted tri-color paint job seen in the next picture. Also missing are the white 'T-stripe' , Penske decals, and bigger front spoiler (a stock, optional unit is shown instead). It wears stock headlamps, turn signal and side marker lights, too.


The 1971 Penske Javelin AMX, shown in the pits with it's faithful crew.

---
The 'Roy Woods Racing' Javelins
---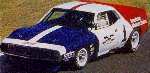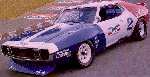 The RWR Javelin #1 tears up the track.

Subtle, these things were NOT!

RWR #2's cockpit...note the dash retains the stock shape.

Not much room for luggage, but 'ya do what ya gotta do'

The '73 Penske Matador sedan winning the Winston Western 500- Mark Donohue at the helm.

Bobby Allison tows a Torino around the Firecracker 400 at Daytona, July 4, 1974.

This publicity shot shows Mark Donohue as driver, tho Gary Bettenhausen actually started the Matador's '74 season.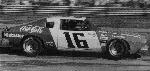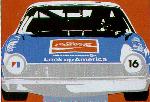 Bobby Allison wins the first race of 1975 at Riverside, California. This single car took 10 top-five finishes and 3 victories while running just 19 races in 1975!

The Shahan AMC/Hurst SS/AMX at the same car show. This is a later paint scheme than shown in the next section, below.

The Shahan 360-powered Hornet seen at a recent car show.

---
The Hurst AMXs [Stay tuned as this section will soon become it's own page!!]
---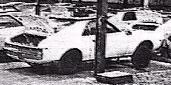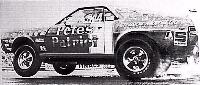 The 'Holy Grail' of AMC! The Hurst factory turns your average white 390 AMXs into Legends!
The most famous of the SSs. Shirley Shahan's 'Drag-On Lady' AMX!
Pete's Patriot, `69 SS driven by Lou Downing!

---
The Wally Booth Gremlin dragster
[Thanks to Dennis Kupferschmid for digging these personal photos up!]
---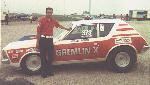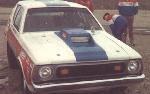 Wally Booth stands aside his Mighty Mini-Missile in 1971.
The face of an innocent child toting a .45!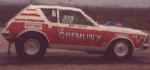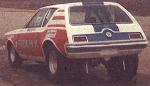 This is the angle you would see before you were beaten by Wally.
On this rainy day in 1971 at Assumption Raceway in Illinois,
Wally came to take on three Hemi Pro-Stock cars....he beat two...and this is all they saw!

---
The Mears Pikes Peak 401 Spirit
---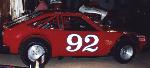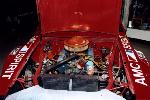 [Info to follow].
[Info to follow].

---
The Bob Lee 24hours of Sebring AMX
---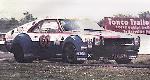 Bob's heavily-modified AMX is said to have 'kicked some serious ass' at the 24hours of Sebring race. More info to follow (I hope!)

---
Miscellaneous Kenosha Power...
---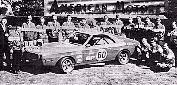 Dave Kempton's wheel standing `68 AMX!
Ike Knupp and his crew with a B/production SCCA racer in the front yard of AMC.

---

For a profile of Mark Donohue (1937-1975), check out this page at RaceZine's website.
For a look at some more of his race stats, check out this page at Motorsport Information.

WOW! I had no idea these were available! Yehaa!!!
TransAm Javelin Videos!!!! from Speedway Motorbooks.
These are AMERICAN MOTORS promotional films on the 1968 and 1970 T/A racing seasons!!
Check them out!

More to come......;)
contact me at JohnRosa@JavelinAMX.com
Top of page
Back to the Javelin Home Page