The AMC Resources Page
---
So, you've got the AMC 'bug' and need to satisfy the itch, eh?
Check out the following websites for whatever it is you're looking for!
AMC and Rambler Classified Ads
* More AMC-specific Parts and Info Resources
How about a Classifieds website dedicated to AMC/ Rambler fanatics?!
The AMX Files / Javelin Home Pages Classifieds: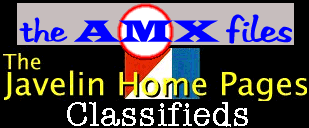 FREE ads for AMC sellers and buyers.

This ad service provided in cooperation with Jim Stone's 'AMX Files' and is maintained by Epage.


OK, if all that doesn't help you, then perhaps you need a dedicated AMC-only Parts and/or Info source.

Check out the excellent collection of Resources at The AMXFiles!