Firebird out of the snow and salt.
---
6-25-2001:My brother called last night, saying he had too much crap and not enough space for it...so I scored a set of good BF Goodrich Trail T/A tires for a mere $20. Same size as the BFGs I had on the Eagle already, but with a more aggressive tread and raised white letters. Had them mounted today, and after a coat of Armor-All, I'm on the fence about whether they look better or worse than the blackwalls it had before.

Otherwise, not much else has changed...little details here and there. The Air Conditioning was converted to R134a, and now blows cold again...nothing like a new car, but plenty cold enough for me.This weekend, I hope to move the '84 wagon to a co-worker's house where it'll be stripped of every good part we can yank. For this '86 wagon, it'll mean a fresh transmission, better transfer case and a good vacuum switch for the 4WD. My current trans is doing OK, but shows signs of getting tired. I want the spare on hand, ready to go in on a moment's notice. Other parts planned for saving are the windshield, tail lights and a few other body parts (for the '85 wagon).
---
5-26-2001:Not much happening this month....I replaced the driver's door striker and hinge bushings. The door now closes like new. The battery passed away this week, and got replaced with a new one. Perhaps the new sound system helped the old battery over the edge. Otherwise, the car is holding it's own in daily use while I consider whether to continue modifying it as first planned, or whether to leave it more as it is now. How and when the other three Eagles leave will help finalize this car's future.
---
5-1-2001: What an great AMC day! I saw three really beautiful Eagles today, and spoke with each owner, at length. First was an '84 Limited wagon, bronze metallic, tan leather, power everything, and 64,000 original miles.....and original owner! This one was like NEW! Not for sale, of course. Next came an '86 Sport wagon, maroon in and out with black trim, gauge package and 130,000 miles, with it's second owner who bought it back in 1988. Real nice shape, and also not for sale. Then a 1985 wagon, maroon with woodgrain comes through inspection, about 120,000 miles, just inherited from the late original owner by her sister....Also excellent condition and also not for sale. How funny I can go a year without seeng any AMCs, then all these pop up today.

As for my Eagle, it got to 90 degrees today, and on my way home, I decided it was time to flick on the AC and see if it works at all. To my surprise, it does...not enough to keep meat fresh for days, but it takes the edge off the heat. The car behaved fine with it on, no in-gear idle woes like stalling at lights. No noises or leaks, so I'll have my brother convert it to the new type refrigerant shortly, with a full recharge, and I'll be set for the summer.
---
4-29-2001: Today I swapped the steering wheel for the 3-spoke, leather wrapped wheel from the '83 car. Looks much better.
---
4-27-2001: I installed the 10" subwoofer into a newly acquired enclosure with an unused 300 watt amp that a co-worker was selling for cheap. The amp is switched on with the radio via the power antenna lead. It's a Jensen unit, and has built-in crossover capability, so only the low frequencies are getting to the sub. I need to get behind the other 4 speakers again to add bass-blockers to each, so only the highs get to them. I also yanked the radio and re-worked the bundle of wires behind it to make 'breathing room' for it's own built-in amp...hopefully that'll avoid the in-dash fire I was fretting over.

So, how does it sound? Considering a total investment of under $600, I think it sounds amazing. The sound doesn't carry from the car very far, so driving with the windows open doesn't draw weird stares from anyone. But INSIDE the car, it's downright deafening. Side benefit- all those built-in 'Old AMC' squeaks and rattles can't be heard over it! Some of my younger co-workers (those with some experience with the obnoxious sound systems we see so often these days) are very impressed with the sound-to-cost ratio. I sure am!
---

4-22-2001: Today it was gorgeous out, so I tackled installing the new speakers, radio/cassette deck and CD Changer. The changer is temporarily double-sided taped to the shelf below the glove box...still unsure where it'll be permanently mounted. The radio itself is in the dash, but may come out again- the wiring is packed too closely against it and the internal amp gets REAL hot, even at lower volumes...I'll need to re-run some wiring so it's further away. All the speakers and their wires ran fairly easily. Overall sound is as expected..loud and rich enough for most of my own listening....and the subwoofer that will soon follow shortly will make it even better.
---
4-19-2001: Had the day off, so I pulled the tach from the '83 wagon, and put is aside for later. Then took the good hood release cable from the '84 parts car and installed it in this '86- no more Vise-Grip handle! I also ditched the crappy driving lights for the 100Watt set I had aside for use as rear lights (which will still happen when I get the brush guard on the front with the new KC 5x7's).

The 'new' rear hatch has wiggled loose a bit...lots of squeaking and rattling while driving any less-than-perfect surface (i.e., New Jersey). I'm worried about tightening down too much on the hinge studs, tho, as they strip REAL easy. More later.
---
4-15-2001: Got the car back yesterday...turns out we replaced the water pump for nothing, as the noise was actually coming from an idler pulley's bearing! Good thing I have the '84 parts car...it's pulley had no play at all, and now this car is quiet again. While he was at it, my brother also brought down the fast-idle some, as it raced far higher than it should when cold.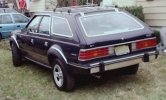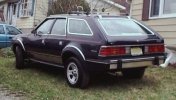 Today, I took advantage of the great weather, and took this car to visit the '83 5-speed car. I swapped the tail lights between the two cars as the trim on the '86's lights was very pitted. These lousy digital pics don't reveal the huge difference this swap made. You'll also note the rear wiper is gone. It wasn't working, the wiper arm was the wrong one, and the hatchlid had surface rust at the lower left corner where the AMC emblem was missing. So I swapped hatchlids, too.



When I returned home, I decided the rear glass deserved to wear the decal I ordered two months ago...and so it was added, too. If it's hard to read, it says "Don't follow me... You'll never make it!". And since I still had some daylight left, I added rockguard screens to the headlights.
---
4-13-2001: Yesterday morning, as I left for work, I found a noise coming from underhood. I stopped, popped the hood and heard what sounded like marbles bouncing around in the engine. It seemed to fade up loud, then fade to nothing in a sort of cycle. Nothing else seemed amiss, but I had it towed to a shop rather than driving it further. Turns out the water pump went bad. That will be put in tomorrow by my brother. Less than 48 hours without the car and I'm suffering withdrawal!
---
3-21-2001: Took the car during my lunch hour to Express Lube for an oil change and lube job. I figured I'd run the car for a month on the oil that was in it at purchase time, and I was pushing it. Who knows when the last such service was done?

After that, I ran to a local Jeep dealer and ordered door hinge bushings...enough for two doors. That'll handle the driver's door of this car and the '83, too. Also got a 'HELP' brand replacement door striker at the parts store. Together, this should make my door feel better than the other three...which all feel like new anyway.
---
3-18-2001: Just got home from picking up the '83 five speed wagon. More on that at My Other Eagles page.
---
3-17-2001: Last night, another electrical scare as the clock pulled the same stunt as the battery light did the night before- staying on with the car off and key out. I was attempting to set the time because the battery had been disconnected the previous night. I can set the hours (pull the pin) but not the minutes (push the pin). I pushed 'til I thought the pin would break thru into the clock to no avail. When I gave up and went to exit the car...the clock stayed lit. After a tantrum and sulk session ('woe is me'), I found the problem disappeared after driving it to work. Unsure of the cause, but ignorance is bliss. I'll wait to see if it happens again. For now, the clock stays wrong.
---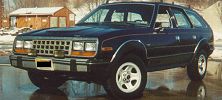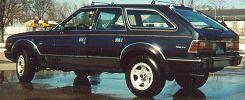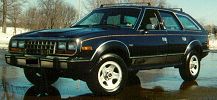 3-16-2001: Here's a few pics taken earlier this week...first chance to see the car in any real sunlight.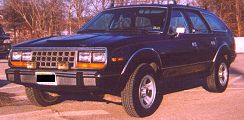 No major happenings this week. Got the 'refurbished' brush guard back...but it looks terrible- drip marks all over, inconsistent coverage. I'm going to strip it and re-do it again. When I got it home, I tried to test-fit the new KC Daylighters- OOPS! Should've measured before buying! 6" tall is way too high to fit between the upper and lower push bars. I returned them and ordered a set of 5x7 rectangular versions, same specs otherwise, and I ordered them as a kit...all the wires, relay and switch together.
Last night, I shut the car off and found the battery light stayed on...while the key was in my pocket! The TSM indicates, after following the troubleshooting guides, that the 'bridge rectifier' on the alternator went bad, so I had it rebuilt locally today. All seems to be fine now.
Finally grabbed the rubber knob for the turn signal arm from one of my parts cars today and installed it. Got tired of having my finger stabbed every time I turn.
Had the car inspected on the 15th, and it passed with flying colors. Brakes were dead-on, all the lights and such are working, and emissions were 1/3rd of the New Jersey legal limit. She's wearing her new, two-year sticker proudly.
---
3-11-2001: Lord, the sickness is out of control. I just got home from checking out (and then buying) another Eagle- this time an '83. I've gotta find a 12-step program or something. Read about it here. From that car, this '86 will gain Power Seats (Non-Leather...regular blue/white plaid insert DL versions!!), Three-spoke leather-wrapped steering wheel, tachometer and center console with full gauge package, factory Class I hitch, and some interior plastic panels that aren't as faded as the current ones.

BY THE WAY... DID I MENTION I WILL HAVE TWO MORE WAGONS SHORTLY? An '84 and '85, both the same lighter blue with blue interiors, 258/Autos. The '85 is running, but not the '84 which has a never-run rebuilt tranny partially installed. I may make the '85 a nice car from the two and part out the rest of the '84. The '85 has a rear anti-sway bar that will go on my '86.
---
3-10-2001: Hey... a whole week without an update! Not much to report except the speakers and subwoofer arrived and look great. Still waiting for co-operation from Mother Nature so I can begin installing all the sound gear.

In preparation for the sub's install into the underfloor spare tire compartment, I've decided to relocate the mini-spare tire to the ROOF! I figured since the brush guard and KC lights are going to alter the car's look to a more SUV appearance anyway, a roof-mounted spare will only add to the 'safari' look. While I work out exactly how to make this change in a way that doesn't require any drilling, yet still holds the tire securely, the temporary technique is that I moved the crossbars of the factory roofrack rearward, placing the tire between them, centered between the slides. The tire is resting on the four bright rub strips that are glue on the roof, and is held down by two adjustable, locking straps and two bungee cords. It looks a little 'busy' right now, but a cleaner solution is being worked out.

One idea is to add a roof 'basket' like those seen added to many SUVs, usually rectangular with rounded corners, 4 to 6 inch high side rails, and constructed of welded square tubing. The ones I've found so far run nearly $200 and are TOO sturdy...they overpower the looks of the Eagle..making it look tiny and the rack 'overdone'. I found just one 'light-duty' version, but it looked so flimsy, I'd be afraid to strap down anything but pillows in it. If I don't find a nice, middle-ground unit, this route will be abandoned. Perhaps somebody is making something more fitting of the new small 'SUVs' like Subarus and such. But I really want to avoid adding any holes to the roof, too.

Another idea is a mod I read about in a 1980 issue of Car & driver. Called the AMCO Magik-Rak, it's a stainless steel set of four rails, similar to the stock slides, but much shorter. These would be installed exactly where the tire sits now, replacing the four rub strips. Each of the Magic-Rak rails has snap-in 'D' ring pieces to allow the supplied straps to hold down almost anything. This way, instead of stretching long straps between the four stock crossbar mounts in an 'X' pattern, the straps can wrap tighter around the tread of the tire itself, helping it remain centered and secure, more easily. I've found a guy selling new-in-box old stock of these sets. I may have one shortly to try out. A side benefit of the Magic-Rak is that it would free the factory cross bars to move about, doing other work. Also, once the stock rub strips are gone, the front two-thirds of the roof between the stock slides will have nothing on it...clearing the space for a large sunroof. This plan is really growing on me!
---
3-3-2001: Received the new 'LeBra' front bra today. It's like new, having never been on a car. Installation looks rather convoluted and since it really doesn't do a thing to protect anything, I'm unsure whether it's going to be used. It's a 3-piece design, where one is mounted to the hood and protects the front 3 inches of it. The other two pieces wrap the fronts of the fenders, but require the headlamp bezels be installed OVER the front edge of the bra. This might secure the bra better, but the strain of the screws on the bezel plastic is a concern, since they won't be installed exactly as they normally would be. Also odd is that the chrome trim of the bezels will be exposed, but not the hood's trim. Still, being a fiend for optional items, I may install it anyway.

Found the Sears radio was installed BYPASSING the original radio wiring, and was running off the rear defroster fuse. Why, with a specific fuse for the radio already in the car, would anyone make this dopey change?? More good reason to tear it all out and start from scratch. Removed the old stereo and- just for kicks, with no speakers hooked up- I powered the new radio to check the lights and confirm the tape functions. All looks good. I then pulled all the old radio-related wiring out from behind the dash. Since ALL the sound gear is being replaced, I'm not using any existing wiring either- I'll start fresh. I test-fitted the new receiver- I'll need to make modifications to the mounting process, as it's too loose and prone to vibrating as it is now. Push any buttons on the face and you can see the entire unit moving a bit. I may end up 'packing' material against the unit in places to hold it firmer in place. I had thought to fabricate brackets to hold it absolutely rigid, but then the internals will have to survive every shock taken by the car itself. If my mounting procedure has just a little 'give', it'll be that much more protected from such vibes. But in place, with the bezel installed, it looks quite good.

Just ordered a set of used Rally gauges in their console. May have to re-think the CD Changer location after all.

Also put a new bulb in the engine compartment's light fixture. It now works again.
---
3-2-2001: Got a dash outlet adapter that multiplies the available power connection from ONE to FOUR. The unit is being mounted under the ashtray, and looks pretty nice there. The CD Changer will still fit below it. It has a built-in red LED that indicates it's properly powered. I did this because it's annoying to unplug/plug each powered item (CB, Cell Phone, etc), as needed. It plugs into the cigarette lighter, but this looks 'temporary' and busy, so I may hard-wire it in from behind.

Picked up the fresh air duct today- engine compartment looks more 'complete'.

Also ordered all five new speakers from two sources. I did a lot of online shopping to find all the sound system components, and found some very good deals on it all. The AM/FM/Cassette ranges from $89.98 thru $149.95 or more. The CD Changer runs around 179.95 to 249.99. I got them together, from Crutchfield, for $279.90 plus $9.95 shipping. (SEE: http://crutchfield.com/cgi-bin/S-pbqEQZ8iKMz/ProdView.asp?I=133CQR235 and choose the CX-DP88 option on the same page... when added to the shopping cart, a $20 package discount is applied) Other sites listed one of the two for a few dollars less, but none had both for less. Then, Crutchfield adds in free year/model-specific install instructions, correct wire harness adapter(s), and unbeatable toll-free tech support for help with installs or troubles. As a package, nobody could touch them. The speakers took a bit more effort- I had to really shop around. Most had them for $59.95-$79.99 a pair. I found them for $29.00..or $65.69 for two pair, delivered. The subwoofer ran $59.95-$129.95. The $59.95 seller was out of stock, but another was found at $62.38, or 70.38 delivered. All told, about $670 worth of stuff for around $440.
---
3-1-2001: Last night, I had a little scare as I was tooling along Route 15 North on the way home from work. As I went to change lanes, my turn signals seemed to stop blinking. I assumed the relay was the same one used by the hazard lights, so I expected they wouldn't blink either...but they did. My headlights were as bright as the cars around me, and the engine ran fine. The alternator light wasn't lit...and I know it works. Since the cheapest repair was to replace the flasher, I did that this morning, and all seemed back to normal.

And since it's missing completely, I ordered a new air cleaner fresh air duct from NAPA. I'm surprised it was listed AND in stock at their warehouse! Should be in tomorrow.

Then I meet my girlfriend for lunch. When I come back to the car, it's stone dead. I pop the hood and find the alternator belt is floppy-loose...like it should've fell off. I jump start it and it's good enough to get to a mechanic who finds one of the bolts for the alternator is missing. He finds one to fit, adjusts the belt tension, and I head off to work. Hours later, the car starts again to go home- no problem. How weird both these electrical issues popped up together. But at least neither was a serious, big-buck issue.

During a quiet moment at work, I pulled the center dash panel off to find the cigarette lighter's positive wire is off. I reconnect it, and power is restored- Now my cell phone can charge and my CB/Weather radio can be used. Life is good.

Once home, I find UPS has dropped off the new stereo and CD changer. If only the weather would allow me to install it soon! The changer is much smaller than I anticipated. I may actually mount it on the trans tunnel, ahead of the shifter. Sure, it's in full view, but I don't want to fish around under the cargo floor just to change one CD when someone gets in with one they want to hear right away. Maybe I can build a carpeted 'blind' to hide it, tho... or would a thief actually LOOK in an Eagle for something of value?!?
---
2-27-2001: The tailpipe, muffler and intermediate 'S' pipe were all replaced today. I had thought to have the catalytic converter 'knocked through' to improve power, but it's got some rust issues of it's own, and any attempt to remove it would probably result in it needing to be replaced...so it's staying as is for now. I did cut the tailpipe shorter, to eliminate the downturn at the end, then added a chrome extension. When you step back, it looks like the car might have a straight-pipe exhaust...kinda nice looking.

The aluminum valve cover I ordered arrived defective today. The black crinkle finish is peeling off. I Emailed the company to arrange it's return, and find out if the issue is common. If common, I'll switch to another brand...perhaps the Clifford. More later.

Also today, ordered a new sound system for the car- all Panasonic (my audio company of choice since 1980). Since I've still got tons of cassettes, I skipped an in-dash CD unit, and went for an AM/FM/Cassette with CD Changer Controls, DIN-type with Detachable Face, Dolby-B, Full-Logic Controls, Wireless Remote and Green Illumination (to match the Eagle's dash lights). And because I also have about 200 CDs, I also got a matching 8-CD Changer. The radio's 45Wx4 amp will power four new 5.25" 2-way speakers (blue cones that happen to match the interior color..hehe) while a seperate 140 Watt Amp will power a 10" subwoofer (also a blue cone) mounted beneath the cargo floor- all speakers will be ordered shortly, while the Amp is already on hand. Bass-Blockers will protect the four speakers, and a Power Antenna will round off the entire audio revamp. This won't impress the kids with the lowrider Hondas with more money invested in sound than transportation...but it should sound far better than the stock units, has far more features, and is enough to drown out most lifter and rocker noise and keep my marginally-functional ears happy. Should be pretty sweet...but where to locate the CD Changer....Hmmm..
---
2-25-2001: Found a guy selling a new-in-box bra for AMC Eagles. It should arrive later this week. I'm unsure how this would look behind a brush guard... or whether both can be used at the same time... but I'm sure it'll resell if I can't use it.
---
2-24-2001: Weather is really lousy lately, so the paint buffing will wait another week or more. The exhaust noise seemed to return this morning, and I assumed the extreme cold at night versus the hot temps when running might have undone the welds of a few days ago. Wrong. As I was tooling along Rt. 517 into Vernon this morning, the muffler let go where it meets the exhaust pipe, and was left hanging by the one hanger near the tailpipe's end- just as I'd been warned. Pulled over, sawed off the soft hanger material, threw the muffler and tailpipe in the back, and headed homeward to a local parts store. Parts were in-stock, so I grabbed them and arranged for them to be installed this week. I'm shocked to find the car really isn't very loud at all without the full exhaust. It sounds no worse than a modern small pickup.

My refurbished grille guard should be ready soon, so I may have that installed next week along with the new Aluminum valve cover. After that, I'll tackle the addition of the three pairs of new lights at home. The 6" KCs will be at the center of the guard, above the bumper...blocking most of the grille. Two thin Rally driving lights will be mounted beneath the rear bumper, and wired to work with the stock reverse lights (as I approach 40, I find the eyes don't see so good at night anymore). The two lights currently on the front bumper are, to put it technically, 'cheap crap'- would ya believe they use standard tail light bulbs!? These may end up behind the grille, with colored bulbs and a side-to-side relay (provided they can be seen once the KCs are installed).
---
2-20-2001: Decided the fading brakes and small exhaust leak had reached an annoying-enough level, and had it worked on today. Full brake service at the rear axle and a bleed has it stopping like it dropped anchor. And the exhaust simply needed a couple of easy-to-get-at holes welded. $140 later, it's quieter and safer. The mechanic noted I'd soon need a muffler and tailpipe as the muffler's front tube was rotting off at the weld. Add it to 'the list'.
The oil leak at the plastic valve cover is severe enough that after one week of use, I noticed my rockers getting noisey. I found I was over a quart low. So...I ordered a Diecast Aluminum valve cover kit from TheJeep.com ($99.95). This kit is new, lower cost than most others like it, and is better looking as it doesn't have any ugly logo stamped into it like the ones from JC Whitney ($129.95) and 4WD Hardware ($129.99). The only one I like the looks of better is from Clifford Performance ($152.25), but it costs 50% more than the one I chose.
In preparation of the pending push bar and brush guard installation, I sprang for a new pair of KC Daylighter 6" diameter off-road lights (black case) with black soft-covers, and black headlight grilles...all to lend a tougher, off-road quality to the car's already 'strong' appearance. Pics as soon as it's all installed.
---
2-19-2001: Replaced the crappy short rubber antenna with a new, black, stock-type version.
---
2-17-2001: Tonight I visited my brother (Mr. EagleWeb) and mentioned my car once had the roll-up cargo cover, and the brackets are still installed. He smiles, goes out to his '85 wagon, and retrieves the roll-up cover! A few bucks later, my '86's cargo area is a private matter!
---
2-16-2001: On lunch, I ran to a nearby junkyard to search the mini-trucks and SUVs for a small/light 'grille guard' (like the one on the Duke's General Lee) that might be reworkable for the Eagle. Guy in the office says if they have any pulled and saved, they'd be on the side of the building. I check, and immediately find a a small, light grlle guard- with a pair of bolt-on brush guards- that looks like it could be close. I carry it to the car for a test fit. I KID YOU NOT: If it weren't for one easily-altered feature, you'd swear this was an AMC original optional item for the Eagle!! The brush guard 'loops' EXACTLY frame the lights following the contours of the chromed bezels. The mounting tabs that sit atop the bumper need no adjusting to correct the height of the assembly in any way...and the holes in these tabs line up EXACTLY where my driving lights are mounted now...no new holes on top of the bumper! And the grille guard's lower bar has two tabs for relocating the driving lights, too! So what needs adjusting? The bottom mounting tabs are about an inch below the bottom of the bumper...and when the assembly stands exactly upright, the holes in the tabs are about 1.5 inches in front of the bumper. I'll just make two flat bars, drilled at each end, and bent slightly at both ends, to line it all up.
The whole thing's black coating is peeling and has lots 'o surface rust. I gave it to a handy co-worker who promised it would return to work next week, ready to install. I'll have to find new lights that look right for it....perhaps something HUGE and round?!? And in case you wondered...no one at the junkyard could tell me what type of vehicle it came from or who might have made it. When I have pictures ready, I'll post them, and maybe someone will recognize it.
---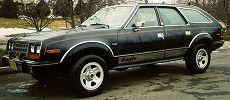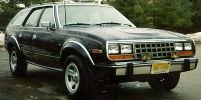 2-15-2001: Several items addressed today (my day off). First thing...got rid of the mudflaps! Now the car appears wider and higher. Then, took it to the car wash and snapped some new pictures right after (she's still drippin' wet in the pics). After running some errands, I replaced the front side-marker bulbs as neither was working. Then, replaced the add-on driving light switch with a lighted version. After twice walking away and leaving them on, this change was a priority. Yea, I know I can re-wire the lights to go off with the key...but that'll wait for warmer weather. Finally, I replaced the aged steering wheel wrap with a new one. I hate the wheel, but the wrap makes it bearable until a blue three-spoke sport version is acquired.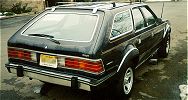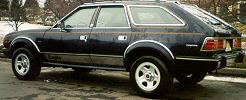 I've noticed my brakes going away day-by-day. Pedal is real low now. Will need to address this soon.
---
2-13-2001: I picked up the wheels and quickly went to my brother's workplace (a dealership repair shop) to have them mounted. The car's nearly-new 205/75R15 BF Goodrich all-season tires were swapped over to the new Jeep wheels and will be used for the warm months.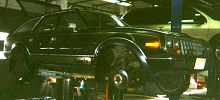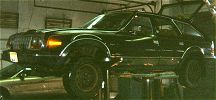 Here the car is lifted, undergoing the switch from wheel covers to Jeep wheels.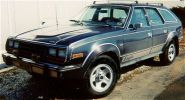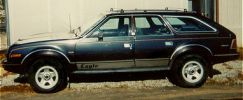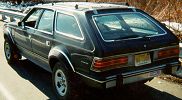 ...and here's the result. Boy, whoever said a set of wheels can make or break a car's look was right on the mark! Another benefit of this swap is each rim is 1" wider (15x7 versus 15x6 for the stock wheels). The added inch seems entirely outboard of the lugs, placing the tread 1/2" further out. Both sides together means the car's track width is 1" wider now...improved handling for cheap! The only minor negative is that the tire tread on the right/front is grinding against the bolt heads for the mudflap when turning sharply to the right...no biggie as I'm removing all the flaps on 2-15-2001. A previous owner used mismatched flaps, HUGE reflectors and varying sizes and types of screws/bolts to mount the flaps to the flares....a slew of good reasons to yank it all off!!

MORE GOOD STUFF...

While at the shop for the wheel-mounting, one of the workers asked if I wanted him to buff the dullish paint. When I balked, he offered to do one fender before I answered the question. He did, and the fender came up beautifully... ready for fresh wax. When he suggested he could do the whole car for $65, I agreed and the car will be done on or around the 24th. One of those 'happy accidents'!
---
2-12-2001: I brought the car home today. Starts and drives very well. Just a slight pull to the right, a slight exhaust leak, and the proverbial leaking plastic valve cover. I drove it home from Brooklyn (near Coney Island), New York. This first trip was 1 hour, 35 minutes. I averaged perhaps 60mph during the highway travel, with a few 70mph bursts of 5 minutes or so each. Since it ain't new, I figured why push harder the first time out. With the exhaust leak, it's tough to gauge it's uphill power, but ignoring the noise, I was able to accelerate from 50 to 60 on the steeper inclines of Route 280 in the Oranges without feeling the car really strain. Wind noise is a bit high, but expected. Handling is also what I expected- sloppier than most cars, but better than my Cherokee- a nice compromise.

With some freshening up here and there, this car should make a fine daily-driver.

I drove the car to my brother's place tonight to show it off. He hated the wire wheel covers, too, so he threw me a set of driver-quality Eagle wheel covers of the right vintage. The stock Eagle wheels will keep these basic full wheel covers and will wear a set of aggressive on/off-road tires, as yet un-named, for winter use.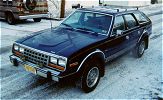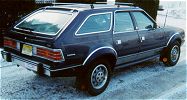 When I returned from my brother's house, an Email was waiting from a person I'd contacted about Jeep wheels they were selling on Ebay. I convinced them to cancel the auction as I lived near enough to avoid shipping them, and I could pick them up the next morning. The deal was struck and they were mine.

---
2-4-2001: Recently, I'd been bitten by the "Need-an-AMC-to-drive" bug again. This is where having a mere project car or show-only car doesn't feed the need. Instead, an AMC of a more practical nature becomes the objective. Since I live in the northeastern USA, snow is a winter reality. And since I like the quiet privacy of the areas less traveled, a summer off-road jaunt is also a pre-requisite.
What else fills the bill but an Eagle?

I starting scouring the available online ads, with little luck. Seems all I was finding was the overpriced, the over-abused and the over-distanced!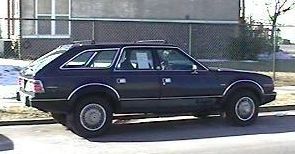 On a search of Ebay (the last place you'd expect to find a good deal on a used car), I found an auction for this '86 DL wagon. When found, it was bid to $200. I contacted the seller, who was a mere 90 minutes away, and went to see it on January 31, 2001. After a short test drive, I left to have pictures of it developed. When I got home, I checked the auction to find the price had risen to $800. So much for 'stealing' it.

I checked again in the last hour of the auction on February 4, 2001, to find the price still had not gone further. After weighing the pros and cons, I fired off a bid of $825. To my surprise, at the end, I won.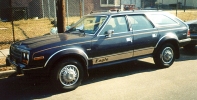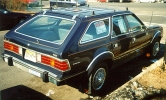 Here are it's features.
258cid Inline 6 cylinder engine.
3-speed Automatic Transmission with floor shifter.
other standards like P/S, P/DB, and so on.

Optional items include:

Air Conditioning.
Tilt Wheel
Rear Wiper and Defroster
AM/FM/Cassette
Dual Remote Mirrors

...and more. Not 'loaded', but still a good deal at the price. No rot anywhere..just a small surface-rust spot on the corner of the hatch. Never hit, never off-roaded. Seat covers on the front seats ...they are in good shape. It also wears added 'mirror' panels at the bottom of every door. While the 'Eagle' lettering isn't the normal typeface used by AMC, the panels are stamp-cut to fit the doors exactly, so they were meant for the car..not cobbled from parts meant for a Summit or Talon. I don't really LIKE them, but I suspect they've been on since the late 1980s, and I'm afraid to see what the doors are like underneath...so they'll stay, for now.
---
Send me your every thought!



JohnRosa@JavelinAMX.com
---
Top of page
Back to 'Our AMCs' Page