---
Back to 'Our AMCs' Page
---
Our 1979 AMC Spirit AMX
---
I just acquired one of these beauties, in need of work, of course.
It's a 258cid I6, Automatic with no Air Conditioning. Black inside and out, all the flares, spoilers and factory TurboCast II wheels intact.

These pics were taken in very poor light, so excuse the lack of quality.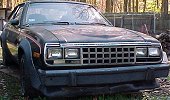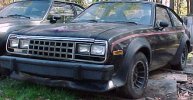 The car's original AMX grille is long gone, as are two of the TurboCast II wheels' center caps. I have installed a pair of headlamp bezels and an Eagle grille to fill the space for now (above). The factory mags, spoilers and flares are all present and in good, servicable condition.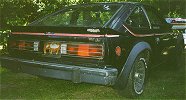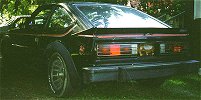 The car was repainted at some point, and lost it's factory 'AMX' decals. I have a set of door decals arriving shortly, and the rest of the factory pinstriping and the hood decal will probably be left off. Luckily, the car seems to have no serious rust problems beyond what is seen in the pics.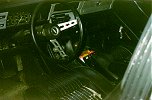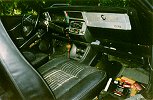 The interior is all there...the dash is un-cut, all the guages in place. The seat bottoms and armrest are split, but I think they can be repaired instead of completely re-covering them. The headliner and carpet need replacing.


The engine runs pretty good, and the tranny seems fine so far, tho I've barely driven it at all. I have a fresh set of headers coming for it, and am hunting down a used 4-barrel manifold and 350-400cfm carb for it.

More to come....
---
Send me your every thought!



JohnRosa@JavelinAMX.com
---
Top of page
Back to 'Our AMCs' Page