---
---
Our 1974 JavelinAMX 401
---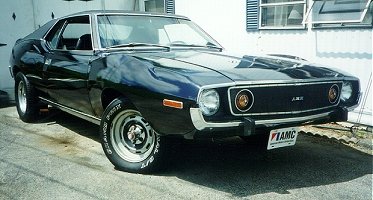 ---
12-17-2005: Horrible news this week. The person that owns this car 'now' has torn it apart and is selling it's pieces off on eBay!! He claims 'cam bearing' and 'structural' issues forced this event. Strange, as six years ago, the car was totally rot free. The eBay photos show the car is STILL rot free and not hit in any way. Did he twist the shell somehow?? And cam bearings?!? He tore apart a $4500 engine and sold it for parts, getting back maybe $2000?? Idiot. Tearing up a car this clean for chump change. There ought to be a law.
Rest in pieces…damn it!
---
11/10/99: It figures! No sooner do I sell this car...now Car Craft magazine runs a picture of it and mentions this website! What timing! Oh well....at least they put it in the magazine, right!? See the December 1999 issue or click here for a scan of the feature!
---
10/2/99: With a heavy heart, my AMX was sold yesterday to help fund the purchase of a new home. This leaves me technically 'AMC-less' for the moment, and I'll likely be that way for a while while 'real life' takes precedence. Still, you can read about the car's time with me below.
---
5/17/99: I replaced the rear wheels and tires (way too wide) with the tires/wheels that were on the front until recently. Now the tires sit inside the wells as they should, with no clearance problems. Still hunting another pair of factory Rallye wheels....
---
5/15/99: Got the last air-shock replaced today with the last gas shock. It's amazing how much less foul language and injury there is when you gather the right answers before attempting a job. Sure, for most folks, replacing shocks is basic stuff. But on a 25-year-old car, using a fairly basic tool set and having little patience...it's a feat to finish the job quick and painless! It's also encouraging...makes you wanna get on to the next job that much sooner.
---

5/14/99: Got one rear air-shock swapped out today for a new Monroe-matic Gas shock...left the other for later as it's the oddly-mounted left/rear shock. The TSM doesn't specify the 'right' way to get at it, so I'll wait for the right answer rather than curse and throw tools trying to create my own 'procedure'.
---
5/13/99: I replaced the front shocks today with new, Monroe-matic Gas-charged units. Since I had to remove the shock tower caps to do this, I replaced them with a pair of chromed ones I bought last year, chromed bolts and nuts, too. For good measure, I added the chromed radiator support braces that I got with the tower caps.
---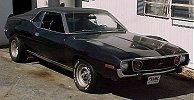 4/30/99: Today, I swapped my steering column for a factory 'Adjust-O-Tilt' column. With the AMC Technical Service Manual at my side, the job was a cake-walk ...even trading the ignition locks between the columns to keep the same key for the car's doors and ignition was straight-forward and trouble-free (much better day than yesterday!). While I was at it, I installed a better steering wheel and added a padded wrap for better 'feel' and grip.
Next job: Four new Gas Shock Absorbers. Also, a new cam is in the works to get a sustainable idle while losing a bunch of the ponies!
---
4/29/99: I decided to mount a near-mint front bumper I had in storage. While I was at it, I removed the grillework and detailed it a bit....a new 'AMX' badge, too. I still haven't installed the NOS hood trim as it's too fragile to work around, so it'll be saved for showing off, put on and taken off each time it's shown publicly.
During this work, a heavy gust of wind lifted the inner grillebox up and slammed it against my Dodge Aries, badly damaging the grillebox. It's been duct-taped, painted and re-installed while I hunt for another good one. Some days, you can't win.
But the bumper looks good, tho it's apparent that its supports are out of alignment as it still sits askew at the outer ends. I'll address this later.
See this photo for a 'Before' and 'After' comparison.
I didn't re-install the driving lights...they just didn't 'fit' the styling of the car. I also swapped the front wheels and tires for a set of 15" factory Rallye wheels and RWL tires...now that's it's running again, I needed smaller tires to let it steer when moved. When I have the cash to buy 4 new tires, I'll be sure to have a matched set of wheels on the car.
---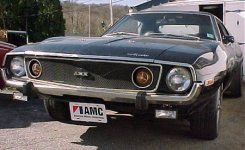 4/27/99: Here's a few new pics...
I finally got to doing some more of the interior parts swapping last weekend. Everything inside the car behind the doors was removed, as were the headliner, windshield frame trim, kick panels and lower dash valance. All of these were actually green parts that were painted black by a prior owner.
While all this was out, I removed the shoulder harness retractors because the belts had been cut, and replaced them with un-cut belts and assemblies. Now the car has functional 3-point shoulder and waist front seat belts again...the rear trim panels look much better with a belt coming thru them instead of just the open slot with nothing in it!
I also added a rear side-panel ashtray (normally, this is omitted when a car gets a floor console with built-in ashtray for the back seat passengers...but the panels I installed had an ashtray on the right panel, so I left it rather than look at the exposed screw holes).
I also painted the faded package tray cover and installed a factory-optional rear window defroster...which is what required replacing the lower dash valance since the defroster switch is in it.

While the headliner was down, I replaced the entire dome lamp assembly with a clean, like-new one and a fresh bulb. Then, an absolutely perfect headliner went it...check out how smooth that baby is!
As everything was being installed, I finally added a mint set of sun visors, too.
I replaced the glove compartment door with a real-black one, and installed my custom-made dash handle in front of the passenger seat. The handle was made using a door pull-strap from a late-1960s Firebird. It's not a 'correct-appearing' repair, but better than nothing...and looks good to folks that don't know what the real thing looks like.
---
3/31/99: Nothing really new except the driving lights (just to see if they'd look good...I'm undecided). It was just so nice out today, I felt like shooting pictures outside.
---
3/28/99: The compression drop is finished, and the car can now run pump Super-Unleaded with a bit of Octane Boost added.
The power loss 'feels' insignificant, and it's running as well as it did before. It fired on the first try, and emitted amazingly little 'first-start' smoke for such a messy job! Pretty kewl!
---
8/31/98: Here's a bunch of new pics, showing the new 'AMX' grillework installed on August 10th...a major improvement to the car's looks.
On Saturday, the 29th, I installed the 'AMX' door panels and dash bezel, a complete Rally' gauge set, and numerous Black interior parts, replacing the existing pieces that were originally green, then painted black. I also threw in a dirty 3-spoke 'Sport' steering wheel, just to be rid of the standard green piece. A better copy of the Sport wheel will go in when the Tilt Column is added.
---
This Javelin was originally a 304-2v V8/A998 Auto Trans, Triple Green (body, vinyl top and interior). The previous owner changed it all to Black, added a repro-rear spoiler (wavy!!) and a built-to-the-b*lls 401 and Reverse-Pattern, TCI-built 727 transmission with a 3500RPM stall converter. The engine has a 509 lift cam, 12.5:1 compression, Torker manifold, 650cfm Edelbrock carb, headers, deep sump oil pan and much more.
The original open rear is still in there, and the carb is too small for the cam, but this will be remedied when I swap the cam for something more sane. It also came with Cragar 14" mags, but I just replaced them with the 15" Aluminum wheels and the HUGE BFGoodrich Radial TA tires shown here. The tires have proved TOO large, actually, and they will be replaced.
The seats were recovered with NOS fabric but the rest of the green parts were painted black- this too will be remedied as I have all the true-black parts to do the job. Also, I'll be adding everything necessary to convert the car into an 'AMX'- functional cowled hood and air cleaner, factory rear spoiler (and front spoiler if I can find one), all the proper emblems, including '401' fender badges, grille box and screen.
I also will 'detune' the car down from the current 12.5:1 compression and 550HP (Net!), to about 10.2:1 and 400 NetHP . I want to have it be more street-drivable, and in that vein, I'll add a tilt-steering column, 3-spoke sport steering wheel, hidden AM/FM/Cassette deck, rear defroster (factory blower-type) and other goodies.
When all is said and done, it will be a:
'74 Javelin AMX, Built-401 V8, TCI reversed-727 trans, AC, PS, Manual DISC brakes, GoPackage (Rally gauges, 3.54 Posi, Functional Cowl Induction, etc), 15" Aluminum Wheels, Tilt, Rear Defroster, AM/FM/CASS w/ 4spkrs. Edelbrock R4B manifold and 650cfm carb, Hi-Flow manifolds to full-length dual exhaust, and electronic ignition producing 400 NetHP at 10.2:1 compression......
....oh, and an 'AMC' plate up front and a rear license plate frame that reads:
"Today's Special- Smoked Chevy".
---
For more on the history of my other dozen Javelins,
Read this page!
---
Send me your every thought!



JohnRosa@JavelinAMX.com
---