Bumper Guards

It's Mustard Yellow with White seats in a Black interior, and white split vinyl top.
At first sight, I thought it had been altered using a 1972+ parts car, as many items inside and out are of 1972+ vintage...but research confirmed it was all factory-installed as a mid-year change. The 3-spoke steering wheel, 14" 8-slot mags, and a few other details are normally thought of as 72+ items, yet here they are, factory-installed, on this '71. Also neat is how this car is atypical of the cars usually found at shows. Most often, the 2-barrel cars are stock base model Javelin or SSTs. When an AMX is found, it's usually a 'P'-code 360-4v or 'Z'-code 401-4v....and then these have 15" wheels, 4-speeds, and other hi-po options. This car has a 'businessman's setup'... 360-2v and Automatic with a one-legged rear end, standard guages, and a vinyl top. No AC, no functional cowl induction, no rallye guages, no T-stripe. Not a warrior by any means. The 'base' version of a '71 AMX....and this makes it interesting...few cars like this have remained in this configuration. Most buyers would quickly slap on headers, a 4v intake and carb, Twin-Grip rear and so on. I hope to leave it as it is and just repair/restore whatever needs attention. It's gonna need lots of work, but it runs (has a knock), has some rust issues (quarters, A-pillar, and... ? ), interior rips and wear.....but other than the missing AMX inner grille, the car is complete and servicable. It's odd configuration should make it a fun car to show, too.
Note that '71 Technical Service Manual on the passenger-side floorboard....a nice added perk of the purchase.
---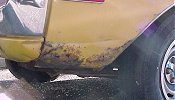 Did I mention it has a 'little' rust??
---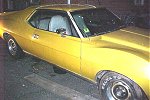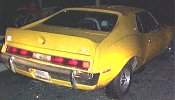 That reflective square at the left end of the spoiler is the original AMC Dealership's decal...hopefully it can be saved or reproduced.
Note the '360' fender badge in the right picture.
---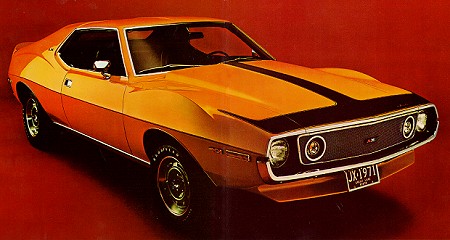 A loaded '71 AMX 401/4spd in Mustard Yellow.
---
Send me your every thought!



JohnRosa@JavelinAMX.com
---
Top of page
Back to 'Our AMCs' Page