1982 AMC Eagle Sport 4x4 Wagon.
---
FOR SALE $500!!
---
Car is located in Wisconsin.
---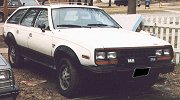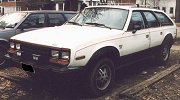 It's a 1982 Eagle Sport Wagon. The 'sport' means it gets the 'blackout treatment' on the lower body trim, grille, headlight and tailight areas. 'Sports' also get the '4x4' decal on the front doors. The overall appearance, especially in white (my first choice of color) is much more 'youthful' than the normal look of most Eagle wagons...whether one or two color version, or even more scary...the wood-sided ones!!
Making this car even cooler is that it's got the 258cid engine (gobs of torque!) backed by a 5-speed trans (SO rare in a wagon!) and tucked underneath are the factory Alloy mag wheels! Does this thing need a bath of what?!?
---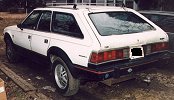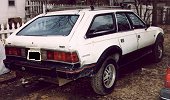 These shots show that the taillights have been replaced due to a collision. The black-trimmed lenses have been replaced with AMC Concord units, trimmed in chrome.
And check out that radical hitch! It looks like it could move a mountain!
---


These close-ups show the damaged corner of the car. possible.
---

Another matter needing quick attention is the front suspension, which leans a bit TOO much.
---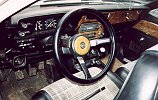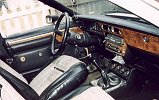 Check all this neat gear out! Tilt wheel, Tachometer, Rally Guages (in shifter base)....All the good stuff.
---

A sagging headliner is just an annoyance, and easily remedied using commercial-grade spray adhesive.
---



These pics show little-to-no rust in the jambs, and indicate the interior also needs a REAL good cleaning.
---


The cargo area shows speaker holes cut into the side panels.
---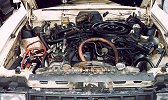 The engine compartment seems to retain all the original hoses and other stuff.
---
Email me at



JohnRosa@JavelinAMX.com
---
Top of page
Back to Javelin Home Page