---
---
1981 AMC Spirit DL
---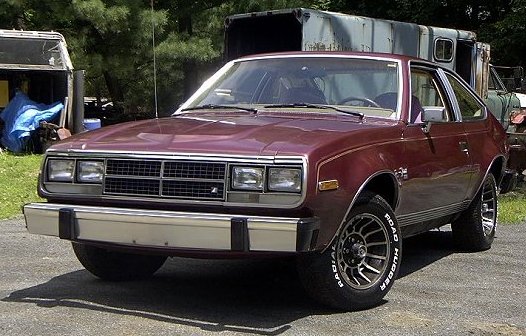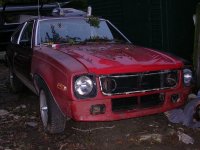 May, 2009: After a long stall, this project is up for sale. Read all the details below. Drop me a note with any questions. The photo above represents just about where we stopped, so the '78 AMX front clip is on the car loosely, but everything is there and in good shape. The car will need a good clean-up and attention as described below, but would be a pretty cool daily-driver for someone with the time and interest to finish it up.
---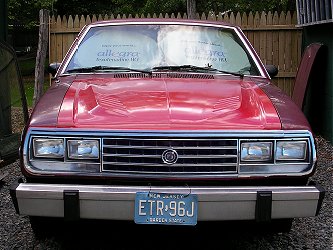 A quickie photo-edit to add in a normal grille area…
just to see the hood on a 'finished' looking car.
September 4, 2005: Yesterday I picked up a customized hood for this car. While my original intent had been to get a fiberglass hood with the '70 Javelin's Ram Air blister molded into it, I'd begun to see too many small AMC cars running around with the same hood. Then, on the www.AMCforums.com, an ad was posted offering this home-made steel hood for sale. It is a standard 'flat' hood from a 1979-83 Concord (which didn't get the 'power bulge' that this Spirit's original hood did), and it has had the 'blisters' from a damaged 68/69 AMX hood grafted on. I immediately sent the funds for it and the seller transported it to the 'Great AMC Day IV' event in Ohio this summer, where an online pal picked it up for me. He then brought it to yesterday's AMC show in Lawrenceville, PA where I met him and picked the new hood up.
It needs just a bit of freshening up, as there's a bubble in the gel coat at the right/rear corner. Otherwise, it's in great shape and a really well-done job. Unlikely I'll see very many Spirits with a similar look now!
The car is also now wearing 15" AMC Rally wheels and lo-profile Bridgestone radials. The wheels need some paint work and new trim rings, but combined with the new hood and the 78 AMX grillework, they will help give the car a much more 'Muscle car era' appearance.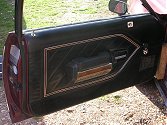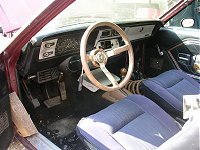 April 16, 2005: Not much to report as I didn't have the time nor the energy to attack this today. However, I did get the '82 door panels on (man, they look sweet!) and the dash assembly is re-attached.
April 14, 2005: The work continued today. The grillework was removed to send with the '79 parts car to its new owner. You see in the above photos that the interior swap is under way. The black '80 door panels are temporary (didn't want loose screws getting lost), but far nicer '82 panels will replace them Saturday. In the back, you can see tons of stuff going on this car, like a full air dam and flare set from a '77 Hornet AMX.
These shots show the cleaned-up '80 dash assembly being test-fitted in place, with the AMX cluster bezel, gauges and tach. It sits atop the original tilt-column that was just painted black. Naturally, the tan steering wheel will be removed shortly. I'm considering a small, F1-styled wheel…if I can find one cheaply. You can also see the black '79 cloth seats…which look a powdery-blue due to sun fade. I'll be re-dyeing them black soon.
These are original front signal /parking lamp assemblies from a '78 AMX…as purchased, and 90 minutes later wearing NOS lenses, gaskets and screws, with fresh black paint.
Since I was playing with grille pieces, I grabbed the '78 AMX grille and re-painted the black mesh, as well as the emblem and its mounting plate, then test-fit it all together to see it 'complete' for the first time. Yes, lots of overspray got on the stainless trim, but that will be scoured off and polished later. I also have better headlamp bezels than the ones shown, so these are just spares used for the test-fitting.
I'll bet many of you are cringing at the sight of those modern-styled diamond-cut headlamps lying near the grillework. This car is intended to be a 'local runabout' for those times I don't need my truck. It won't be a show car, race car or the like. It will be treated like any other 'daily-driver' might be, except it will be, to me, far cooler. So the lights are a little 'Tuner' add-on for the local kids to get a kick out of.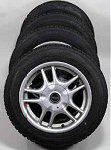 Even the Turbocast-II wheels will be removed and stored, as I scored a great set of nearly-new 15-inch Bridgestone 60-series tires on alloy wheels for cheap recently. I just need a good set of spacers as the offset is far different than stock.
April 12, 2005: Finally got some work started on this car! Between last Saturday, yesterday and today, I've been doing a lot of stuff, starting with finishing the removal of all the good stuff I wanted from my 77 Gremlin parts car, which was hauled off today as junk (R.I.P.). I also did the same for the '79 Spirit parts car, which now sits awaiting adoption by someone that might wish to use it as a race car base. If not adopted in the next week or so, it, too, will be junked.
The '79 Spirit's interior has begun being swapped into this car, converting from tan to black cloth. The carpet and seats are in, and I hope tomorrow to get the dash assembly in and perhaps the rest of the trim pieces.
Following my previous idea for the car, the next work will be installing the rear spoiler and the Gremlin's front sheet metal to create a '78 AMX front end. It will also receive the front air dam and flares from a '77 Hornet AMX. I'm still undecided about what color to paint the car when it's ready, but more and more, 1972's Plum Metallic seems the way to go.
August 24, 2004: I recently re-acquired this car when the buddy I sold it to last year switched to another project. I have no real plans for it at the moment, so it'll sit for a while.
One possibility is to swap out the tan interior with the black set from the '79 Spirit DL Parts Car I have, then yank the tired 258/Auto and drop the '74 AMX's 401/Auto into it. Then do the '78 AMX front clip swap with the new Diamond Cut headlamps I have on hand, add a rear spoiler and fiberglass hood with the '70 power blister scoop molded in. Then shoot it Big Bad Green with Shadowmask hood & fender-top blackout.
But that's just one idea…
June 12, 2003: As much as I like this car, yet another has popped and I may pass this beauty on to a close friend that wants to keep it the way it is, adding minor stuff like tint and a wicked sound system. If that deal goes through, this car will take over one of his three garages, becoming his weekend out-for-dinner toy and show car. I suppose that's a better fate than my more radical plans for it! I'm going to keep the wheels, and it'll get a set of Magnum wheels I have on hand for it. It's also getting the 80 AMX's dual exhaust and rear spoiler. I'll still update this page, as I'll be assisting him with its work. If it doesn't happen, she'll remain mine and will also remain stock with only repairs and restoration efforts, perhaps becoming a fair-weather daily driver.
June 8, 2003: Took advantage of a warm-but-gray day today and began the installation of the 80 AMX's tachometer (and removal of the Quartz clock). I noticed that the current speedometer's printing has it's increment lines arranged in a rectangular pattern while the '80 tach is circular. I then found the 80 speedometer matched the tach, using the round pattern. As a matched pair, they look better, so both '80 gauges are being used. This causes a very minor oddity, in that the older speedo has a Hi-Beam indicator in it's face, while the '81 cluster has it as a separate idiot light. Thus, my car will have both. Using the older speedo also instigated my learning how to adjust the odometer, which I did so that it matches the original '81 odometer exactly.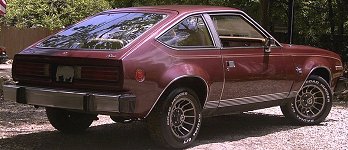 June 6, 2003: Visited the car's location again today because the sun finally came out for the first time in weeks. I took advantage and did some parts inventorying and photographed many so I could put them on eBay. Since I was down there, I also gave the car a quick wash, shot the tires with Armor-All, and snapped a few better photos. The rear shot here and the frontal at the top of the page were the two shots I liked most.
---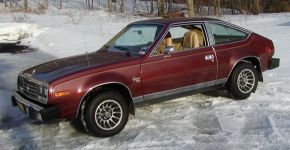 June 5, 2003: I got a lead from a fellow AMCer in Texas who owns the 1980 Spirit shown above (a near dead-ringer for my car), that its tan interior is being replaced with black...just as my plan has been. But this car's interior is excellent, including the front seats, so I'm making arrangements to have its entire interior shipped to me.
June 3, 2003: I was at the car's location today and took some more photos, made a quick pair of repairs, and rooted around the car some more.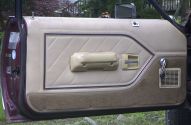 The driver's door armrest was off due to the black plastic panel on the back of the armrest being broken.
I replaced the panel and re-installed the armrest.
The window crank was missing its knob, so I replaced the crank, as well.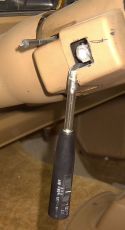 I took a photo of the steering column where the turn signal stalk mounts, to show the damaged portion.
Is this part called the 'turn signal switch'?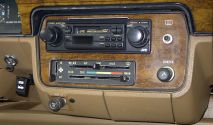 The current JVC stereo.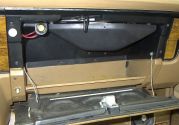 Also, I checked the glove box for the factory amplifier, but it's gone.
The plastic cover that hides the amp is still there in real nice shape.
While in the glovebox I spotted that the car also has a remote hatch release...and to my surprise, it works.
I lifted the hatch, but the pneumatic arms gave no assist, so I expected to hold the hatch up.
Surprise again- the hatch stayed up.
When I went to lower it, it wouldn't go down...it seemed the left assist arm was 'locked'.
Looking closer, I found it has a nifty doo-dad attached at the base that has a spring-loaded arm that
aligns along the silver portion of the arm, supporting the wider black portion when the hatch is raised.
You just pull it away a little to lower the hatch. The prior owner reports it's a NAPA add-on.
The rear defroster is not usable as the flat wire normally affixed to the glass has been pulled off and left hanging.
The cargo area looks great...the original mini-spare is there, properly secured with it's cover boards and carpet cover.
A closer look at the body finds the passenger fender is more beat up than first noticed,
as it and the door have a poor paint touch up.
Also, the hood has a minor dent on the bulge portion.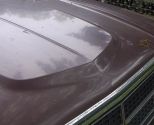 ---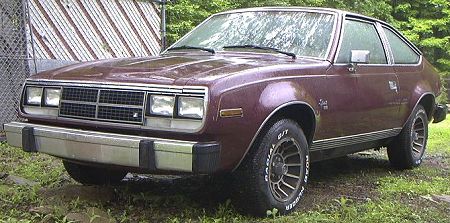 June 1, 2003: Last week I bid on this car on eBay and won the auction, and yesterday I drove to Virginia to pick it up. Despite some of the nastiest towing weather I've ever suffered through, the car was worth the trip.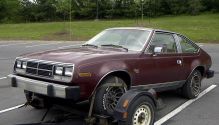 At first glance, it's your generic, run-of-the-mill Spirit DL. But it is well-optioned, and except for the radio, nothing much has been altered in 22 years. The best part is that it has no rust, anywhere. The rot-free shell alone was worth the price I paid. The rest is gravy, and it consists of:
· 258cid Inline six cylinder engine with 2 barrel carb. [May have spun a main bearing, runs OK after 'squealing' a few seconds until the oil starts moving]
· A904 Automatic Transmission. [Slips when warm]
· Power Steering
· Power front disc brakes
· Premium Sound package (4 speakers, amplifier, fader) [Aftermarket radio installed, but I have a correct factory unit on hand. Amplifier is missing]
· A/C Pkg. (with HD cooling, alternator, parcel shelf, and tinted glass)
· Light group (dome/map lights, 2 courtesy lights, glove box light, engine compartment light, liftgate dome light)
· Quartz clock
· Rear Defogger
· Cruise control [Turn signal & cruise stalk mount/switch broken]
· Tilt steering column
· Dual remote mirrors
· Leather-wrapped sport steering wheel [worn leather]
· Turbocast II wheels [Excellent condition with original caps and all lug nuts]
· Handling package (dual sway bars)
· Remote hatch release
· Stainless Door Edge Guards
The VIN# of 1AMCC4358BK1165xx decodes as follows: 1981 AMC Spirit 2 dr liftback Passenger car Engine: AMC 4.2l (258cid) 2v I6. Trans: Automatic floor shift. This was the 16,5xx car ordered from the Kenosha WI, USA plant in 1981. This car has DL interior and seatbelts and the check digit is 8.
The car wears its original paint and still has some shine to it. A coat of wax will do wonders. The only obvious body damage is a pair of small dents, one at the front of the passenger fender, and the other at the top of the wheel well on the same fender.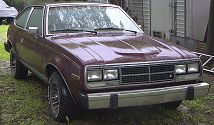 The tan interior is in very good shape except that the front cloth seats have been replaced with maroon vinyl seats, which are covered.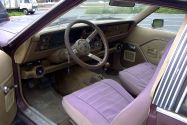 Some of these options are very unusual in a Spirit, showing up more often in Concords and high-end Eagles. The Premium Sound System is one such rarity. Others are the Handling Package and Turbocast II wheels. The last two of those are more often found in Spirit GT or AMX models, but rarely in a base or DL model.

All four tires are in very good shape with significant mileage left on them.
I have a set of well-used but restorable Magnum steel wheels from the '80 AMX I parted out, too.
Of course, I can't leave well-enough alone, and will be adding some more factory equipment from a 1980 AMX parts car, including:
· In-dash tachometer
· Rear spoiler
and more.
---
Send me your every thought!



JohnRosa@JavelinAMX.com
---