---
Back to the Demo Derby Main Page
---
CAR #2: 1977 Cadillac Coupe DeVille
---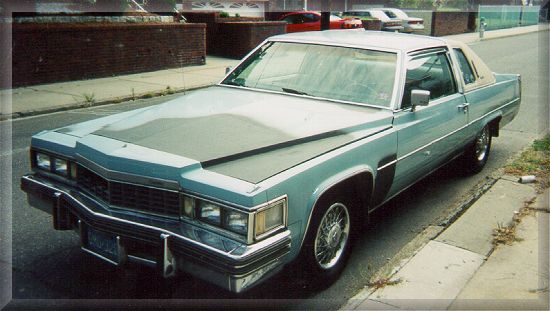 This is the "Coup De'VILE" I picked up for $200!
425 cubic inches of gas-guzzling GM-big-block, packing a dismal 195 Horsepower- the very definition of pathetic!
(AMC's 360 small block was pushing 220HP in 1977!)
---
Immediately after our first demo derby, Harry and I decided we'd be doing another as soon as it could be arranged. Our jobs with New Jersey's auto inspection facilities meant we get to see a lot of local clunkers attempting to remain legally on the road, and we're in a good position to make offers when these cars don't pass inspection. We figured we didn't need to hunt for cars...they'd come to us. On a lark, tho, I grabbed a local Auto Ads magazine on August 13th and while flipping through it, found three cars that seemed good candidates. All were big GMs, all were under $500, all within an hour's drive. The first I called was the biggest and the description was right up our alley- '77 Coupe DeVille, 425 V8, Runs excellent, needs resto, $400/bo'. I called and left a message, then the owner called and left me a message, stating the price was now just $200! We're in business!!!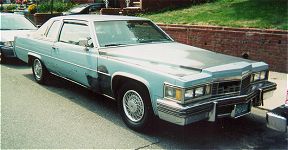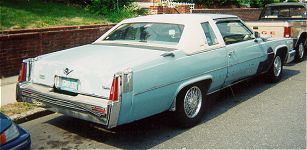 I went to see it the next day, and on August 19, 2001, I bought it. Our second car is another GM two-door. With most of the derby entries being four-doors, I was hopeful we'd continue to find coupes whenever we needed another car. On that note, after leaving the seller's house, I spotted another '77 Coupe DeVille, dark green, looking abandoned but complete, and judging by the long-expired inspection sticker, not having seen use in 5 years or so. The owner couldn't be found, so I left a note expressing interest. Finger's crossed!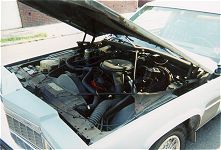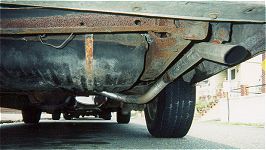 When I first saw this car, it ran great- quiet and smooth. It even has a brand-new exhaust system! The only obvious issue right now is a fading brake pedal and brake line leakage. The engine compartment was relatively clean, complete and un-butchered- obviously, it was maintained fairly well. The body had taken it's hits and rust, but had been patched well-enough along the way. The interior was hurting, needing work on the front seats, dash and door panels.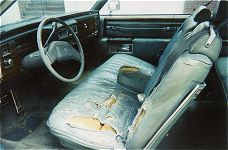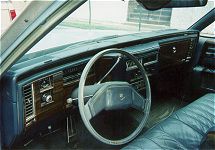 ---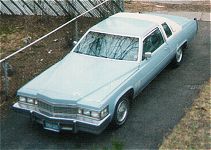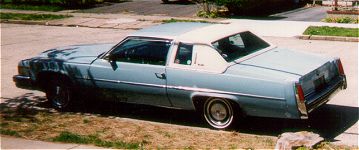 These two pics of the car were taken 8 to 10 years ago, when she was in MUCH better shape. The owner gave the pics to me with the car.
---
8/25/2001: The car is home, after a 42-mile flatbed tow. I decided driving it with a known brake line leak was simply stupid. I took a longer look under the car and found good reason to make this a demo car- the rear frame rails are rotted thru in several areas, severely. All qualms I had about the wrongness of thrashing this car are GONE. Now, she'll go into storage until the next derby event we can get to.
---
Send me your every thought!



JohnRosa@JavelinAMX.com
---
Top of page
Back to the Demo Derby Main Page