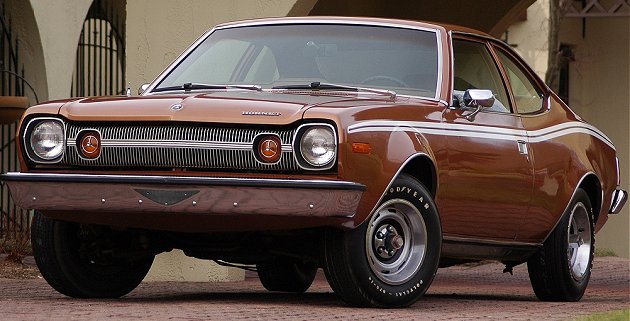 Photo Copyright 2004, Richard Truesdell
This is probably the cleanest and most loaded AMC I've ever owned!
---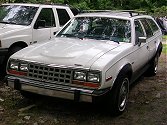 July 16, 2005: Today I had to move Bobby's Eagle project car, and it now sits in Morristown with my Hornets and Spirit. On the way back, we stopped by the Chatterbox to see what kind of turnout they had. While nothing like last week, plenty of shiny metal and fiberglass was on hand, including this nice '65 Marlin. For my Hornet, this weekend was a non-event.
---
July 9, 2005: After getting stuck working half a day this morning, I got to the AMCRC show in Somerset about 2PM, and parked between a pair of early AMXs. I ran into several folks including Steve S. with his beautiful '70 Javelin, and author Pat Foster who seemed overjoyed to discover my car actually exists, since he wrote that great article about 'other' 360 Hornets early this year for Hemmings- he was especially shocked to feel the cold breeze coming from the car's very-functional A/C. Sorry- no pics of my car at this event.
A very nice '74 Hornet X with a 304 was parked two spots to my car's left, and it was for sale. The owner claimed to be the original owner and seemed quite sincere when he reported the car was 'completely original' despite it wearing several items not offered by AMC, either at all or not until several years later. 'Incorrect' pieces included the dual exhaust and chrome exhaust tips, the air cleaner, the valve covers, the intake, the carb, the wheels (the wheels he admitted were add-ons), the all-blacked-out grille and the wheel flares pieces from a 1977 AMX mounted over the stainless '74 rocker trim….this he insisted was factory-installed, despite the fact that AMC didn't manufacture such pieces 'til much later. His $15,000 asking price probably meant the car went unsold, as that seemed very high in my book.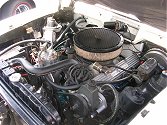 Unfortunately, we weren't there long when a nasty squall blew through and effectively ended the show early.
---
July 3, 2005: Yesterday, I gave the car a good cleaning, including a proper scrubbing and prep of the tires so that now the white letters stand out as they should. I also cleaned up the underhood areas where factory decals were missing, then applied reproduction decals from Jim Osborn Reproductions. These include the firewall emissions decal, the coolant decal, the alignment decal and a coolant service decal normally applied by the dealership. I then drove the car to the Saturday cruise at Chatterbox again. This time, I got a better parking space and received even more nice comments on the car.
One of the other car's in attendance that drew my eye was this sharp Kaiser sedan. Besides being a fellow 'orphan' marque, I was taken in the by the way the top of the windshields dipped at the center pillar. Bet this beauty is a blast to find parts for!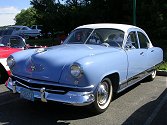 Today we headed down to Island Dragway in Great Meadows, NJ for their Mopar / AMC Day. As you can see, the AMC contingent was comprised of just three cars- Blaine Hertzog's gorgeous SC/360, a sweet '70 AMX 390 and my Hornet X…which I did not race. The AMX was knocked out in the semi-finals while Blaine got Runner-Up and a $100 pay out.
---
June 29, 2005: My grand plan to attend this year's 'All AMC Day' at Cecil Dragway in Rising Sun, Maryland last Saturday with this car, collapsed at the very last moment when my truck- the intended tow vehicle- sprang a profuse power steering leak late on Friday evening. The parts weren't available 'in stock' and wouldn't arrive 'til Monday AM. Attempts to arrange another tow vehicle on short notice were fruitless and I missed the event. The worst part of that was my missed chance to finally meet this car's prior owner in person, who had flown out from Kansas to attend the event to see the car's progress. Suffice to say I was really upset all weekend. The truck was fixed first thing Monday AM… in time to go to work… 'whoopee'.
Prior to the truck's troubles, I spent all week attempting to secure a rental car trailer. Earlier attempts to reserve one with U-Haul met with their standard response…'We don't know when or where one will be available, so it can't be reserved.' Despite this astoundingly vacant thought process, they remain in business. Contacting other rental companies found they would only rent the trailer if I also rented one of their trucks (apparently, only their trucks are properly equipped to haul trailers). The entire final week, we called multiple times each day to various U-Haul locations to see if a trailer had become available. None ever did. Friday evening, I gave up and borrowed my brother's tow dolly. Arriving with it at the car's location, the truck's power steering issue sprang up and halted the entire operation.
But today was a good day, and one that makes calling U-Haul and all other renters a thing of the past, as I've acquired a used 16-foot car trailer on which to haul this car from now on. This news is certain to make my brother happy as his dolly will see much less use now.
The trailer is a 1999 model with beaver tail, stowable ramps, electric brakes with breakaway protection system, folding jack, spare tire and mount, winch mount (no winch included), stake pockets and a full, steel deck. It wears four new Load Star F78-14 trailer tires and hauls a fifth new tire as a spare. While it needs nothing to go into service immediately, I do plan a few alterations. First, the deck is very low, leaving the fenders too high to open the Hornet's doors. So the left fender's welds will be removed and the fender altered to be fully removable from now on. The two wood planks currently on the deck will then be removed (they were added by the prior owner to raise his '69 Charger so its doors wouldn't hit the fenders). An electric winch will be added to help non-running cars on and off. And I want the tail lights mounted higher as they 'disappear' when viewed from behind at the slightest angle…they are blocked by the deck's side rails. I've replaced the breakaway battery, just to be certain, as the other was just a bit 'iffy' looking, and all-new tie down straps are next.
The trailer is very well kept and everything is working properly.
---
June 5, 2005: Yesterday it was beautiful out- no clouds, low 70s…perfect. I went down and grabbed the car and drove it an hour to a cruise-in at an area restaurant called The Chatterbox in Augusta, NJ. On the way, I saw a gorgeous '69 Big Bad Blue Javelin going in the other direction.
When we arrived around 6:30PM, the place was packed with about 200 vintage cars and oodles of visitors! AMC was represented by just one other owner that brought his two cars- a '69 AMX and a '70 Javelin. Unfortunately, I didn't bring my damn camera, so I have no pics to offer. But my wife and I were both surprised by how many folks actually knew what this car was, and how complimentary they were. We stayed 'til about 8:30PM and headed out as daylight faded, and were home by 9:00. Bobby's brother came running out of their house when he heard the rumble and begged for a ride around the block, so we annoyed some neighbors with a little tire spin and unnecessary acceleration before putting the car to bed.
This morning, the weather was headed for the 90s, so we left the house early to return the car to mom's place before 10:30AM. All told, the car drove about two and half hours this weekend with no hiccups, with most of the drive between 35 and 50 MPH (and nearly 65 MPH this morning for a few short bursts). It started and ran just fine, and the temp never rose above the very lowest portion of 'normal' on the gauge, and fuel use was surprisingly mild.
Aside from that 1970s-level of handling up front that I'm getting used to, the ride was very smooth and predictable. And I'm now certain the car is reliable enough to get itself to just about any event within a 2-hour radius (further events still warrant towing it, for mileage and safety concerns).
---
June 1, 2005: I had the time today to get the car to inspection, and the car ran just fine on the 40-minute round-trip. The car now has its two-year 'Collector Car' sticker and is finally all 'legal'.
---
May 29, 2005: Two weeks ago, on a local drive, I was heading to the state inspection station when I realized the speedometer hadn't been reconnected when I did the gauge work…and the car wouldn't pass inspection if the odometer wasn't working. So I pulled over, shut the car off, reached behind the dash and reconnected the cable. When I tried to restart the car, it wouldn't. It would fire up so long as the key was in the 'start' position, but when allowed to return to the 'run' position, it would die right out. After a while of fighting with it, I had it towed home and stuffed it in the garage to play with later as I was short on time anyway. This morning, I finally got back to it and found that when I had my arm jammed up behind the dash, I must have pressed against a wire that ran to the ignition switch, and it's pulled out of it's connector. After shoving it back in, the car runs fine again.
So, after the zero-dollar fix today, I took my mother-in-law for a short ride around her neighborhood. The weather was awesome- sunny and mild…not hot, not cool. We had the windows down, listening to the rumble as we took off quicker-than-necessary from every traffic light. Alas, another engagement forced us to keep it short and the car is back in storage 'til later when I'll get it to inspection…finally.
---
April 6, 2005: Well, today's weather was simply too good for 'work' so I went to the cars and played for a while. First, I brought this car out and let her run and warm up while I dusted her off. I put her in direct sunlight to let the body warm so that I could attempt to finally remove the very-wavy scuff molding.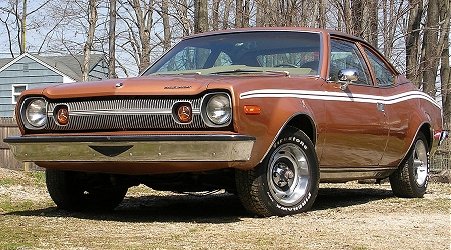 Meanwhile, I set about pulling the dash out of my parts-car Gremlin, and it is now tossed into the blue Hornet. This coming weekend, I hope to get back to the Gremlin to yank the fenders, front valance, hood and windshield. Little else seems worth saving, so it will be sent to the crusher next week.
I also rummaged through and semi-organized my parts stash a bit, to get a better picture of what's there, worth selling off, throwing away, using or continuing to store. I brought several items home with me to list on eBay and to send to online pals that requested them.
Getting back to the Hornet, I installed the new wiper blades into the OEM frames I received last week, then installed them on the car…and they look much nicer than the black units it was wearing before.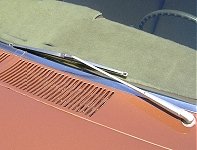 The second NOS locking fuel cap (not counting the used one I bought before the NOS ones) was also installed. It is the nicest one I've seen yet. I'm glad I took the risk of buying several to find this one, selling the others afterwards. Ain't it SWEET!?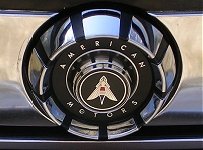 I finally got down to business and slowly removed the now-warm scuff molding. It left behind lots of automotive trim tape, which I just rolled with my thumb, inch by inch, 'til it was all off. Then I wiped off the car with a wet towel, chamoised it dry and you see the results. Had the molding been straight, I might have left it on, but it looked so shabby with all the waves in it, and since it wasn't 'correct' for this car anyway, it was a no-brainer to toss it away.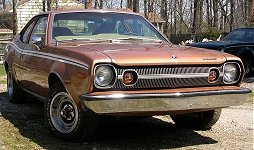 Here are a pair of pics of the NOS 'good-enough-for-now' litter bags I added last week. In the sun, they don't clash as much as they did in artificial light. I think they are very livable 'til the right ones are found.
In this rear shot, you can see I've swapped off the previous Kansas license plate for a better one. Not only is it in better shape, but the expiration date is more 'possible', as this car was built in November 1972, so if sold immediately and registered, it's plate would have expired November 1973, as this one does. The prior July plate would have been impossible for this car to have received. Now…is that anal-retentive, or WHAT?!?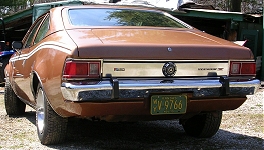 The dash photo is for no other reason than to show off the cute keychain. Since it isn't intended to symbolize the AMC Hornet, can you guess what it IS meant to represent? Email me if you know!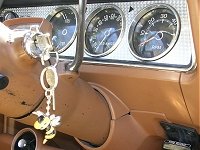 ---
March 25, 2005: Today I installed the new radiator hose and clamps, and the new radiator cap. The picture was taken before I wiped anything down, so it's messy looking there. But the AM logo on the hose is obvious, as are the correct clamps.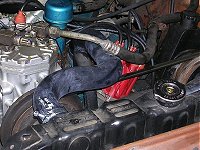 I also put on a newly-arrived NOS "HORNET" hood emblem (at the right in the photo). At this point, the only exterior marking not replaced with NOS is the 'HORNET' emblem on the tail panel…which will be replaced whenever an NOS one turns up.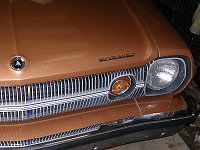 Lastly, the late-60s litter bag kit was modified so that the car's existing clips would hold the bags. These bags are too tall and the wrong color, but they fill the void while I wait for correct ones to be found. Normally, the door clips would be seen at the top corners of the bags. But because these bags are so tall, I had to mount them higher so the doors would close…so the clips are down in the bags, just below that visible hem line.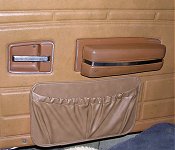 When I got home, I found a few packages waiting. The first held my OEM wiper frames- used but in great shape. These will replace the black aftermarket units that are on the car now. The wiper blades on these are totally shot- fresh ones will go on, of course.
I also received several NOS spark plugs in the original packaging. These are for car show display only.
---
March 23, 2005: I can't believe I never mentioned this here before, but last month, the MyClassicCar.com website named this car their 'Featured Car of the Week'! Pretty kewl! You can check it out in their archive at: http://myclassiccar.com/CoolCars/photogallery/archive/2005/2005-02-07/index.shtml.
Today's mail brought (yet another) NOS fuel cap- this one even more 'perfect' than the last. I know, I'm obsessing about this one part, but for me, it's one of the coolest detail items ever used on an AMC, and I want the one for this car to be dead-mint. My neighbor's son, Bobby, calls it the afterburner…which I agree must be the inspiration for the design. Here's a quick pic of the newest 'new' cap, below. Now, I just need to sell the one I bought last month to get back to 'even'!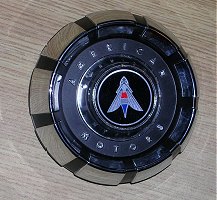 I also received several NOS 'HORNET' dash tag inserts, one of which will replace my original, warped one.

---
March 16, 2005: In today's mail I received an NOS air conditioning and power steering drive belt- the exact part number this car originally came with, and with the AMC logo clearly visible. This isn't a reproduction- it's a 30+ year old original part…thus, it won't be on the car when running. It will be carried to shows and put on for display, then removed at the end of the show. Even though it looks 'new', it ain't!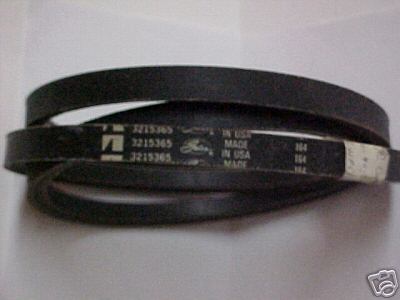 The new (old….but new…whatever!) belt will join the newly arrived reproduction 'correct' upper radiator hose and clamps and radiator cap under the hood.
---
March 13, 2005: This weekend had some better weather, especially today, Sunday, in the mid 40s. So Bobby and I ran to the car with some bits and pieces I've been gathering since Christmas.
Long-missing trim now back in place, with other NOS pieces and a Kansas tag.
These tires and wheels are the car's 'road-use and storage' set.
The NOS PolyGlas tires seen lower on this page are for 'show-use' only.
First job was to remove the trailer hitch assembly, and install several NOS bumper bolts to fill the holes left behind.
The side molding was going to be removed weeks ago, but the constant cold threatened to make the job a nightmare. I want the car to be very warm when we start pulling at it, to lessen the risk to the paint underneath. Hopefully, we can get it yanked before the end of the month.
Then, I wanted to swap the good locking gas cap I added back in November, with a near-flawless NOS one I bought in February. But when installed, the NOS one was sticking way out, floating too far from the rear panel. After a few moments of horror, I realized I could do a bit of surgery and swapped the guts that are behind the caps, between the two caps. This worked out fine, and the new NOS unit is gorgeous.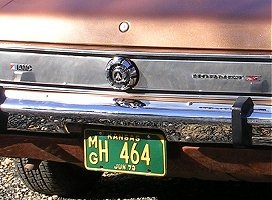 A close-up of the new gas cap, X emblem, bumper bolts
and Kansas license plate.
Also NOS is the new 'X' emblem on the tail panel. The original was lost long ago.
I've finally located and received a pair of stainless trim pieces to replace the missing/damaged pieces on this car's C-pillars. These are only found on vinyl-top-equipped Hornet hatchbacks (few made this way), so they weren't an easy find. Thanks go to a Canadian pal, Bryan Morrow, for locating them and contacting me! The driver side piece is shown on the car (loosely, not clipped on), while the old passenger side piece is still in place. The two good ones will be permanently installed after the new vinyl top goes on. Bryan also located and is sending correct wiper blade/arm assemblies to replace the black plastic ones on the car now.
You will also note in the photo that I've located and added a vintage license plate from Kansas, the car's original home state. It displays a June 1973 registration.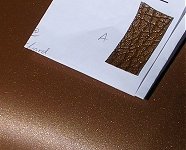 A vinyl top fabric swatch against my car's paint.
I think it's a great match.
Another online buddy contacted me to suggest www.SMSautofabrics.com for the vinyl top kit. I emailed them and three days later had swatch samples of the exact fabric I needed…in both grain and color! The kit isn't real cheap, but having 'the right stuff' makes it worth paying for.
On the way from www.AmericanPartsDepot.com is a correct, reproduction upper radiator hose with correct clamps, radiator cap, and a rare NOS 'Door-mounted Litter Bags' kit. While the kit is actually for late-1960s AMCs, it will be slightly modified to replace my missing early-1970s versions. This will fill a big void in my interior.
Also coming soon is the correct Rally Stripe kit… details being finalized now.
Not pictured is a pair of NOS window crank handles and knobs now on the doors.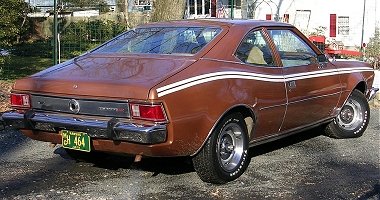 After today's tweaks (wearing 'road-use' plain gas cap)
---
December 25, 2004 (Christmas Day): While back at Dian's home for the holiday today, I took a few minutes to go back and take the PolyGlas tires and wheels off the car. The Firestones are back on with the car's original wheels now, and the car is tucked back inside, undercover and safe. During the swap I noticed that the car is wearing a REAR anti-sway bar! Since I've found no documentation to suggest any such thing was factory-stock, I betting it's an owner add-on, which I will confirm with the original owner. Seems he didn't mean for this car to perform only in a straight line.
---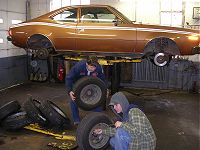 December 24, 2004 (Christmas Eve): This morning Bobby and I left for Morristown with the car's 'new' tires. We pulled the Hornet out of the garage, emptied it of all non-stock items and paraphernalia, then drove it to a nearby STS gas station to have the tires/wheels swapped. The owner/operator, Steve, knows my wife's mother, Dian, well, and thought the car was kinda cool, so he said 'no charge'. Nice, eh? That's Steve working with Bobby on moving the tires and their caps around while Steve's co-worker is working the impact wrench on the other side of the car.
Before they were finished, the writer/photographer, Richard Truesdell, arrived and we chatted a bit before taking the car to a nearby, up-scale home belonging to one of Dian's friends. They were away on vacation, so we weren't likely to bother anyone…though the caretaker did stick her head out to see what was going on.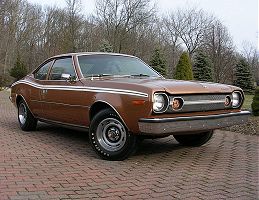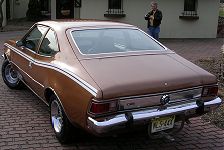 These shots show the newly-mounted PolyGlas tires off nicely. In several, you can see Richard at work. This property sure makes a car look good! His photos are bound to be far nicer. Not bad considering the short notice forcing me to skip the restoration of the wheels and the clean-up and dressing of the tires. All she got was a wet-rag wipe down and a quick spray of armor-all to help blacken the tires more.
As we left, Dian was standing at the exit of the driveway, and since she loves the sound of this car so much, I figured as soon as the rear tires reach the pavement of the street, I would give a bit of extra gas to make a louder departure. I can tell you she sounds SO sweet when she's 'working it'! When we arrived back at her house to put the car back inside, Dian informed me that I left 'a whole lot of rubber' back in the street. I assured her she was wrong, as I had hit the gas as I turned, and if the tires had broken loose, the car would have fish-tailed some. She said to go back and look, which I did…finding a 35-foot black stripe in the road. OOPSIE! Not smart on 30+ year-old tires! I'll have to be more careful in the future. But the single stripe also tells that the car doesn't have Twin-Grip after all…or it does, but is not working properly. This will be checked out. Total distance driven today was under a mile, and at speeds no higher than 30mph. I promise, these tires are being babied (except for the one boo-boo)!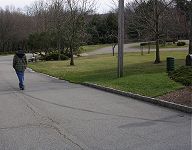 Still, though, it was a thrill today to have a professional photographer here to shoot my baby! I'll keep my fingers and toes crossed, hoping he can get them published! There just ain't enough AMC content in the magazines…though it's gotten better. I'd be proud to see this car making the grade.
---
December 23, 2004: Late last evening I received an Email from an on-line acquaintance and well-respected auto journalist and photographer who said he was in the area for the holidays and he wanted to know if I'd be interested in showing him this car and perhaps having it photographed for a possible magazine appearance in the future. While nothing is guaranteed, I quickly said yes and proceeded to run with the NOS tires and spare Rally wheels to a local tire shop. We'd agreed the car would be so much more 'sellable' to his editors if the 'right' tires were on the car. So I had to skip the wheel resto for a quicky clean up.
Above, an employee of JRF Tire (of Franklin, NJ) tests the bead seal of the first tire he's mounted. Next, my neighbor's son, Bobby (a recent AMC convert and new owner of an '87 Eagle wagon) takes the tires from their storage bags. Our tire-guy readies the second tire for mounting in the picture on the right. Below, all four mounted tires await loading back into the truck for the trip to the Hornet tomorrow. More news then!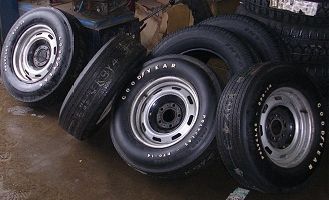 ---
December 22, 2004: Two months and you might think I've been ignoring this car…but I've been working a lot, and wheelin' n' dealin' to keep it improving while it awaits spring and the 2005 car show season.
The locking gas cap was installed last month and looks great. It cleaned up really well….not like 'new', but very nice anyway. Pics of that will come later. But below are some new photos taken with my early-Xmas present- a great Nikon digital camera! This next photo is the first shot I took with it.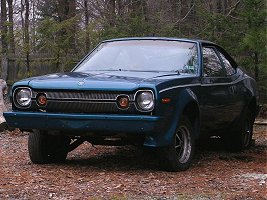 Didn't really need it, but the deal was too good to pass up.
But what to do with it??
Also last month, I made a deal to buy another '73 Hornet hatchback project car. I didn't really want or need it, but the price was great and it came stuffed full of extra stuff. This includes a V8 crossmember and springs for 'small AMCs'. Several NOS pieces, too, like a rear valance panel, and the vertical panel that sits ahead of the battery tray between the inner fender and the radiator. Several NOS emblems, lenses, and window cranks, too. The car was towed home 2.5 hours last Saturday and the NOS/Mint hood ornament was the first item removed from its Ziploc baggie and transferred to the copper Hornet. It's just gorgeous!
Baby's got a new tooth! An NOS hood ornament now graces the car's hood.
The red portion is usually the first color to fade to the base silver.
I'm still looking to score an excellent rub strip for the front bumper, as you can see it's got a chunk missing at the center point. Leads appreciated!
Also included are a full set of 14" 8-slot Rally wheels complete with trim rings and volcano caps, and a full set of AMC 'Turbine' aluminum wheels, again with all four volcano caps. In fact, for the eight wheels, at least 11 caps were provided, all in good/usable to great condition.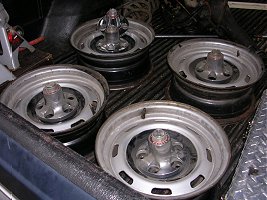 A second set of rally wheels to be restored for show-only use.
The rally wheels are going to be fully restored to factory-correct appearance for car show duty. This car's current set of wheels and Firestone tires will be it's driving set for cruising and being driven to local shows. The new 'restored' set will get my best four caps and trim rings, and will then be fitted with a set of NOS, factory-correct Good Year Poly-Glas RWL tires in the original D70-14 size. These are the exact tires this car came with when new in late 1972! I scored these rare 'shoes' from a great guy just north of me who recognized them as the rare items they are (Thanks, Joe!). While 'expensive' compared to your basic budget tires for everyday driving, they were a steal compared to what others are paying for the same tires in the E 15" size….up to $1500 each for those rare items! See, while Coker Tire is reproducing vintage-style tires from other brands for show cars, Good Year won't allow its own vintage-design tires to be recreated- probably for fear someone will sue Good Year for a defective tire actually made by Coker. This leaves car owners in a lurch when restoring their cars to 'factory-correct' appearance, and they must seek out 35-year-old tires...which few folks have held on to! While I paid for four NOS tires, the seller also gave me a (freebie) pair of lightly used ones, too. I can't wait to mount these things up! And don't worry- I will NOT be driving the car anywhere on 35-year-old tires. They will be on the car at car shows only. When in transit, the newer Firestones will be swapped on.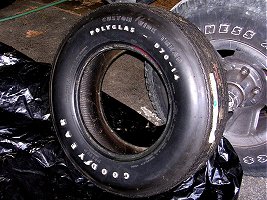 One of six original Poly Glas tires I've acquired for the Hornet.
Note the original paper label still on the tread!
Now, these tires bring up a bit of a conflict with my intentions for this car. These tires are a big portion of a plan to restore the car to factory-correct appearance. Yet I've made subtle changes to the car elsewhere due to personal preference…but the changes are NOT 'factory-correct' for the car. Things like the dash trim bezels, the tachometer and the under-dash 4-gauge pod. Now that I've invested in this rubber, do I undo the other changes? Dilemma!!
---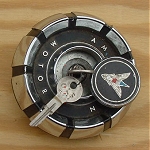 October 21, 2004: Three nights ago I won an eBay auction for a used, original locking gas cap for this car (photo above). An identical locking cap is in a box of parts that came with the car, but it is missing the Hornet logo from the key hole cover and is badly pitted. Also, a screw was put thru the key hole cover to hold it to the cap…so it is worthless and unusable. These suckers are really heavy and solid. I imagine these were dropped often by gas station workers in the 1970s that didn't expect a fuel cap to weigh so much.
The car currently wears its original cap of a different style. I've seen caps like it on other Hornets, but they've all had a Hornet insignia on them, yet mine has nothing but a black circle. The car's original owner states it is the original cap, so I'm stumped as to why it has no insignia. He says the locking cap in the parts box was purchased when the gas crisis occurred. If you remember, folks were actually siphoning gas out of other people's cars back then. Locking caps were the rage.
---
October 17, 2004: I've received a few more upgrades for the car, including a restored Space Saver spare tire inflator bottle and an NOS, boxed 3-piece Rally Stripe decal set for the driver's side of the car, in gold. The stripe set will be provided to a stripe manufacturer to reproduce for me and anyone else needing a set. Of course, my set will be done in white to replace the hand-made set currently on this car. Sure, it looks fine now, but I want 'exactly correct' stripes for it.
The photo shows my new, custom-made-to-fit California Car Cover (with custom-ordered 'HORNET X' embroidery. It looks wrinkled and oddly shaped right now, but in a few days, it'll settle properly to fit the car exactly.
---
October 3, 2004: Finally a day with sunshine! I took the car out for some pics, but first decided to swap the front center caps for better ones I had on hand. Each is in nice shape and has its red ring. I also added an NOS 360-2v decal to the air cleaner and an NOS 'AMC' logo emblem to the tail panel. THEN, I posed the car for some new photos.
It's hard to tell in these shots, but the red rings are now there on the front wheels, as they should be.
This shot was taken before I added the NOS logo to the tail panel.
The left shot (poorly) shows the '360' decal on the air cleaner.
The grainy shot on the right shows the upgraded dash bezels now in place, complete with the factory tachometer.
Now the tail panel logo is in place (at the left end).
On the left, the ride height as it is now. On the right, the look I want.
Two more shots before I go.
---
October 2, 2004: I spent some time today wiping the car off to remove Thursday's rain spots, using a real high-end chamois my mommy-in-law got me. Amazing how much easier a job is with the right equipment! When done, I had a bit of time left before having to leave, so I insanely attempted a 'simple parts swap'.
I grabbed some basic tools and the dash bezel/gauge set I got on eBay (from a 77 AMX) and decided I'd do the swap. The glove box side went nice and easy. The gauge side seemed to go well, too. I yanked the original set, took it's switches and gauge cluster off, then pulled the switches and cluster off the new setup. I then installed my original cluster onto the new bezel (which had an original V8 tach on it), then installed my original switches (I knew they worked and my wipers have the intermittent feature, which I wouldn't want to lose).
I was about to slip the whole thing back into the dash when I figured I should check all the operations. Well, switches worked fine, so I figured I'd start the car and check idiot lights, then gauges. OK- idiots lights are fine...but the car then cranks without trying to spark up. That's when I realize the add-on tach that WAS in there was removed with a quick 'snip' of the wires. But that shouldn't disable the ignition! A quick call to a buddy had me looking under the hood to find the positive lead from the ignition solenoid was cut and redirected to the gauges, then back to the coil on the positive side! So my 'snip' effectively broke the long loop. So I yanked the added wires, re-connected the original wiring as intended and she fired back up on the first try again.
I then finished screwing the assembly into place and put that car away for the night. Note I didn't try to connect the factory tach. I didn't have my TSM with me, nor any extra wire. I simply used what I had to extend it's wires out the bottom of the dash so I can connect it up later. Hell, I don't even know if it works, so better to wait 'til I have more time to tweak and troubleshoot.
The 'engine-turned' bezels of the 77 AMX sure spruce up the car's dash. It looked so 'blah' in "tan-with-tan-over-tan-with-tan-trim". Tomorrow they PROMISE me some sun, so new photos then.
---
September 30, 2004: The car arrived today at 11:30AM on the back of a semi's trailer (having shared the ride with several brand-new Porsche/Audi/VW vehicles destined for points unknown. All was right with the world. Almost. The damn rain would not let up long enough for a single photo with the smallest amount of sunlight. Oh, well...maybe tomorrow. Today, you get what you get.
So, the car is just about everything I could have expected- a very clean and maniacally maintained original-owner car. He bought it December 8, 1972 in Liberal, Kansas for the princely sticker price of $4210.65 (actual price paid, I don't know). The window sticker is complete, crisp and not faded, with 3 creases across the face due to folding. The car is described as a 'Hornet hatchback 2-dr sedan'. The next line indicates 304 cid V-8 2-barrel for $138, but the very next notes 360 cid V-8 2-barrel at another $41.55. Seems to me a confusing way to set these sheets up. I've scanned it, brightened the colors a bit and reprinted it for display in the window at all times, while the original now retires to a dark cabinet. I can't believe anyone paid $121.90 for a Mono AM/FM radio, even back then!! An aftermarket unit with tape was far less!
The seller provided a huge cache of receipts from 1972 through 2004, plus his fuel/mileage binder, where he has tracked every drop of gas used by the car for the last 32 years. It begins 12-08-72 and ends 09-27-04. I'm going to be sorting the nine boxes full of spare parts over the weekend.
In the glovebox was a near-mint Owner's Manual plus Guarantee Card, Dealer Business Card, Consumer Info pamphlet, a Drive Safely pamphlet, a Guarantee booklet, all in the soft, clear, plastic folder. On the visors are two plastic sleeves- one explaining how the ignition works, the other is a dealer prep checklist (never seen these before)! He also had a 73 Technical Service Manual, missing the cover and very battered…which I will use for actual repairs as he did, while the spare '73 TSM I already had will be 'show stuff' for this car, like the rest of the documents above.
Oh, yea...I got a CAR, too.
She fires right up, goes into gear solid and drives really well considering the short spaces I played in today. I'll have it legal shortly so I can test her out at normal speeds. The exhaust seems to leak a bit at the driver's manifold, and the 'tick' of that annoys you away from the VERY throaty rumble of the custom duals. Two-barrel not withstanding, this car advertises a lot of attitude.
The carpet is very clean and complete, with just a bit of irregular fade due to the long use of a full-width floor mat. The driver's seat has a mild separation of the patterned fabric from the solid vinyl bolster...should be an easy fix. The dash top is perfect, thanks to an exact-fit carpet cover, properly molded, cut and edge-sewn to fit Hornet/Gremlin dashes...but it's too clean to really be from the era... isn't it?? It's a keeper!
Door panels and back seats are excellent, needing just a bit of cleaning.
The paint is shiny, applied in 1995. The stripes are a hand-made copy of the originals, done at the paint shop by someone pretty damn talented. They are
just a bit too thick, but until NOS or exact repros come up, they'll do fine. Doors close tight with no sag. Hatch stays up, but drops heavily with little help. The hood and it's release operate perfectly. The missing C-pillar trim appears to be an easily faked item....I'll start toying with that shortly.
The radio works (and if you expect more gush than that, you've got a long wait).
The Space-Saver spare, still clearly marked on the tread with white D70-14' painted lettering, has never been on the asphalt. The bottle is missing.
Two center caps need red rings, which I have on hand. I think the rear half sits too low...I'll need that addressed soon, too.
---
September 29, 2004: After a long search and repeated haggling, I've finally secured a transport company to bring this car home to New Jersey. The trip is costing $800, but it would have cost me that much in time-off, hotels, food and fuel to go get it myself- plus all that mileage!
The biggest issue causing the long delay was that most transporters will not allow the car to have any cargo inside- which is understandable. They don't want it to move around, damaging the car, and they don't want to risk tempting their drivers to steal anything. But this car came with nine boxes filled with spare parts totaling around 300 pounds! Shipping it all separately would have cost WAY too much.
In the end, a company was willing to do it, for my budget and rather fast. The car was picked up last night, leaving Wichita, Kansas at midnight. I was called this evening and told by the driver that he expects to deliver it between 8AM and Noon tomorrow….less than 36 hours overall. I'll be there to meet the car, inspect it, take inventory of the extra parts, and to get new, detailed photos.
More on this tomorrow night!!
---
August 24, 2004: I found this car in a classified ad posted in the Classifieds section of this website last week. The ad displayed a way-too-cheap asking price. The photos suggested a car worth much more, so I contacted the seller to find he's a 75-year-old mechanic that bought this car brand new in December, 1972. Looking at the car, it is clear it has received a lot of love from him in the last 32 years! It turns out this is that rare gem you hear stories about…that rare old car in excellent shape being sold by an older, original owner for much less than you'd expect. I promptly sent my deposit without daring to haggle, and have the car being professionally shipped from Kansas to New Jersey. The wait is killing me!
So…you might ask, what is the big deal about a '73 Hornet X ? OK, it's obvious most were simply 6-cylinder 'sporty' coupes with little going for them in the power or collectibility categories. But a rare few got a 304 V8, which left open the possibility to build some good power in a small, stylish body. A 304 would be a nice, unusual Hornet to find.
But then, wasn't there an option to go even bigger? Why, yes Virginia- there was a Santa Claus at AMC!
Even though the '71 SC/360 Hornet was a limited-run pocket-rocket built for just a few weeks early in the 1971 model year (in 2-barrel, and Ram-Air 4-barrel versions), that didn't mean you couldn't get all those cubes in a Hornet afterwards. For 1972, it could be found in the Hornet X, which didn't offer the SC's available ram air and 4-barrel, but little else changed.
And for 1973, though the Hornet X's outer skin changed radically, the 360-V8 was still an available option.
· Just under 3000 Hornets received a V8 in 1973.
· More than half of those got the 304.
· Only 876 Hornet hatchbacks received a 360-V8 in 1973 (about 100 more than the total of '71 SC/360s).
No specific info has been found to indicate how many of the 876 were 'X' models, but this copper beauty is one of them.
You may also note the 360 was available for one more year in 1974, when a very famous 360-powered 1974 Hornet X tore up the streets in the James Bond film, "The Man with the Golden Gun". The film featured some nice stunt driving with the 360 Hornet, but it's real claim to fame is a cork-screw jump completed on the first take by a heavily-modified 6-cylinder '74 Hornet X that stood in for the 360 car used everywhere else.
But it doesn't end there. In addition to the biggest V8 available, nearly all the goodies were ordered with it. This car is absolutely loaded. See a full list of everything this car was ordered with below.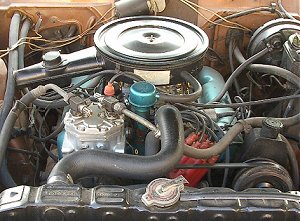 Check out that clean, original engine compartment! There are 122,000 miles and over 30 years on that motor! I'd swear it was a 20,000 mile original.
In the add-ons area I would like to make a few upgrades, but then, I may not, in order to keep this car 'factory-correct'. I have a very good-condition '81 Spirit that could be a better candidate for these upgrades if I put my 'spare' 401/727 combo into it….decisions, decisions.
Under the hood, an Edelbrock R4B intake of proper vintage with a new Edlebrock 4-barrel 650cfm carb. The intake would be painted to match the block, so that it appears it could be 'stock'.
The stock air cleaner would remain with a better-breathing filter installed.
The engine compartment will be thoroughly cleaned and detailed, including NOS and repro decals on the firewall, shock tower, radiator support and air cleaner.
No other underhood changes are planned, tho Edelbrock's 'coming soon' shortie headers sound very cool.
I may also install a set of 15" 8-slot wheels I have on hand, with new BFGoodrich Radial T/As tires.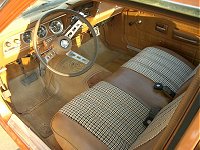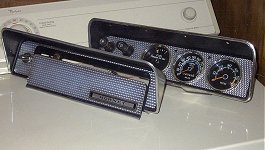 Also in the appearance vein, I've won a set of dash bezels and gauges from a '77 Hornet AMX on eBay. This car's original light and wiper switches, fuel/temp gauges and speedometer will be re-used, but the AMX's bezels and V8 tachometer will be added. The brushed-silver facing surrounded by flat black will replace the original all-tan pieces, making the dash a bit less plain looking.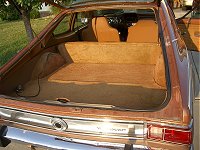 The missing tail panel 'X' emblem will also be replaced with an NOS one I have on hand.
Oh, and in case I might feel I paid too much for this car (and I didn't), the owner threw in a bunch of parts he had collected over the years. They include a '70 Rebel MACHINE 4-barrel intake, a '70 Javelin's 4-barrel intake, two pairs of Hi-Flow exhaust manifolds, and a whole pile of other stuff. Much of this stuff will be sold off to make this car, effectively, even cheaper.
---
Factory Equipment (see 'Condition', below, for current equipment):
VIN# of A3A037N1954_ _ decodes as follows:
1973 AMC Hornet 2dr hatchback,
Engine: 360 2v; Trans: 3 speed auto on column.
'E7' Copper Tan Metallic paint
'336A' Cinnamon 'Leo' Split-Bench Interior
q 'X' package including
ü 3-spoke Sport steering wheel
ü Rally stripes
ü 'X' emblem
ü 8-slot 14" Rally Wheels.
q 360-cid-4-barrel V8 engine
q A727 Torque-Command (TorqueFlight) automatic transmission
q Twin-Grip rear differential, 3.15:1 ratio ++
q 'CN' Cinnamon Vinyl Top **
q Dual Chrome Sport Mirrors ***
q Handling Package
ü Heavy Duty Springs
ü Heavy Duty Shock Absorbers
q Power Front Disc Brakes
q Adjust-O-Tilt Steering
q Air Conditioning Package
ü Heavy Duty Engine Cooling Package
· Heavy Duty Radiator
· Power-flex Fan
· Fan shroud
ü Heavy Duty Battery
ü Heavy Duty Alternator
ü Tinted Glass
ü Power Steering
ü Insulation Group
q AM/FM Radio push-button radio
q Hidden Below-Floor Trunk Compartment with Space-Saver Spare Tire and Carpeted Cargo Area
q Light Group
ü Cargo light
ü Courtesy Lights
ü Glove Box Light
ü Parking Brake Warning Light
ü Headlights-On Warning Buzzer
ü Liftgate Switch for Dome Light
q Stowage Pouches on front doors
q Visibility group including
ü Remote Left Mirror
ü Visor Vanity Mirror
ü Day/Night Inside Mirror
ü Inside Hood Release
ü Electric Wipers with intermittent feature
ü Electric Clock
ü Dual Horns
++ Factory-option 3.15:1 ring & pinion removed & saved, 3.54:1 dealer part installed.
~ No option is listed for dual exhaust or rear anti-sway bar, but the owner added both shortly after he bought the car.
Purchase Condition (September 30, 2004):
VIN: A3A037N1954 - -
Door Tag Codes:
055133 [Sequence number assigned at Kenosha Body Plant]
7303-7 [73=1973, 0=Hornet model, 3=2-door hatchback, 7=Hornet trim]
336A [Cinnamon 'Leo' fabric interior trim]
E7-CN ['Copper Tan Metallic' exterior paint, 'Cinnamon' Vinyl Top]
E055058 [55,058th 1973-model AMC vehicle completed on the East assembly line of the Kenosha Final Assembly Plant,
November 1972 (starting number was '000001')]
Mileage: 122,000.0 (Documented Original)
BODY:
INTERIOR:
MECHANICAL: