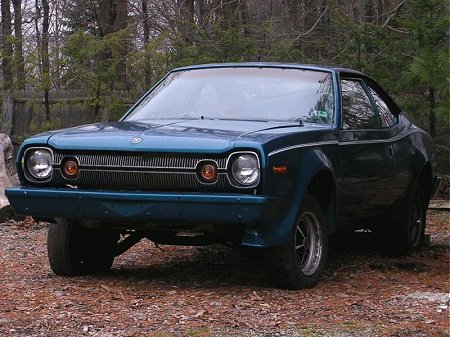 Formerly mine, now a project for my neighbor!
---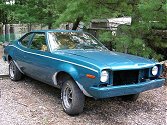 Matched wheels and good tires are now on.
September 9, 2005: The last two days were spent by Bobby and I re-assembling portions of the car. The '77 AMX spoiler and flares are gone. The wiring harness was first, and is laid out near the final locations. The dash and gauges are installed with an added V8 tachometer. The rusted rear bumper is gone and the good used one awaits new bolts to install it. The driver's remote mirror is on as are the door panels, arm rests and associated trim. The original steering column with shifter is gone, replaced by a column from a floor-shifted donor (look, ma…it steers!). The headliner and surrounding trim is in, as are the interior quarter panel trim, carpets and the Levis rear seat bottom. The car now wears all four Magnum 500 wheels with decent RWL tires from my Spirit. We need two driver-quality trim rings and center caps…anybody??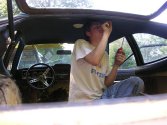 Bobby discovers there's actual work involved in this hobby.
Bobby's plan is to make it a summertime, barely-street-legal toy…nothing more. We've decided to not install the AC and heat components (they didn't look so good in their 'pile' anyway). We even had planned to skip the carpeting, headliner and all interior pieces except for two front seats and the dash…but when we realized we had all the black pieces in pretty good shape, we opted for a full interior.
The shell begins to resemble a car again.
Mechanically, it will be receiving a Ford 5.0L EFI V8 and automatic trans from an '89 Ford van donor. We'd both prefer proper AMC power, but the car arrived minus engine and trans, and neither of us has them or money to buy them right now…and the van was free, in great-running-but-lousy-looking condition. The install will be done carefully with the intent to go back to AMC power when the chance arises.
---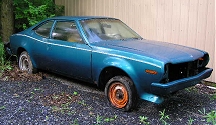 Didn't really need it, but the deal was too good to pass up.
But what to do with it??
December 22, 2004: Last month, I made a deal to buy this '73 Hornet hatchback project car. I didn't really want or need it, but the price was great and it came stuffed full of extra stuff. This includes a V8 crossmember and springs for 'small AMCs'. Several NOS pieces, too, like a rear valance panel, and the vertical panel that sits ahead of the battery tray between the inner fender and the radiator. Several NOS emblems, lenses, and window cranks, too. The car was towed home 2.5 hours last Saturday and the NOS/Mint hood ornament was the first item removed from its Ziploc baggie and transferred to the copper Hornet X.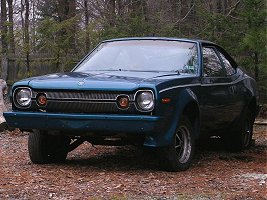 After a quickie clean-up and installation of grillework…
to look presentable while sitting at mom's house!
---