April 22, 2006: The winter was just about wasted as funds dried up and, well, the usual distractions. Not much to report except that I've found a proper air cleaner to replace the '74 unit that I have on the car. It wasn't cheap, but on arrival it seems to be in nicer shape than the photos had suggested…so I'm happy with it.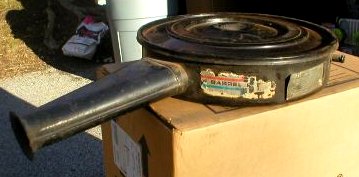 I've also been selling off some spare parts to get cash together to get something going on this car…soon, I hope.
December 21, 2005: Yeesh…hadn't realized I didn't update this page at all recently. Not a lot to report, though. The car has been moved indoors to the semi-heated attached garage (displacing Mom's Cherokee…sorry!). My tools, compressor and other assorted car stuff has moved into the garage with the car. Hopefully, this will make progress happen quicker after the holidays…cuz little has been done since Halloween.
I removed the trim rings from the car's Machine wheels (and from two spare wheels I bought in November). All need some repairs to the rim areas normally hidden by the rings. I now have three decent center caps….still seeking one more…or two.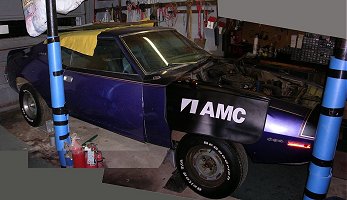 The above photo is a composite of three shots, showing the car in its new digs. The below shot is the original firewall emissions decal- note the very different format used when compared to 1972 and later cars.

This last shot is a little photo edit of an old AUTOBUFF magazine cover that featured a '71 AMX. I made a few adjustments, just for giggles.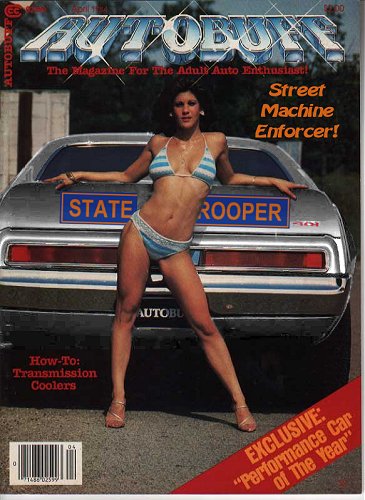 October 31, 2005: Happy Halloween!
Today we were working on the carb situation. We finally yanked the Holley off and installed a battered Motorcraft 4300 I had lying around. We tweaked the vacuum lines and played trial-and-error with the timing 'til the car fired and ran at a high idle for as long as we let it. We didn't have a lot of time there, so that's about all we got done, but still, it was good being able to let my foot off the pedal and the car just kept on running.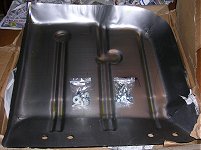 UPS stopped by, dropping off my new bumper bolts sets and a reproduction floor panel to better fix the one rot hole. We hope to use as little of this panel as possible, leaving as much of the original floor in place as is feasible.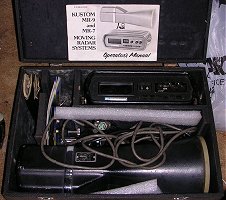 In a second package was my 'new' vintage Kustom MR-7 traffic radar system. It's a working, used unit similar to the ones used by the ADPS when they were also driving the Javelins. The MR-7 is the first 'mobile' speed-detection radar system ever used in the USA. It's made up of a hard, black case containing the radar gun or 'horn' with intergrated window mount, dash-top console unit and two cables. It simply plugs into the cigarette lighter socket, then is set for a particular top speed. When a passing car exceeds the preset number, an audible alarm sounds and the speed display blinks, showing the target's actual speed. I took it out to my wife's Jeep, powered it up, set the limit to 10mph and had Bobby drive past. The alarm sounded and '27' flashed on the display. It works!! This is going to look so cool on the car at shows!
October 25, 2005: Yesterday I came home to find my 'new' front and rear bumpers waiting on my front deck. Check these babies out!

Dixie's new braces…

…and check the shine on this new tail protector!
I also received that green '71 horn pad from Bob Hosley, and it is just about as mint as mint gets. But I've just learned that I may be wrong about which emblem this car should wear. It seems that the black/silver version may actually be a Matador part, and that Javelins receiving this type of wheel always got the red/silver/blue emblem version. If so, the green pad won't be needed, though I will use the silver frame from it on the blue wheel and pad. See what happens when fellow fans pick each other's brains?
October 22, 2005: This week I received a few items (things the car won't need for quite a while…but grabbed them when I saw them anyway). On eBay I grabbed a set of blue floor mats with an embossed AMC tri-color logo between the carpeted inserts. They came with a pair of generic, all-rubber mats for the rear floors that I won't use because I grabbed a set of blue rear mats from American Parts Depot that also feature the AMC logo. All together, they should do nicely to protect the new carpeting that will go in. Also from APD, I grabbed a package of chrome mylar trim to be used on the edge of each bucket seat's hard back shell. Lastly, a reproduction '401' emblem, to check the quality. It's nice, but looking closely, I'm thinking I'll keep watching for NOS originals as they pop up. Three of the re-pops run about $80, so they are a good 'fall-back' position if NOS pieces don't show up before the car is finished.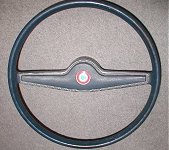 I also just received a steering wheel from Scott Turney of NY (why are all these pieces turning up in NY?!?) that is a much darker blue, but is crack-free and features a near-correct horn pad. The target is silver with red and blue accents while my car should have silver with black inserts. But the horn pad being sent by Robert Hosley has the correct target emblem (like this)…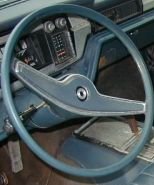 …so I'll be able to construct a proper setup when that one arrives.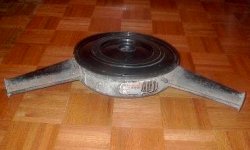 I had been hunting a dual-snorkel '71 air cleaner like this one for a while now, and prices are going nuts for them. However, I've begun to think these cop Javelins never received one from the factory, as they are very, very late '71 production and by then, I think they had switched to a single-snorkel version at around the same time to 'Hi Compression 401' gave way to the standard version. Proof either way is tough to come by, but I'm looking! If you have documentation either way, let me know! But I am now seeking the single snorkel version as seen below. Contact me with a price if you have one.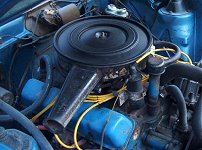 October 17, 2005: Finally got the new ignition lock in the column- it now functions as new (still looks 34 years old). I also moved the steering wheel from the parts car to the '71 to have a 'more correct' look while having the car remain steerable to move it as needed. Naturally, this wheel will be removed this winter and either be replaced or will undergo a serious restoration. The horn pad must go as a correct 'target' emblem should be there…and an excellent one (in green) has been found and is 'in the mail'. It will be dyed blue, of course. Thanks go to Robert Hosley of NY for the deal on the coming horn pad!
And speaking of moving- I installed a new starter solenoid and had Bobby slip underneath to install a rebuilt starter (as the old one was cooked by the header). Using the TSM, I figured out the old solenoid had the wires hooked up all wrong, and was for a later AMC anyway (3-prong).
Feeling lucky, we checked fluids, checked firing order, hooked up the battery and dumped a splash of fuel in the carb, then Bobby turned the key... after about 4 rotations, the engine lit and roared awake...for about 3 seconds. I signaled Bobby to shut it down as we really hadn't done a 'proper' awakening from long storage (tho there was oil put in each spark plug hole two weeks ago)..and the right side header was not bolted on, so the noise level was insane. But, after ten years of slumber in an Alabama field, the first turn of the key with a fresh battery and gas had her fire right up!
Tomorrow, if time permits another few hours of play, we'll install new plugs, wires, oil, oil and gas filters, and coolant...then bolt the header back on and we'll fire it up again. If she's willing, we'll let her run for a few minutes. It'd be awfully nice to actually be able to take her off the trailer under her own power at the show this weekend...and to get back on the same way afterward.
As Doc Frankenstein once said 'It's ALIVE!!!'
By the way- went digging in storage and unearthed a Javelin-correct AM/FM Radio, complete with the knobs and uncut wiring. Didn't realize I had one! Now, does the car get that or the AM/8-Track? Hmmm….
October 16, 2005: Ok, today we did some housekeeping- in the car and in the storage area. First, Bobby removed the driver's seat from the '72 SST, then he went to work in the storage/work shed to hang two fluorescent light fixtures…and even wired them to the house current. Seems he's got a knack (and a little experience) with the ol' positive and negative…who knew?? Now we can actually see in there.
Meanwhile, I was outside doing a bit of rust repair on my truck. Just behind the front tire at the bottom of the driver's fender, the paint was blister up badly. I took a wire whel to the area and found a good sized hole had been eaten away when I wasn't paying attention. I blasted all the loose scale, paint, dirt and dust out of the area using the new compressor and the air nozzle from the air tools kit I mentioned yesterday, then used the die grinder with a wire cup to grind away the more stubborn stuff. I then blew it all out again. I used a bunch of rust inhibitor inside the hole to impede further rust growth a bit, then 'caved and paved' the hole with a little Bondo over aluminum mesh, then sanded, primed and painted the area (in a non-matching green). Good enough.
Next, I moved to the '71 Javelin and removed every loose bit of carpet, backing and assorted loose pieces., parts, screws and junk. Then I vacuumed up every bit of dust and dirt, including the trunk area. Then, I decided to poke at a weak area of the floor 'til I opened up the hole you see. This is the worst rust on the entire car- thankfully in an easily serviced area. The trunk also has a very tiny hole, but it should also be an easy fix Here's a pile of good photos to really gauge the floor's condition..
The above shots show the driver's side floors- everything is in real good shape.
The five shots above show the passenger side floors.
The only issue is that one hole in the rear floor area.
Can you tell that the car's left-front corner sat a bit higher than the rest of the car for quite some time?
Up here in the northeast, this is still called a 'rot-free car!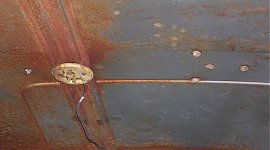 Here are those roof holes mentioned yesterday.
The roof also has a lot of surface rust starting, but again- easily taken care of now.
The trunk floor also has a tiny hole in the stamped line just right of the center.
The large, dark area is moisture from leakage of the trunk seal that was still drying today.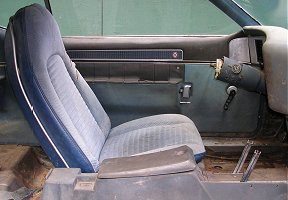 Next, I installed the '72 driver seat to have somewhere to sit while I continue to screw with the car's column…that darn ignition lock will NOT come out (using the TSM-specified procedures)! Next, I may try explosives!
Two horrible photos taken by the worst camera phone ever, my LG.
Sorry- it was the only camera handy today.
October 15, 2005: Today we did a little of this, a little of that. First, we went hunting for the car's build sheet…and did not find one (damn it), but we removed all the seats, tore up all the tattered carpet and removed the headliner and trim, and sunvisors. This revealed the original holes in the roof where the rotating beacon was mounted as well as the two-way radio antenna's hole (red arrow). We then took the column apart to install a new ignition lock as we had no key for the car. Now we can unlock the column and even make normal attempts to start the car. We'll get back to fun stuff like that tomorrow.
We also removed the headliner and trim, and sunvisors from the '72 SST parts car so that I can take the headliner home to re-glue it.
Then, we made a run to Sears and grabbed a new air compressor and an assortment of air tools. I've never bothered to own these before and decided the time was right to finally splurge and make life a bit easier. We've got a 15-gallon tank and 150psi with a 3HP compressor- good enough for the light duty we'll put it to. I grabbed a 1/2" impact wrench, 3/8" ratchet, cutting tool, gravity-feed paint sprayer gun (for non-exterior auto paint work), air nozzle, assorted doo-dads and 50' of hose. Nothing high-end- I figure I'll work this stuff 'til it breaks, then replace each as needed with the 'good stuff' over time.
October 9, 2005: Just had an online AMC friend, Joe Roberts of NY, arrive yesterday, in a torrential, all day downpour, to drop off my latest buy- this 1972 Javelin SST parts car. I might have paid more than the car is worth, but hope to recoup much of my investment by unloading the pieces I don't need. To my eye, this '72 isn't worth saving due to heavy rocker/quarter/floor rust issues. Interestingly, tho, this car was originally a 'C2 Stardust Silver' with blue interior SST model…just like the '72 ADPS Javelins! However, it strays by having corduroy seats, a 360-2v and a vinyl top…tho the top and drivetrain are long gone. The front bumper is quite good- an easy straightening & rechrome core. The grille is excellent, needing a repaint only- all the mounts are firm and unbroken- I bet it's never been out. The parking lights and tail lights are also quite good.
One very nice find is the sagging-but-undamaged vinyl headliner! It will be carefully removed, re-glued and installed in the ADPS car, which shows remnants of the very same type of vinyl headliner. The visors will also be swapped.
The seat frames and springs are great on both sides, unlike my '71 which has a horrendous driver's seat bottom portion. The '72 seats will be reupholstered in the proper '71 'Tampico' vinyl in blue as soon as can be arranged, but these seats will be installed in my '71 for a while as they are- in the faded blue corduroy!
The '72 steering wheel is the same as my '71 once had, with the exception of the horn pad…but it will do 'til the right pad comes along. Other blue plastic trim pieces like pillar trim and door panel portions, and perhaps the console will also be swapped. And note that original AM/8-Track radio in the dash! That may have to also go into the ADPS car…incorrect, but it's too cool not to use it! The dash face (the black plastic bezel, not the woodgrain trim) is absolutely perfect, so the ADPS car's silver face trim will be moved to this bezel.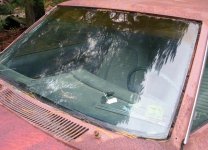 Here's an interesting item…an original Corning windshield! These are rare today as they were rather brittle and most were replaced long ago. Corning made windshields only for 1970 through 1972 AMCs…and for nothing else before or after. For a 100%-correct restoration, this is a desirable piece of glass!
The same friend also brought along a pair of rough-but-repairable grille assemblies. One is a proper '71 Javelin grille needing a lot of cracks bonded. The second is a 71-74 AMX assembly, complete with parking lights and a very good grille screen. If the Javelin unit can be repaired well enough to use in my ADPS car, the AMX setup may go into another Javelin (to be named later). If not, that grille **may** get sold off to help the ADPS car along. Pics of the grilles will be posted later.
While playing with the 'toys', I shot these detail shots showing the various holes that the ADPS made in my car's interior. I'm unsure what the holes on the left side of the dash pillar (left of the lighter) are for, but I believe the two in the shifter plate were for the radio controller, and the ones on the right side of the console's 'pocket' were to mount the radio speaker box. Unseen above the glovebox door are the two holes for the mic's bracket. At the front of the console's storage bin are three more holes for the siren/beacon switch(es), I think.
September 30, 2005: Revamped the 'specs' section at the bottom of the page. Several 'codes' are missing and are replaced with 'X' where a letter should be and '0' where a number should be.
September 29, 2005: We moved the car from its previous resting spot to a graveled space between two sheds, to get it away from some drought-weakened trees.
Then we checked the fluids, fixed up and re-routed some wiring, and dropped a fresh 1000-amp battery in. Because the ignition key is AWOL, we jumped the solenoid and we able to get the motor to turn over just a bit, repeatedly. It would not 'crank'…just a partial revolution, then a quick stop each time. At least we are sure it isn't seized. But we couldn't get a few full revolutions in a row to se if a bit of fuel would get us a bit of combustion going.
We'll play again on the weekend. Until then, a few more pics…
A little peek at the business department and the tell-tale numerals on the side of the block.
The original air cleaner was long-gone, but I had a spare later unit in storage to fill the void for now.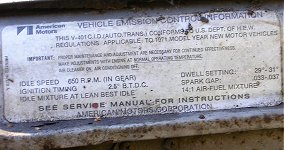 Original emission decal is intact, announcing the monster V8 lurking nearby.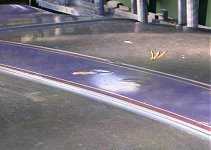 Poorly disguised mounting holes for the blue Dietz 211 beacon- long gone but a replacement is on its way now.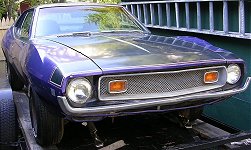 Moved today to a safer location in the yard (away from the less-healthy trees).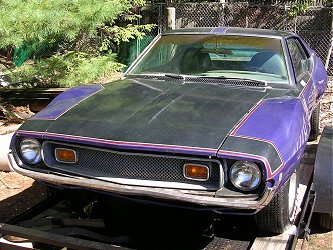 September 27, 2005: Tossed the missing light on as well as the front bumper and valance…just so it would look less like a derelict while sitting at mom's place.
September 26, 2005: The car is home!...and by that, I don't mean I'm being forced to live in it (yet). I returned this afternoon from a 5-day jaunt to deliver one car, then drove on to pick up this car.
I had initially arranged to have the Javelin transported professionally, but the $1000 price (thanks to recent gas prices and the non-running nature of the car) was eating away at me. I had also sold Bobby's Eagle to a guy in Georgia who was about to spend $600 on that car's transport. Then it hit me…if I throw the Eagle on my trailer and take it south, I'll be less than 3 hours from where the Javelin is and can haul it back myself. The Eagle buyer's $600 pays for most of my trip and I save the other $1000. Barring any mechanical issues, I win all the way around.
Well, the truck needed new tires…but was somehow paid for by $400 found elsewhere in the earlier plan. In the end, they too were 'gravy'.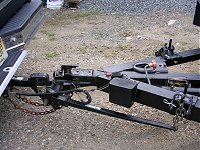 Another issue was that, when loaded, the trailer caused my truck's ride height to plummet at the rear. I considered load-leveling or air shocks, but my brother happened to have a spare 'weight distributing hitch' setup he offered to give me. I had to buy a new ball and a pair of A-frame brackets, but they were only $120. Once installed, everything sat level.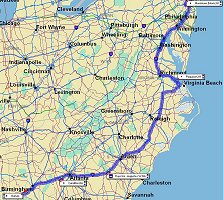 The 'Crazy Yankee' route we took to avoid the Appalachian Mountains as much as possible.
My truck, pulling another vehicle, doesn't like hills at all.
Thursday the 22nd I left Morristown, NJ with my mother and my neighbor, Bobby, in my '95 F150 pickup (yea, the 'free' one!) towing Bob's '87 Eagle wagon on my 16' trailer and ended the day in Poquoson, Virginia (near Norfolk) where we all stayed at my sister's home for the night.
Friday at 5am, Bob and I left my mom in Poquoson and headed to Carrollton, Georgia where we delivered the Eagle to its new owner just before dark, then got a hotel room for the night. The girl at the desk was very sweet, and before we finished bothering her, she said to call if there was anything we needed and that she'd be there 'til 11, then another person would take over 'til morning. Operating 'on the cheap', this was no 'top-of-the-line' place- just a little Choice Hotels joint…but props to them for that ridiculously comfy bed and bedding. I slept like a well-fed baby. But before that, I tried to get Bobby to call the front desk and ask the cutie there if the 'masseuse girl' was 'still available this late'. He thought I was crazy, but I tried to explain that when she inevitably tells him that they have no such service, he should then ask if she's busy after she gets off at 11PM. That was way too much for Bobby- he was having no part of it. Well, me doing it would have been way too 'dirty old man', so the plan was tossed and we just crashed for the night. Oh, well….it woulda been pretty darn funny.
Saturday we left Carrollton, GA, again at 5am, and headed out for Holt, just outside of Tuscaloosa, Alabama. This was a 'short' two and a half hour run across the northern half of Alabama along I20. This took us right through Birmingham. Let me tell you- I20 is one sorry piece of pavement between the Georgia border and Birmingham. The heavy interstate trucking has rippled that road surface like a Ruffles potato chip! I don't know why it isn't maintained better than it is, but if it's a money issue, slap a toll both on it and get some new pavement put down! It absolutely tortured my truck and trailer...and my kidneys. The local folks that use that roadway daily deserve better.
About halfway to Birmingham, we passed a State Trooper's Crown Victoria, sitting on the shoulder. I thought it would be really interesting getting stopped by him while on my way to buy a retired patrol car. But he didn't budge as we passed.
We arrived in Holt about 7:30AM and met this Javelin's owner to inspect the car.
Thankfully, it is exactly as described: rot-free, very straight, near-complete and with the exception of the carb, exhaust, radio and paint, just about nothing has been altered. It has all four of its Machine wheels and trim rings and two of the center caps (the other two retainers for the missing caps are on-hand, too).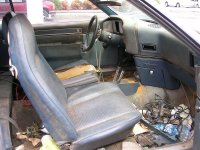 The grille is wrong, the interior a shambles, and the drivetrain will need a lot of freshening up. If you know of a source for this specific seat upholstery, let me know by clicking HERE!
Despite the many issues, the most obvious surprise is that, despite spending what may have been 15 years sitting in high weeds…the car has NO rust issues at all outside of a few surface spots near 'edges' that were sanded and prepped improperly before the custom paint was applied. The floors and frame rails are 100% solid…nothing needs to be done except to bead-blast, prime and paint the underside and inside floor and rocker areas! And the outer body, though it has a few dings and dents, is also rot-free… and no filler anywhere! Those are the original, un-repaired quarters on there!
And, of course, I crawled all over to assure the 401 is present, and that all the tell-tale markings for an original Alabama DPS patrol car are present, including the proper codes, the beacon, siren and radio mounting holes, traces of the original 'Quick-Silver' paint in all the right nooks and crannies… and so on.
While 'in the neighborhood', the seller took us to a pal's home where he said there was another ADPS car! We arrived to find a car I knew existed but had thought was in North Carolina. It's a '72 SST model, recently repainted its original color, still running a 401 (a '73 replacement) and not too much the worse for wear.
We then returned to the seller's property and winched the car onto my trailer, gathered up a bunch of spare pieces that were part of the deal, paid the seller and headed home.
We first stopped for cold drinks at a gas station where another motorist inquired 'what engine is in that?' I told him of the 401 and he seemed quite confused, but didn't seem to want to reveal that fact, so he just nodded a bit and drove off. As we snaked back toward I20, we stopped at a traffic light where we spotted four State Trooper patrol cars in a parking lot. The troopers were standing in a group, having a discussion, but I noticed they looked over, one after the other, at the Javelin. I suspect they were all too young to recognize it as the type of car their predecessors had used way back when, as they returned to their talk with barely a second look. I was tempted to head over to them and inform them of the car's history…but our tight schedule didn't permit the 'visit'.
At another food and fuel stop in western Georgia, a motorist asked 'What is that?' I told him it was a '71 AMC Javelin and he explained he'd thought it might be a Duster. I informed him of a bit of the car's background and he was taken aback that it might have been a police car. Yea…purple kinda wipes out all chances of such assumptions!
Later, we were cruising along I-20 when a black Honda Civic, all 'Fast-and-Furious' looking, rolled up along side my door. I looked over and he was grinning ear-to-ear and giving a thumbs-up. I smiled and nodded as Bobby said 'That's right, Rice-Boy…bow and pay your respects!' I later wondered if that guy had been impressed by the car knowing it was a Javelin, or if he assumed it was a heavily-modified car and was acknowledging the custom effort since his car was heavily fiberglassed and lowered. Or maybe he just liked the purple.
Anyway, we hauled-butt over to Augusta, Georgia by 7PM and again stayed the night at a hotel…a Days Inn with a very cool guy at the counter who, amazingly, was from Edison, New Jersey! The beds weren't quite as nice as the prior night…but they were good enough.
Sunday we departed again at 5am to return to Poquoson, Virginia to stay the night once more.
At another fuel stop, a real big guy shouted 'Nice car- you don't see many of those anymore!' He has no idea how correct that statement is.
We arrived at my sister's place at 3:15pm and hosed off the car, then liberally applied some Armor-All to anything we thought might appreciate it. We rummaged through the interior and trunk, taking everything out that wasn't attached to the car, sorting the good parts from the trash. The parts were neatly sorted and stacked in the trunk, the trash was bagged and put at the curb. I took a few more photos, then killed the afternoon doing not much but sitting around, staring at the car…we couldn't help it. As we drooled, so did many, many local motorists. My sister's place is on a 'main drag' but 30mph roadway and sits on the inside of a sweeping curve. On the outside of the curve is a watery marsh. Nearly every other car that passed between 3:30PM and dark had its driver hanging out the window, fascinated by the Javelin…and several nearly drove right off into the marsh. Tires squealed all afternoon as they corrected themselves! We nearly hurt ourselves laughing so long and so hard.
Then today, Monday, Mom, Bobby and I returned to Jersey, dropped the car off at my mother-in-law's place, then each headed to our respective homes.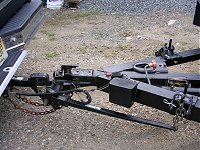 It's amazing what a job this thing does. Everything rode perfectly level and it eliminated nearly all the bouncing and jouncing…even helping control sway. On Day One of the trip, we stuck to about 60mph to feel things out. Days Two and Three saw 65mph loaded, 70mph unloaded. Days Four and Five saw a nominal speed of 75mph most of the way with the Javelin on board. I was shocked how controlled and nearly effortless my little 302-powered F150 was able to haul with this thing. I'll never tow without one again. What a joy!
Again, to study up on exactly what these cars were, see The AMC Javelin ADPS 401 Special webpage.
September 10, 2005:
First, some historical perspective…
In the mid-1990s, I had been a rabid fan of the 1971-74 Javelin variations for 15 years- ever since buying a brown '73 base model with a 304 back in 1982. Many Javelins- about 25 of them- passed through my hands during the 1980s and 1990s. The best of them had been my black '74 base model with a built 401. Sadly, that car was sold in 1999 to aid the purchase of a new home.
Meanwhile, during these same car-crazy decades, I also developed a fascination with 'emergency' vehicles- ambulances, fire trucks and more than those- police cars…especially the ones that don't fit the usual four-door boxy-sedan criteria like CHP Mustangs. Certainly, the LAPD Matadors also caught my attention.
In 1996, I started the Javelin Home Pages website, here at www.JavelinAMX.com and it grew due to the many, many AMC fans that encouraged my efforts and willingly contributed whatever they could. And early on, I learned of a very special, low-production Javelin that I'd never known existed. In an effort to find out more about this uniquely rare and special AMC, I started a section of the website devoted to those special cars, which I dubbed 'The AMC Javelin ADPS 401 Special', based on its history serving just one police organization- the Alabama Department of Public Safety's State Troopers. Little by little, info began to pour in, as did photos. I started a registry of the known surviving cars, their conditions and their locations. All the while, I wished that I could own one… combining my affection for both the later-Javelin styling and official police cars.
Over nine years later, this site remains a popular online locale, even if it isn't updated very regularly anymore. And every now and again, somebody drops me a line indicating they've seen one the former police Javelins someplace, or once saw them when in service, or even served as an ADPS trooper himself, and has stories to tell about 'my Javelin' that he drove back in the 1970s.
On August 13, 2005, I was contacted by a visitor to the site, who asked-
"I have come across a 1971 Javelin that is supposed to be a former ADPS car.
Everything looks correct including the grey paint inside the trunk and doors.
The VIN is: A1C795Z309538.
Can you confirm this car?"
He provided the pictures below to help determine if the car was 'for real'.
The front bumper and '71 grille are missing, and a '73 grille is in their place.
The 'Machine' wheel center caps are said to be 'somewhere in the car'.
The custom purple and black paint was finished just before the owner learned of the car's true history.
Even he would like to see it returned to its proper ADPS appearance.
Note the silver on the underside of the trunk lid.
The rear spoiler wears the correct '401' emblem where a normal AMX model would wear an 'AMX' emblem.
Non-AMX Javelins could not be ordered with such a spoiler…only the ADPS got Javelins that way.
The interior is the proper blue vinyl, with 'base model' door and dash trim.
(1972 versions were SST models, and got woodgrain door and dash trim)
Under the hood, the original 401 is painted the wrong color and wears a Holley carb, headers and yellow wires.
In minutes, I was able to confirm it was indeed a former ADPS patrol car. After several more Email exchanges, the guy admitted he was currently in no financial position to buy the car, so he was going to ask a few friends if they might be interested in it. I feared it might end up in the hands of a hot-rodder that might make big changes without regard for its unique history…or worse, would wreck it or part it out. I offered to buy it, but he wished for it to remain in Alabama. But when his friends all passed on it, he wrote me again, providing the owner's contact information.
I called the owner and he stated he had been looking to sell the car months earlier when his finances were suffering, but was now in better shape and wasn't sure he wanted to sell anymore. He was surprised to learn that I had gotten photos of the car, since he's provided none and has not shown the car to anyone… so whoever took them had been deep onto his property without permission. After taking nearly a week to 'think about it', he called me back, explaining that he had been 'defensive' with me because he was unnerved that someone had trespassed to get the pictures, and that reminded him of an incident just a few months earlier, when he arrived home to find a tow truck backing up to the car, attempting to take it away. As he got out of his truck, the wrecker sped off. Luckily, he had avoided the theft by lucky timing. Anyway, realizing he just wasn't going to ever get around to working on the car, on September 3, 2005, he gave me a price I could live with and a deal was made.
So, what's the plan, Stan?
The car will be transported to my mommy-in-law's home in Morristown, New Jersey where I'll begin a detailed inspection of the car to decide the best course of action for getting the car 'restored' the best I can within my own meager finances.
My plan is to return the car to its original appearance, during the first few months of service with the ADPS. While most Alabama natives will recall the silver and blue paint scheme seen on the car beginning in early 1972, this car will be all-silver, as shown in the vintage photo at the top of this page, taken in late 1971. All the police markings and the roof light will be magnetically mounted, for removal when the car is being driven on public roads. One of the advantages of this plan is that the car will look like a normal, silver Javelin when on the highway. A silver-and-blue scheme, minus the police markings, would look like a car wearing replacement parts in need of a paint job. A disadvantage of this plan is that I'll spend a lot of time trying to educate folks that refuse to believe the cars were ever 'all-silver'.
I've located a gentleman that collects, restores and sells the correct roof beacon and underhood siren that this car had when in service. I have yet to locate the correct two-way radio and roof antenna, but I'm confident they will turn up quickly.
I am using the vintage photo above (taken at the steps of the State Capital) as my 'plan' for the car's final appearance…right down to a rather 'infamous' feature that some folks would prefer I not include. The front license plate was (and will be) a Confederate Flag. When I show the car publicly, this plate will be present- except at functions that include the participation of the ADPS in any official capacity (out of respect for their concerns for modern sensibilities regarding the flag and its history and the public's perceptions of it). I'll include it as a simple 'historically accurate detail' based on the photo, and do not promote any opinion, pro or con, as to its 'meaning'. It will be there because it was there.
While half of me is diehard to see the car returned to exactly as it was when new, my other half thinks a few details being upgraded wouldn't be so bad. I certainly don't have the finances to do a concourse-correct, NOS-loaded restoration…so date coded hoses and other such 'exactness' simply won't happen. So if I'm going to allow a NAPA logo on a hose, I think other 'tweaks' can be a good thing, too. Here's a list of changes I think would be workable (though nothing is set in stone, and finances and availability will help drive decisions, piece by piece):
· Vintage Edelbrock R4B aluminum intake (painted to look like a factory iron intake) (performance) [Have on hand]
· Modern Edelbrock 750cfm carb (under stock air cleaner) (performance)
· Mild-upgrade Cam & Lifters kit (performance)
· Oil system mod kit (improves flow to right/rear area) (reliability)
· Gas-charged shock absorbers (handling)
· Polyurethane suspension bushings (handling)
· Addco front & rear anti-sway bars (handling)
· 'H' exhaust pipe (performance)
· Sonic 'Turbo' mufflers (performance and sound)
· 3-spoke Sport steering wheel (maybe….cuz it looks cool)
· Tilt steering column (maybe… for comfort)
· Factory AM/FM Radio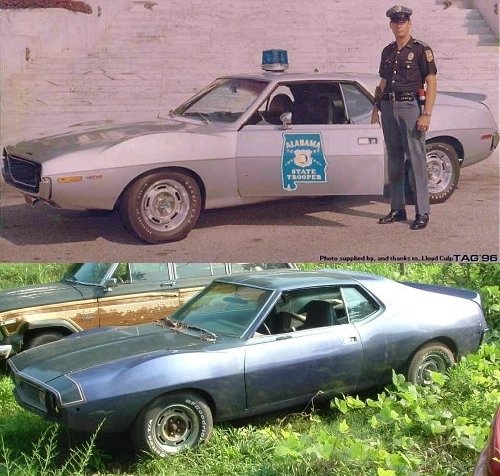 Top: A 1971 AMC Javelin ADPS 401 taken in the summer of 1971.
Bottom: My '71 ADPS 401 as it appeared in August, 2005 in Holt, Alabama.
Factory Equipment (see 'Current Condition', below, for current equipment):
'B3 Quick Silver Metallic' paint, '163J' Blue 'Tampico' Vinyl Interior
401cid 4-barrel V8 engine
Twin-Grip rear differential, 2.87:1 ratio
M12 Shift-Command (Borg-Warner) automatic transmission
Dual Exhaust
Power Disc Brakes
Power Steering
15" 'Machine' 5-slot Steel Wheels
E60-15 Good Year PolyGlas RWL tires [yea…the impossible to find size…lucky me!]
Handling Package
· Heavy Duty Springs
· Heavy Duty Shock Absorbers
Heavy Duty Engine Cooling Package, adds:
· Heavy Duty Radiator
· Power-flex Fan
· Fan shroud
Air Conditioning
Rally-Pac Gauges, adds:
· Ammeter
· Oil Pressure Gauge
· Tachometer/Clock combination (Tick-Tach)
· 140mph Speedometer
AM Radio push-button radio with one dash speaker [Some believe these cars had no dash radio, but the vintage photo above shows a factory cowl-mounted antenna which would only be on a car with a radio. My car has just such a factory-installed antenna.]
NOTE: While these cars had almost every component of the 'Go' package, it should be noted that ONLY the AMX version of Javelin could be ordered with the 'AMX Go package'. No 'Go package' existed for 1971-1974 Javelin nor Javelin SST. However, as you see, most of the 'Go' items could simply be ordered as separate options. Only cowl-induction, hood T stripe and tail panel black-out were not available to non-AMXs. When a non-AMX 1971-1974 Javelin owner claims his car has the 'Go' package, he is incorrect.