The Alabama Department of Public Safety
AMC Javelin Highway Patrol/Pursuit cars


A second ADPS Javelin found a home in the museum at ADPS Headquarters in Montgomery. This car is in unrestored, very good condition, and is complete except for the removal of its gas tank (per fire codes for safety reasons).
Here are a bunch of pictures of the car currently in Montgomery at ADPS HQ.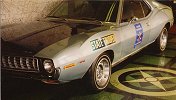 Note the underside of the decklid remains the original body color.
And check out the great view of the unique '401' spoiler emblem.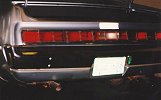 This rear-shot gives the location of the 'Bill Whitten AMC / Datsun' sticker.
It can't be read in this pic, but it's there.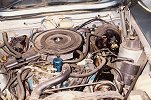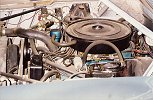 The left pic shows the '35#' property number assigned to this car by the ADPS.
All ADPS cars got such a number hand painted on the firewall.
These pics also show a complete and relatively correct engine compartment.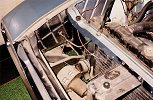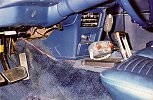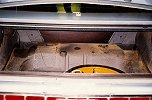 The left shot shows the location of the siren while the middle pic shows the radio location in the interior
The right pic shows the airless spare is still in the trunk.
UPDATES
Summer, 2004: This car at Montgomery is more correct in most details, as it's never received a restoration. However, I've received a report that when this car was placed on display, fire codes required that ALL fluids be drained. Some time between 2002 and 2004, the ADPS headquarters was to change locations, and this car was to be relocated. Whoever was in charge of this was apparently unaware of the fluid removal years earlier, and an attempt to start the car using a bit of gas poured into the carb was made. The car did start up, and gas was fed by hand to keep it running for a few moments…until a knock developed and the engine billowed smoke. That's what happens when there's no oil in the engine, folks. When the car was moved soon after, it suffered several dents to the body from improper handling. Currently, I do not know if the car has been repaired or whether plans to do so exist, but I hope future treatment of this historical car is better handled.
December 28, 2004: The Montgomery car is still under 'repairs', but I'll have photos of her when she joins the Talladega car at HQ.
---
Send me your every thought!



JohnRosa@JavelinAMX.com
---