The Alabama Department of Public Safety
AMC Javelin Highway Patrol/Pursuit cars


Lt. David H. Parker (ret.) recalls his '72 Javelin once reached 141mph as he was racing to join a pursuit. He states the car had more pedal left and was still accelerating when it became necessary to change direction, and he was forced to brake. Parker also recalls that most troopers found the Javelins to be terrific performers, and the only problem he can think of was that the suspension components wore out more often than expected. But the abilities of the Javelin more than made up for this inconvenience.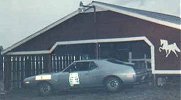 Then-Corporal David H. Parker poses with his 1972 Javelin way back when they were 'partners'.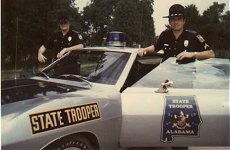 Parker and another Trooper (un-named) pose with the Javelin.
---
Following their tour-of-duty, most of the Javelins were retired from service, and another maker supplied their replacements. The Javelins were slated to be sold at surplus auctions. Then-Corporal David Parker knew this was the normal procedure, and had taken great pains to give special care to his patrol car. He now would buy his Javelin, and planned to attend the auction in civilian clothes, worried that his uniform might tip other bidders into thinking he was bidding on 'something special'. But as auction day neared, then-Captain Roy Smith was trying to convince his superiors that the Javelins were indeed 'special' and some should be kept. His pleas were honored, and the order to retain two of the best examples of the ADPS Javelins went out. Hence, Parker's beauty was hauled away to be displayed where it sits today- at the International Motorsports Hall of Fame in Talladega.
---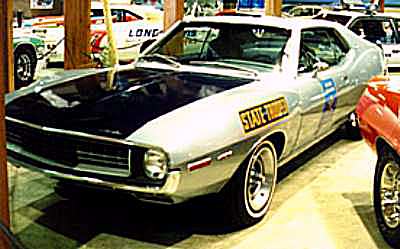 This picture is of retired Lt. David Parker's '72 Javelin on display at the International Motorsports Hall of Fame in Talledega prior to its 1997 refurbishing.
---
This car was sent to Birmingham in 1997 for new tires, some interior repairs, and a fresh coat of paint. It was refurbished and modified a bit by the ADPS' Fleet Maintenance Department, under the direction of Richard Burch and Mike Winguard. The underside of the decklid and hood are now blue, and it has incorrect door mirrors and a different antenna (see pics below). The engine has been repainted Ford blue. The Blue-Silver paint is not quite correct either.
Upon completion of the work, it was driven (under its own 401-power) back to Talladega, garnering some very puzzled looks from other motorists along the way.
---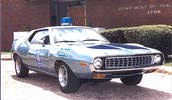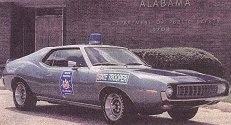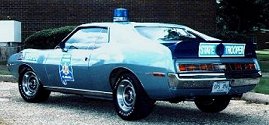 This is the Parker/Talladega car after it's refurbishing by Fleet Maintenance.
Note the 'wrong' mirrors, antenna and slightly-off paint color.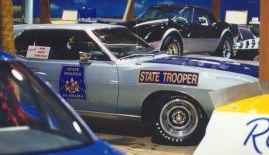 UPDATES
December 28, 2004: I've (finally) received new, great photos of this Talladega car (thanks to Sgt. Guy Rush at ADPS HQ in Montgomery), which has recently been moved to the new ADPS Headquarters. The photos below show the '97 restoration work still looks very good, though the mirrors are still just awful. Still, credit is due the folks at ADPS for bothering to restore and save these two cars at all! This, again, is the car driven by then-Corporal, now-retired Lt. David Parker, about whom Captain Robert Applin (ret.) says…
"He did keep his car in immaculate condition. Never let it stay dirty, and never treated it rough. How he treated his car was a reflection of how he really was. Appearance is important to the professional officer and David's uniform and brass were always as shiny as his car. As a supervisor (Corporal, Sergeant then Lieutenant) he was always fair but firm. As a family man he was the same. He set an example for us troopers to follow. As I went up in the ranks, I always used him as one of my models. Even today I consider him as one of the best men to ever wear our proud uniform."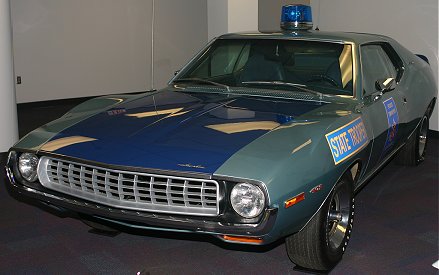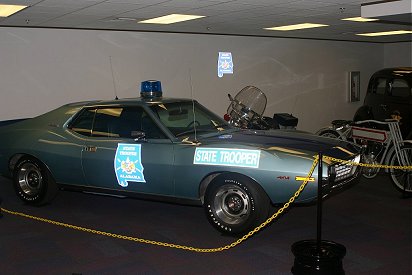 ---
Send me your every thought!



JohnRosa@JavelinAMX.com
---