Back to the Articles and Ads archive main page
---
HOT ROD, DECEMBER 1970
HORNET SC/360: Hot Rod Road Test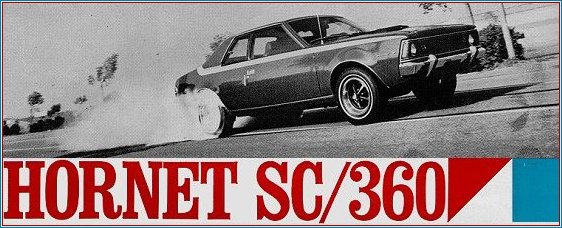 Text and photos by
Ralph Guldahl, Jr.
---
AMC builds a real stinger for it's battle with the "big three"
...and it purposely punctures the insurance company nest builders
Six short years ago an American Gothic scene unfolded in the environs of the president of American Motors. Seems there was this whipper- snapper Rambler dealer in Norwalk, California, who campaigned a drag racing funny car, and by the great horned spoon (!) even had the agency's service manager swapping 327-inch Ambassador motors into economy six-cylinder Rambler American compacts (bite thy tounge!). Said Norwalk AMC dealer, on another annual pro-racing pilgrimage to Kenosha, walked briskly into the president's office, and - better get ready for this - the prez said: "Well, well, if it isn't Barney Oldfield himself."
To Rambler management, circa 1964, Barnstormin' Barney represented the beginning, end and sum total of automobile racing. A startling bit of naiveness, yes, but useable here in contrasting the vast turnaround lately taken by American Motors regarding high performance. With the Hornet SC/360, this month's Hot Rod Magazine test car, AMC is at last making amends for the ill-conceived Marlin (a classic example of "failure to communicate'' with performance enthusiasts). In '65, what the rodders really wanted was the Mustang, and Ford strapped it on 'em. Rambler, instead of producing a fastback-design, 327-powered, swoopy-looking American, gave us the bulbous, overweight Marlin. What a bummer!
Now it's '71 and AMC is beating Ford to the punch. The Hornet, like Ford's Maverick, belongs in the "midi-small-car'' class. But where the Maverick Grabber, with its top-option 250-cubic-inch six grabs you everywhere but in the driver's seat, AMC reaches into the parts bin for a 360-cube V8 that'll flatten eyeballs right back into the ol' head when punched. Imagine, if you will, a Ford Boss 351 Maverick. Be plenty strong, right? Don't ask the corner Ford dealer to order you one though; blank stares will follow. Not so at the Trans-Am-happy American Motors outlet; he's selling the Boss 360 Hornet, and right now.
Okay, we know that Hornet model SC/360 is not another "veneer" super car like the Grabber et al, so what advantage does a super Hornet own over a 360 AMX Javelin, Boss 351 Mustang, Z/28 Camaro or 340 AAR 'Cuda? Avoiding the dreaded 25% high- performance-car surcharge, that's all. Depending on the driver's age, driving record and marital status, this could mean a saving in premiums of $100 a year or more. AMC product planners aimed for an attractively priced car with a decent amount of performance without tripping the insurance company's paranoia-induced weight-to- horsepower guidelines. Many underwriters charge an added premium below ll-to-l; others figure 10.5-to-1. Horsepower- per-cubic-inch will cost you if the number exceeds eight. HRM'S test Hornet, equipped with 285-horsepower, 4-barrel ram-air engine and Shift- command automatic transmission, barely (but adequately) shunted the 25% surcharge - 10.839 lbs. per hp. Right on. Horsepower-per-cubic- inch divides to 7.92 and that's cutting the magic "8" limit pretty close. If for some off-the- wall reason your insurance company still cries "surcharge", X the SC/360 order blank for a two-barrel carb and only 245 horsepower. This combination nets 12.478 lbs. per hp and 6.81 hp per cubic inch - well within either limit. But (as you and I know) the two- barrel must go; and so, waiting (hopefully) on your AMC dealer's parts shelves are special high-performance induction systems available as dealer kits: (1) high-riser aluminum intake manifold with Holley three- barrel carb (or four-barrel) ; (2) cross-ram aluminum intake manifold for dual Holler four-barrels. If the dealer parts man balks, Edelbrock catalog numbers 2295, 2530 and 2565, 2570 will be of special interest to the "buy-now-and-bolt-on- later'' planners.
After reading the aforementioned insurance hassle, don't even ask why AMC didn't drop in the new 401 in lieu of a mere 360-incher! Dimensionwise, Hornet SC/360 is nearly identical to Maverick. Hornet wheelbase is 108 inches, Maverick 105 inches. Length checks out nearly even: 179.26 versus 179.40.
"Johnny Junior Stock" Dianna drops the hammer on SC/360 Hornet. Hide-boilin' smoke attests this is no "veneer" supercar. AMC reached into parts bin, did their hot rod thing, dropping 360 motor, H.D. suspension, into Maverick-sized Boss 360 Hornet.
"No-clunk" Dana twin-Grip option puts it all to the ground. High-speed sweeper shows throttle-induced oversteer.
Optional variable-ratio power steering provides an adequately quick 3.3 turns lock-to-lock. This, coupled with a turning radius of only 36 feet, enables a hardy Hornet handler to maneuver out of driveways and dodge chuckholes as fast as his reflexes will allow. However, the same GM-built Saginaw PS unit living within a Cadillac provides a much quicker 2.9 turns lock-to-lock. Why 3.3 for AMC?
Order the no-frills SC/360 package at a base price of $2663 and you'll be legging a two-barrel-cared, 245-hp motor. "The Man'' will be attracted to the unique rally-type stripe adorning the body (with the SC/360 logo die-cut in it). Stripes are available in black, red or white. A lower deck panel finished in red further identifies the SC/360. Trim and equipment are comparable with Hornet SST models (no taxicab interiors here), plus such niceties as D70 x 14 Polyglas tires and new 14 x 6-inch slot-style wheels, space-saver spare, new 11-inch clutch on manual-transmission models, and vinyl individual seats. Incidentally, the infinitely variable reclining seat feature is in itself worth the price of admission. Gone are those dratted wide-ratio seat-back stops. Now that elusive "perfect" seat-back angle is there by the mere dick of a lever. Cruising the freeway toward Orange County International Raceway, "Johnny Junior Stock'' Dianna dumped the seat back to near-supine; the resulting Can-Am, arms-out driving position had Porsche 911 drivers in the opposite lane visibly shaken. Ape hanger-type low-riders will be digging on this seat-back feature even more when it is coupled with the zooms Adjust-O-Tilt steering wheel.
To get the SC/360 where it really lives, the optional Go-package is a must order. Going out the door for $199 extra, the deal includes an AM (FAL) 4300 model 1RA4 four-barrel carburetor ( l 9/16-inch primaries, 1 11/16-inch secondaries), 285-hp racin' motor, ram-air hood scoop, dual exhaust's, tachometer, HD handling package and white-lettered tires. Another option: four-on-the-floor with Hurst shifter ($204.90). HRM'S honker Hornet came equipped with the venerable Borg-Warner Shift-Command automatic ($237.85), plus a no-clunk and seemingly bulletproof Dana Twin-Grip differential.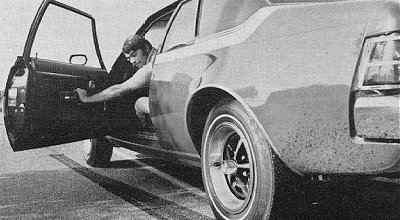 TOP -Intrepid burn-out artist Dianna checks line. Note rear fender tire dust.

LEFT - Hang this motor in your ol' Nash 600! With new 360-cube Ram-Air, AMC unleashes big torquer with power, sound and fury of racin' motor. Stinger turned 95-mph quarter with 14.80 e.t.

BELOW LEFT - 8000-R tach lives in dial third from left. Seat backs are infinitely adjustable for rake.

BELOW - SC/360 is broad-shouldered everywhere, avoids 25% insurance surcharge. Arrowhead scoop is functional, comes as part of Go-Package. Factory plans initial production of 4000 super Hornets; demand may stretch this to 10,000. Test car weighed 3215 pounds.

Transmission upshifts were positive enough, but unfortunately lacked that competition bang-shift quality common to TorqueFlite-equipped Road Runners and Super Bees. Beginning with the 1972 model, AMC will buy their automatics from Chrysler. This is definite. Hornet drivers then too may wail on shifts that G-force the ol' ashtray right out of its fancy ball-bearing holder.

Rear end gears factory available upon ordering an automatic 360 4V Go-package car are 3.15:1 standard, 3.54:1 optional. Go the T-10 four-speed route and pick up a third 3.91:1 option. Orderable as dealer-installation kits are 3.73, 4.10, 4.44 and 5:1 ratios. Following a 3215-pound weigh-in of the Hornet on OCIR'S scales, Johnny Junior Stock slid his 145-pound bod behind the wheel for a series of timed runs. We left the engine tune show-room-stock, loosened no accessory drive belts, maintained 28-pound air pressure in the rear tires. Within five runs, John gave the car its best ride, a 14.80 e.t, and 94.63 mph. Formidable e.t.s and speeds resulted from standing on the brake and throttling to a "couple of Rs" above idle - then driving into it. This method worked best in that it took what torque multiplication the converter had and used it to launch the car. Going from 1 to 2 at 4900 Rs, the trans shifted out immediately; but the 2-to-D move required a 4600-rpm short-shift. Not handicapping for the lull (dead area) while the B-W box "lay fallow" would've overruled the motor.

The deleterious elects of no vacuum advance under 30 mph and a definite lean running condition are a small price to pay for the cleaner air benefits of AMC's Engine-Mod anti-smog system (four-speed cars get an air-injection pump). The motor doesn't really start to pull until above 3800 Rs. Competition-wise, the hot setup will of course be a rejetting of the carburetor and a quickening of the distributor curve. Expect 100-mph quarter-miles and e.t.s in the 13s once this is handled. Waiting for the OCIR sporty-car track to clear, we bench-raced with former Can-Am driver Steve Diulo. Steve drove all Can-Ams, '65 through '67, more recently shoed a Formula A machine on the SCCA circuit, and by the time you read this will have competed in his first USAC championship car race at the November Bobby Ball memorial in Phoenix. Steve volunteered to take the Hornet out on the course for a few racing-type laps. He really hung it out. Covered with tire dust, smelling of hot oil, our Hornet braked to a halt some ten minutes later. A beaming and obviously surprised Steve Diulo jumped out, "unbelievable" he said, "I think it's some great little car! My only gripe is that the steering is a little slow - very neutral, though. I could induce oversteer with just a little bit of throttle, then hold it. But on slow turns I had to 'pitch' it. From 70 mph up, handling is just as neutral as can be. No body lean at all. Brakes were superb, but some work needed to improve front and rear brake proportioning - could lock rear brakes up. Automatic was pretty good. Really a lotta car for the money."

Kelsey-ventilated rotor discs are the big brake improvement for this year; '70 models used the solid-rotor Bendix spots. All cars in the AMC line-up get the same optional disc brake system, whether 3200- pound Hornet or two-ton Ambassador SST four-door wagon. I can dig it.

To build the Hornet's net a little wilder, a factory cam kit (.477 lift, 302-degrees duration), transmission oil cooler, and even a Detroit Locker rear end are dealer-supplied options.

Sunday afternoon Pure Stock racers at Lions Drag Strip in Long Beach, California, eyed the Hornet with undisguised glee. Those super- accommodating wheel wells, you know .... "Wow, they really covered themselves on tire width" said one racer. "Lions rules say we can run any size tire, just so it doesn't stick out beyond the furthest part of the fender well . . . ." More knowing smiles.

Every road test should mention gas mileage, so here it is: 8 mpg for drag and circle-burner work; 13 mpg for stoplight-to-stoplight driving; 17 mpg on the freeway.

What the folks in the red, white and blue jackets have wrought is a low- insurance mini-Road Runner, miraculously engineering into it a beautiful "open header" sound f rom the new bigger-sweep exhaust headers. Over 4000 rpm, the willing 360-incher comes on with a winding scream that'll raise goose bumps the size of tennis balls. Even the is distinctly beep, beep.

Trans-Am-type flogging, boiling the hides, or just plain cool-goofin', the SC/360 (much like Chevy's Vega) is a little car that does everything well - only AMC's Hornet does it in a big V8 way.

LEFT - John Dianna picks up a few "roundy-round'' pointers from Can-Am veteran Steve Diulo (in car).

BELOW LEFT - Hudson manufactured fast Hornets and Wasps way before anyone heard of Super Bees. Hey! Yellow-jacket bee, get off our parking light bezel!

BELOW - At risk of invoking the spirits of those storied NASCAR Hudsons of yore, HRM'S staff agreed SC/360 would put the hurt to the step-down '53 Hornets in the handling department. Stock car immortal Marshall Teague would've loved this one on the short tracks. Note absence of lean, even under duress of on-purpose 360-degree spinout for camera.

---
Top of page