Back to the Articles and Ads archive main page
---
Collectible Automobile magazine, October 1987
---
1968-74 Javelin: AMC's Thrust Into the Ponycar Arena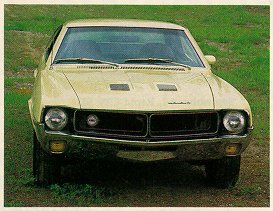 Although American Motors jumped into the ponycar arena a bit late,
it was right on the mark with the Javelin - keenly priced, nicely styled, amply powered.
Then the target moved.
Richard M. Langworth narrates this bittersweet tale.
---
NOTE: [Comments in red are made by this website's creator and are corrections]
---


[Click this image for a full-page intro to this magazine-
a letter from the editor displayed over the image of a Javelin's rear quarter.]
---
---
Perhaps we may best remember AMC by recalling cars like the Javelin -
as pretty a coupe as ever danced down a country lane,
looking as good today as when it first came off the line two decades ago.
It's a fine choice for the collector who marches to his own drummer.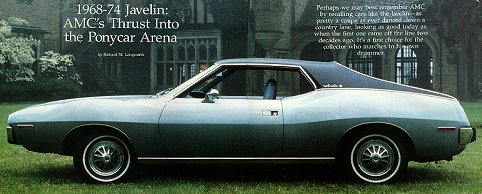 The first Javelin sold briskly, but it came on the market just before the bottom dropped out of the ponycar market. AMC soldiered on gamely through 1974, building a total of almost a quarter of a million units between 1968 and 1974. Probably the most sought-after Javelins today are the performance oriented models, but a Javelin could be equipped to a high level of luxury, too, as the 1974 coupe (above) with vinyl roof indicates.
---
Richard A. Teague, chief designer of AMC's Javelin, recently commented that, "I remember my first visit to American Motors, I arrived with an English designer, both of us considering whether we wanted to work there. The first thing they showed us was the clay model for the forthcoming 1961 Rambler American. 'My God, Dick,' said my English colleague 'it looks like a ruddy ordnance vehicle.' "

That was in 1960. Teague evidently decided that a company capable of producing the '61 American needed a friend, because he left his job at Chrysler and signed on as chief stylist for American Motors. There he remained until his recent retirement,which he took shortly after the French buy-in and restructuring of the company around Renault (and soon-to-be Chrysler) models.

The '61 American aside, AMC looked like a right good choice for a talented designer in those days. It had been formed out of Hudson and Nash in 1954 by George Mason, whose death later that year prompted George Romney's promotion into the president's chair. Like Mason, Romney believed in smaller, more efficient "compact" cars, and so American Motors shifted most of its emphasis to the Rambler-just in the nick of time for the 1958 recession. Thus, in a year when sales of most Detroit products plummeted, Rambler rolled to a record 200,000 units. A year after Teague had come aboard, AMC found itself third in volume behind Chevy and Ford, an amazing showing for an independent.

Teague couldn't have minded, after what he'd been through. California-born, a nut for cars and planes, he had joined General Motors in 1948, but was underwhelmed by the bureaucracy there. Switching to Packard, he became director of styling in 1953, only to play center-stage during the death throes of the marque in the mid-Fifties. He called it, "The last days in the bunker" (CA, September 1984). At Chrysler, he had arrived just in time to witness the '58 sales plunge: "A nightmare - awful." Dick must have looked upon AMC in 1960 the way Brer Rabbit viewed the briar patch.

Dick Teague presided over AMC Styling through those prosperous years when the firm - the leading purveyor of cars George Romney called "alternatives to the Detroit dinosaur" - could do no wrong. Dick's eye for styling integrity turned the overstated Rambler into a smoothly skinned design by '63, while the American "ordnance vehicle" blossomed into a graceful compact by '64, the same year AMC embarked on its ponycar project.
---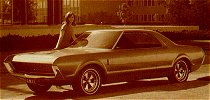 The 1966 AMX II was regarded by many as a 1968 Javelin prototype.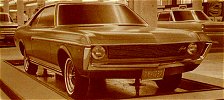 Other styling studies for the Javelin went under the name Rogue,
a title also used on some 1966-69 Rambler Americans.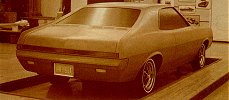 A 1966 clay model (left) strongly hinted at the Javelin's eventual roofline and rear side sculpturing.
Note the 1966 Mustang in the background. The AM-196X (right), also from 1966, shows that the rear end
design had been pretty well decided upon.
---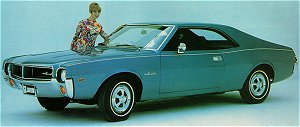 The 1968 production Javelins deviated from the styling studies mainly in the front end design,
which featured a Mustang-like, high-mounted grille, but with a more smoothly integrated front bumper.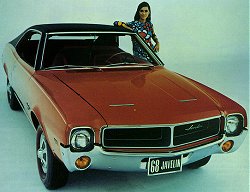 ---
While the Javelin was very definitely a competitive response to the wildly successful Ford Mustang, other complex changes occurring at American Motors at that time also affected its creation. When George Romney resigned to enter politics in February 1962, his replacement as president was Roy Abernathy, a sales executive with the dubious prior background of Kaiser and Packard. Almost simultaneously, AMC switched roles. From an exclusive supplier of reliable-but-dull compacts, the firm moved toward a broad product line meeting the Big Three across the board. During this period, AMC built luxury Ambassadors, fastback Marlins, Rebel muscle cars, the novel two-seater AMX, and the handsome Javelin.
---

Many buyers opted for the more up-market Javelin SST for 1968.
(Owner: John L. Maciejewski).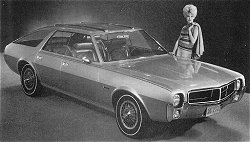 The AMX III, one of AMC's "Project Four" cars, was a Javelin up front,
but aft of the cowl it predicted the look of the 1971 Hornet Sportabout wagon.


The Javelin nameplate moved to the rear pillar for 1969,
but little was changed otherwise.
---
Abernathy has been blamed over-much for setting AMC on this ultimately fatal course, first because his board asked for it, secondly because there were few alternatives. They'd been first out with a compact, but once the Big Three entered that market Rambler sales bombed. You can have a good idea, even if you're small. But, as Rich Taylor once commented, "you'll have elephant footprints all over you'' before you know it.

Neither was the Javelin Roy Abernathy's kind of car, and by the time it arrived, he'd gone. But his successor, Roy Dikeman Chapin, Jr., welcomed such new product thrusts, which improved morale among AMC stylists. "Whereas before the board told us what to design," Teague said in 1968, "Roy now encourages us to submit new designs to him. The styling department was only a tool for the use of certain other individuals before, but now we make a distinct influence. We're still small-only 65 men in the entire department-but we like it that way." The enthusiasm was not hard to understand, Motor Trend remarked, after you'd met Teague himself: "He sits at his desk, surrounded by models of classic cars, flails his arms and yells with enthusiasm when discussing even moderately exciting ones."

John A. Conde, former AMC public relations manager, remembers that the design origins of the Javelin came with Teague's intriguing "Project Four" idea cars, introduced in 1966. Two of these, the AMX and AMX II, influenced the exciting production AMX two seater; a third, the Vixen, was a close-coupled coupe with a landau-type roof. All three bore lines that clearly influenced the production Javelin. (The fourth, the intriguing Cavalier, featured front/rear diagonally interchangeable doors [and fenders/rear quarter panels].)
---


The red 1969 SST is unusual in that it sports the 232-cid,
145-horsepower six-cylinder engine, good for 24 mpg.
(Owners: Samuel and Wanda Roth)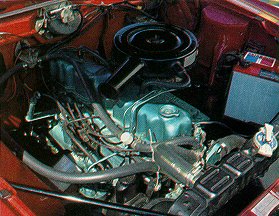 ---
Although obviously a reply to the marketplace and not a new idea, the Javelin received high ratings from the automotive press. AMC billed it as a "full 4-passenger sporty car," and it did indeed have more interior space than any competitor - save the Mercury Cougar, which it equalled. The design was beautifully clean and uncluttered in the long-hood/short-deck ponycar idiom, its smoothness accentuated by flush door handles, vent-less side windows, and sweeping ''C'' pillars. The front bumper, an expensive piece of chrome-plated metal, combined to form the underpan. It created a nice effect back in the pre-Endura-nose Sixties, at the same time avoiding the tacked-on look of the Mustang bumper, for example.

The interior featured standard front bucket seats and deeply recessed full instrumentation in a padded ABS plastic panel. The latter looked a bit funereal on the standard Javelin, which was finished in black, but other colors were available on the unmarked SST. All 1968 Javelins sported thin-line paint striping at the beltline, and an optional "wide stripe" came with the Rally-Pak, which soon became known as the "Go" package. It included road-going necessities such as power front disc brakes, wide oval tires, handling suspension, and dual exhausts.

The 343 V-8 started out as Javelin's largest engine, almost as light and compact as the workaday 290, and therefore not heavy enough to ad-versely affect the car's weight bias. Though it gave about 50 cubic inches and 50 horses to the 390/396/400-cubic-inch Mustangs, Cougars, Camaros, and Firebirds, it matched their performance: 0-60 mph with the optional four speed needed less than eight seconds. Rival big-blocks would pull away eventually, with their 125-135 mph top speeds against Javelin's 105, but in a country where top speed is incidental and acceleration a virtual gauge of manhood, this was no liability. AMC achieved it, not by frenetic over-gearing (3.15:1 axle ratio with the four speed), but by relative lightness: A 343 tested by Car Life weighed 3461 pounder several hundred less than rival big-inch ponycars. (The base six weighed in at 2826 pounds.)

Javelin's suspension was conventional, with coil springs and wishbones up front, semi-elliptic leaf springs at the rear. The car needed options like quick-ratio steering and the handling package (front sway bar, heavy-duty springs and shocks), but these were available on all models, including the six. The latter, however, could not be had with the four-speed stick.
---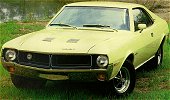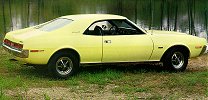 Javelin received a mild facelift for 1970, highlighted by a "twin-venturi" grille,
revised hood, new wheel covers, and reshuffled trim. (Owner: Harold Lehman)
---
Sound ordinary? Perhaps-but it worked. With the handling package, the Javelin was a handler: It stuck like glue, and while it leaned and rolled a little, this wasn't very apparent to the driver.

One Javelin roadtester said, "lf auto racing were relegated to strictly stock cars, we'd put our bet here." Obviously a successful Javelin racing program would need an expert tweaked and a darn good driver. Furthermore, Javelin was handicapped in Sports Car Club of America Trans-Am racing, where the ponycars competed, by the displacement limit of 305 cubic inches, Mustang and Camaro/Firebird were running 302s, while AMC had to make do with the 290, 'thus spotting the competition a dozen crucial cubes.

AMC gamely entered the fray anyway. Hiring Jim Jeffords (of Corvette fame) to head the team, along with crack drivers Peter Revson and George Follmer, the Javelin proved itself capable of running with the hottest Z/28s and Mustangs. Nonetheless, the '68 season belonged to Penske Camaro and Mark Donohue. In 1969, under Ron Kaplan, the Javelin team was stopped again. The way to beat Penske, AMC concluded, was to grab his top driver, and so they duly signed up Mark Donohue [for the 1970 season]. He drove hard, and won several races, but not the championship. The next year, when Ford and Chrysler stopped backing their cars and Penske didn't try hard, Mark and the Javelin came home first - a notable achievement for a feisty independent that until recently had been building Nash Ambassadors.
---
It was probably inevitable that the Javelin would go racing.
After a slow start, it won the 1970 and 1971 Trans Am series,
Mark Donohue piloted it to victory lane on numerous occasions,
resulting in a limited production run of Javelins that wore his autograph.
[Several errors in the above paragraph-
The Javelin's first individual race victory came in 1970 with Penske/Donohue,
but the Trans Am Series Championship was won in 1971 (Penske/Donohue)
and 1972 (Woods/Follmer). Also, the 'Mark Donohue' edition Javelins were built
PRIOR to any race victories. Rules required 2500 Javelins had to be built with
the Donohue-designed rear spoiler for it to qualify for racing. The wins came later.]
---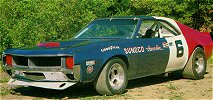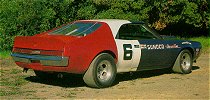 The Penske Racing Team Javelin was built at a cost of over $100,000
and campaigned by Mark Donohue in 1970. Peter Revson in 1971, and
raced by others from 1972-83. Restoration was begun in 1984.
(Owners: Norman and Peggy Llewellyn)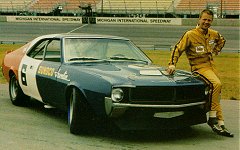 Mark Donohue posed with "Number 6" during its glory days on the Trans Am circuit.
---
Roy Chapin had said he'd be happy with "35,000-40,000 sales" in 1968, recognizing that his company had been the last to enter a crowded market against rivals that had been around for up to three years. So he cleverly priced the car under the competition (the base model started at only $2482 versus $2602 for a Mustang), and sold 70,000 Javelins over the calendar year, 56,462 of them '68 models.

Alas, that was the best Javelin would ever do. The ponycar market was fast fragmenting now, and by 1969 it had already peaked. Sales of the '69 model dropped to 40,000, and model year production after that never exceeded 30,000.

The '69 Javelin changed only slightly, featuring an altered grille and reshuffled trim. The "Go" package - "rather too cutely named," Automobile Quarterly sniffed - now included dummy hood scoops, while the SST gained a mid-year "Big Bad" trim option that flaunted wild colors and stripes, color-keyed urethane bumpers, and a roof-mounted spoiler. There was also a big-block V8 now, 390 cubes with 315 gross bhp, to help the Javelin compete more equally with big-engined rivals. [The 390 is a small block like the rest of AMC's V8s, not a big-block.]

The '70 models saw another mild facelift, highlighted by a "twin- venturi" grille, revised hood, new wheel covers, and trim changes. Donohue's Trans-Am effort that year stood to benefit by enlargement of the 290 V8 to 304 cid, but a rules change allowing competitors to do-stroke big blocks to 305 inches negated this.

Striving to put Donohue's campaign to good sales use, AMC offered two limited edition Javelins that are quite collectible today. The "Mark Donohue Special" carried a huge rear spoiler emblazoned with Mark's signature, while a very low-volume SST Trans-Am featured the racing team's red, white, and blue paint scheme with spoilers fore and aft. Production of the 1970 Donohue Special hit 2501; John Conde says they made "only about 50" of the Trans-Am SSTs.
---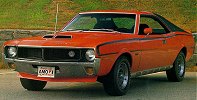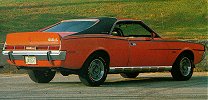 The 1970 Mark Donohue Javelin SST was one of 2501 built to
homologate the Donohue-designed rear spoiler for Trans Am racing.


Based on the SST it added the AMX ram air hood, four-barrel 360,
duals, handling package, power disc brakes, l4x6-inch mag-style wheels,
E70x 14 Polyglas tires and, of course, the Donohue autograph.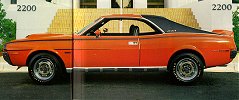 This fully loaded example is finished in Big Bad Orange paint.
(Owner: Michael S. Gray)
---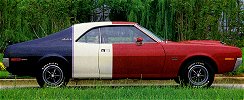 The 1970 Javelin Trans Am is among the rarest and most purposeful
of all Javelins built. They all wore a racing car paint job carrying
special code 00: Matador Red/ Frost White/Commodore Blue.
[The '00' code is the *ONLY* valid code for Trans Am Javelins]



The car shown here was ordered with the 390 engine, four-speed
manual transmission, 3.91:1 rear gearing, power steering and brakes,
AM radio, and the provision that no other options were to be installed.


Trans Ams were built during September and October, 1969.
Of the 100 (or less according to some sources) built,
only 13 cars can be accounted for now.
(Owners: Brad and Barbara Hillick)
---
Javelin's biggest styling change came in 1971, but as Dick Teague says, "it was just basically a heavy facelift ... we never had a lot of money to do really dramatic things." Dramatic enough, though: The wheelbase, length, and width in-creased, but the car's most prominent feature was the front wheel arches (or humps), which gave the car a busier, bulkier, more GM-like look than previously. The Donohue Special was continued [No, the Donohue model was NOT available after 1970, but the rear spoiler, slightly revised, became standard equipment on the 1971-74 AMX models.], but a new Javelin-based AMX replaced the now-discontinued two-seater AMX (CA, July 1984).
---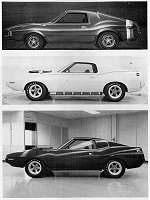 A second-generation AMX was in the works in 1968-69 along with the Javelin.
Humped fenders were featured early on and made it to production,
but the two-seater AMX was ultimately scratched and the label used on
the top-of-the-line Javelin instead.
---
Javelin received its first - and last - major restyle for 1971.
Most sheetmetal was new, but the familiar old Javelin still lurked underneath.
---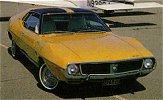 A new option was the unique "Twin-canopy" vinyl roof.
Note also the new front end design and the love-'em-or-hate-'em humped front fenders.
(Owner: Annie Robison)
---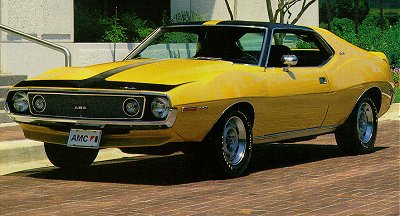 The 1971 Javelin AMX stood out in Mustard Yellow.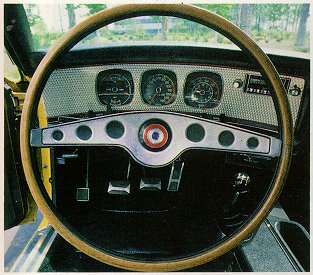 Only 2054 AMXS were built for 1971 and, of them, 745 had the 401-cid V8.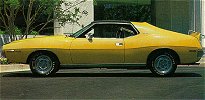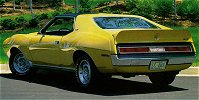 This early production model features the rare high-compression heads from 1970,
four speed, ''Go'' Package, and a minimum of luxury options.
(Owner: Michael So Gray)
---
Product planners apparently thought the name still evoked a performance image, however, so the "Javelin AMX" was outfitted with a standard 360 V-8 rated at 245 bhp. It could also be ordered with AMC'S new 401-cid V-8, an enlargement of the 390.

By now, emission controls were severely affecting performance, and so the 401's l6-second quarter-mile and eight-second 0-60 times only matched what a good 343 could do back in '68. The 401 remained a Javelin option through the end of production in 1974; it was the largest powerplant in AMC history.
---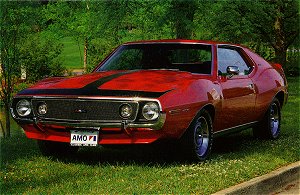 The AMX continued as the performance version of the Javelin for 1972.
This Trans Am Red (code D7) sample stickered at $4761.70 ($1570.70 in options).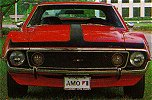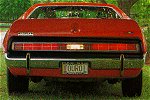 Among them was the 401 ''Go'' Package, which included the 401-cid 4-B engine,
dual exhausts, T-stripe hood decal, black rear panel, Rally-pac instruments,
handling package, cowl-air carburetor induction system, heavy-duty engine cooling,
Twin-Grip differential, power disc brakes, E60x15 Polyglas white-letter tires,
l5x7-inch styled steel wheels, Space-saver spare, and more.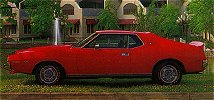 The black/red interior (code T-265S) was extremely rare.
(Owner: Alan L. Gray)
---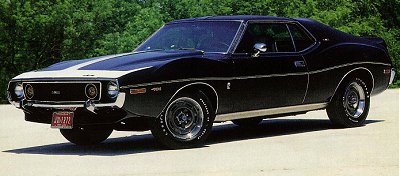 This special-ordered Javelin AMX was built in July 1972.
It featured the Pierre Cardin interior, an SST-only option in '72,
but was allowed on the stipulation that the Zone Office Manager
covering Independence, Missouri, would drive the car for the first
couple of months, and then be used as a demonstrator.


It had every available factory option except the headlights-off-delay system
and a delete-option T-stripe (added in April 1985).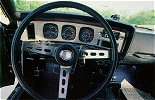 This original 25,000-mile car took eight first-place trophies in seven shows.
(Owner: Alan L. Gray)
---
In the disappearing ponycar market of 1972-74, Javelin maintained a two-model lineup. Sales continued at a rate of about 25,000 units per year, respectable for its builder. Changes were few, restricted mainly to trim shuffles and front end facelifts. For 1972, the SST wore a bold egg-crate grille to set it apart from AMX'S mesh-type. The following year, both the egg-crate grille and the SST moniker disappeared, leaving a base Javelin and Javelin AMX, the latter with its usual deck spoiler and V8.
---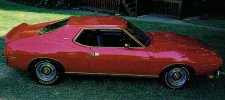 A Javelin AMX could be ordered without wild striping.
---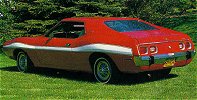 The red '73 runs with the faithful 304 engine and automatic,
displays the racing stripes from the extra-cost sport package,
and has covered 74,000 miles with the same family since new.
(Owner: Wayne N. Wester)
[The stripes were a stand-alone option called 'Rallye Stripes',
and this car wears incorrect reproductions of the stripes]
---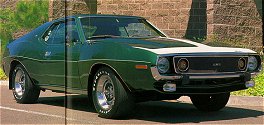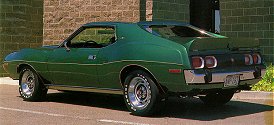 The Tally-Ho Green '73 AMX is powered by the 360 V8 driving through a four speed.
Except for new paint [and the added driving lights], it is original, and these days is used
mainly for sunny day driving and for car shows and club activities. (Owner: Gregg A. Gyurina)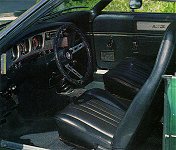 ---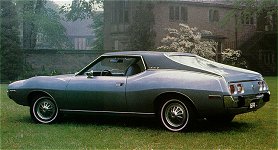 By 1974 it seemed that the days of the ponycar were over.
Chrysler had abandoned the market altogether and Ford had repositioned
the Mustang into a different segment with the downsized (four-cylinder) Mustang II.
AMC needed assembly line space for its upcoming Pacer,
and so it was decided that the Javelin would be discontinued after 1974.
As such; the last of the line (above) was hardly changed for its last year,
during which 29,536 units were built (including 4980 AMXs).

It featured the same wraparound instrument panel (left) that had been used since 1971,
shown with the engine-turned insert installed in the AMX.
Lesser Javelins used a wood-grain insert (right), but all had the unusual
cubbyhole above the transmission hump.
---
Why was the Javelin dropped? You've probably guessed already: By the mid-seventies the bottom had dropped right out of the ponycar market. And, as John Conde notes, a firm with relatively limited resources could not afford to tie up an entire production line with a low-volume product. "The Javelin lasted until another all-new car came out - the Pacer. We needed this manufacturing line to build Pacers on, so we decided to drop the Javelin. But of course, the market for those types of cars certainly wasn't going up."

Neither, alas, was the market for American Motors products of any description. When the Javelin and two-seat AMX were at their peak, car collectors nationwide were rooting the company on. "We've noticed this at meets, tours, races, any number of eventsz" wrote Automobile Quarterly in 1969. "American Motors must survive, everyone says, [But] few of those espousing concern over the American Motors situation were driving the company's cars."

Today there is a campaign going on among the two large AMC clubs to get the company back to building American cars. It was wrong, they say, to sell its soul to the French, who have never succeeded as car builders outside France. Even the French ultimately agreed and sold off their stake in AMC to Chrysler Corporation this past spring.

Now, the last independent is gone, its pieces in the process of being integrated into the Chrysler empire as quickly as possible. Perhaps we may best remember AMC by recalling cars like the Javelin - as pretty a coupe as ever danced down a country lane, looking as good today as it did two decades ago when the first one came off the line. The Javelin is a fine choice for the collector who marches to his own drummer.
---




---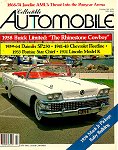 [This issue's cover]
---
Top of page