Back to the Articles and Ads archive main page
---
MOTOR TREND, AUGUST 1969
LIKE BOUNDING GAZELLES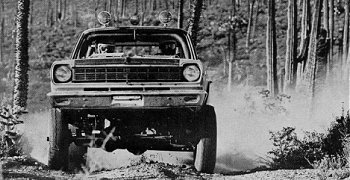 ---
James Garner's A.I.R. team fields ten scrambling SC/Ramblers for a new off-road racing concept.
Track record for the first outing - 1st-3rd-5th in class!
There's no question about it, when the nuts and bolts people at Hurst joined forces with American Motors to build a limited-edition, high- performance car based on the Rambler Rogue, they were out to better AM's image. That it worked as planned is evident in that 500 were initially scheduled for production, but the total was immediately raised to 1500 when over - subscription by dealers swallowed the production run. The car did perform; 14:30 secs. for the standing quarter-mile with speeds near the 100 mph bracket, thanks to the 390 V-8 engine producing a solid 315 hp, the close ratio BW T-10 four-speed, the 3.54:1 Dana rear axle with Twin-Grip, heavy- duty suspension, and other niceties aimed directly at propelling the 3140-pound vehicle from a standing start to ultimate top speed in the shortest possible time.

The object was to field a series of ten (10!) off-road racing sedans to carry the red, white and blue colors of American Motors into the desert wilds of Mexico's finger-like peninsular projection called Baja, California. James Garner's American International Racing organization, not content with their triple entries in Formula A racing, thought that off-roading could produce fun as well as profit, thus did the Rohrbacher shops in Hemet, California, move heaven and earth to fit the SC/Ramblers with the accouterments peculiar to this zany new sport in time to make the recent Baja 500 race. Preparation was nearly as complex as Trans-Am sedan building. Ground clearance was increased by use of a special lift kit up front, re-arched leaf springs at the rear. The engines were stripped to bare blocks and reassembled to blueprint specifications. A massive steel skid plate was run from the front bumper to a point aft of the transmission, designed to protect delicate undersides from rocks and boulders, and strengthening struts were added to front and rear suspensions alike.
On through the desolate valley, the spicey cactus, the dust, the dirt, the bone tiredness of it all, Bob Bondurant and Tony Murphy (top of page), rode on to victory in the Baia 500. To accomplish this, placing the young SC/Ramblers 1st, 3rd and 5th in class, the Rohrbacher gang flogged the midnight oil. The front suspension (below left) was raised and two extra shocks added per side. 390 engines (below right) were blueprinted and sparked with transistor ignition, Author Murray (bottom of page) with co-driver Eck Tur.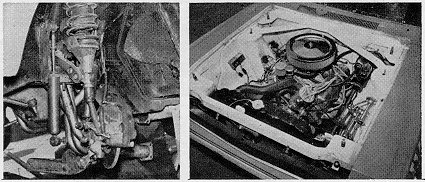 To keep weight to a minimum, for in the rough country, pounds are the enemy of tires, the cars were relieved of all interior trim and fittings not absolutely necessary to racing, all glass was removed for both weight and safety, and mammoth rollcages were built to protect ensconced driver and co-driver from the slamming and banging upsets that off-road racing offers.
When preparation was completed, the SC/Ramblers tipped the scales at 3140 pounds - identical to original stock- form shipping weight - despite the mammoth 44-gallon fuel tank amidships, the steel-lined undersides and 10 x 15 Goodyear earthmover-like tires. MT's writer, as an A.I.R. driver in the Baja 500 race, found the sedan would run in the 140s (7000 rpm in high gear) on the asphalt, yet would bomb over rocks and sand with the best of the buggies. Garner's initial effort with off-road sedans found them copping a 1st, 3rd and 5th in their category. Of the ten, seven crossed the finish line under their own power; soundly besting off-road racing's usual attrition rate of some 50 percent. American Motors will be making great promotional hay of the Garner team's success even as the ten sedans are being prepared for off-road's greatest classic, the Mexican 1000, held annually in November. /MT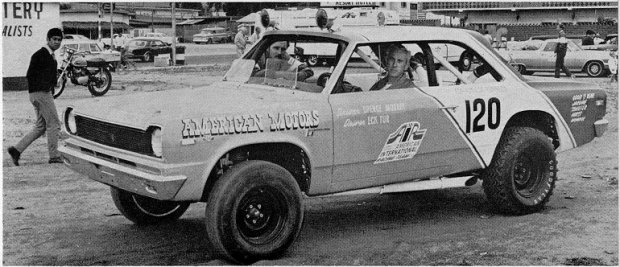 ---
Top of page