Back to the Articles and Ads archive main page
---
MOTOR TREND, MARCH 1969
FIVE CAR STUD
by Bill Sanders
[used without permission]
Photos: Pat Brollier and Eric Dahlquist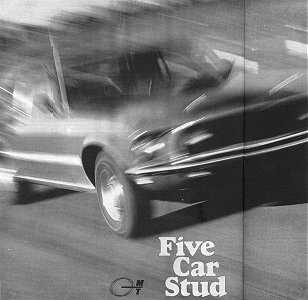 ---
...fame hasn't changed their spirit; action is still the name of the game with the
Camaro RS/SS 350, Firebird 350, Cougar XR-7 351, Mustang Mach 1 351, Javelin SST 343
Wham! It hits you. Sensory nerves react, but the feeling is in the gut. Sight and sound run together. Wide open exhaust headers alternately bellow and grunt from camshafts ground so close there's no idle left. Throttle, back-off, throttle, back-off.You can feel the ground vibrate underfoot. Orange, red, blue, yellow, black, green. Helmets, cars, driving suits. Young chicks with long, blond hair. How can you miss them. Tight lewis, sweaters, T-shirts, faded blue denim shirts ; holding stop watches, clip boards.
Everyone's on the grid. Joking, nervous, relaxed, tense. Driving gloves on, helmets on. Look, is that Mark Donohue and Jerry Titus. Could be, but back there in the pits. They're extras. This is Bob Wagner and Jim Garner. Wait a minute, isn't this Lime Rock? Isn't this the Trans- Am race? That's right, fella. But it's Cinerama. You're in that big, round palace of make believe. They're even atomizing a little burned castor oil back there for special effects,
What? It had to happen sooner or later. Somebody was bound to make a picture about the sporty group on the racing circuit. Popularity has its hangups. Auto racing eminence is indicative ; the pulse beat of the aficionados. Grand Prix, Group Seven, USAC, NASCAR - the establishment of racing, they've got their ranks. But, for the first time in a long time, a single group of cars has started a whole new racing scene, it's a giant snowball. Sales and interest pushed them into racing and racing has pushed sales. Everybody's happy. SCCA has all those big Trans-Am races and now NASCAR has the Baby Grand circuit, Of course, we'll never be a Mark Donohue or a Jerry Titus. But we can identify. Look, they're driving the same cars out there. Identification. That's the secret they say. We use our cars for the mundane necessities of life, but every once in awhile a guy needs something more. You need that solace only a good handling machine can give. The urge builds up until you can't contain it any longer. From Mattapan to Monterey, somewhere, you can find that lonely stretch of winding, back country road and let it all hang out. It may only be county road 22 where it makes that sharp bend out by old man Hoggson's place, but you can drift through there like it was turn seven at Riverside.
Ford had a better idea and the Mustang was born back in April, 1964. Driving hasn't been the same since. The "pony'' car was followed by fish, cats, birds, and in 1968 we got a spear from the track team. In four years this menagerie has proved itself strong enough to dominate over ten percent of the total car market. That's a pretty big hunk no matter how you slice it ; and from the looks of the 1969 vintage, that ten percent will keep right on growing.
Powertrains
If you're special ordering your sporty car, not just buying what the dealer has in stock, choosing the correct engine, transmission and rear axle ratio for your specific needs will add a lot to how much you enjoy the car. There are enough powertrain options for each car to cover the driving requirements of practically everybody from teenie-boppers to little old ladies in tennis shoes.
Trying to figure out what combination you can get, or is available, might seem like it will take the machinations of an IBM 360, but it's a good way to spend a rainy Saturday afternoon. Cars in the sporty group have more engine options than most, and a comparison of the '68 offerings with the '69 looks like a change of administration at the White House. Some have been axed and others added. Of significance is the addition of Ford's all new 351 cubic inch engine to both the Mustang and Cougar lines. Its light weight aids handling, but with a four-barrel carburetor and 290 horsepower, it can really move both cars along. Both cars have also been complemented with the big 428 cobra jet engine. Mercury has dropped the 302 inch V-8, making the 351 the base engine in the Cougar line.
American Motors has stuck with the same team they had for the Javelin in '68, with the late comer 390 cubic inch V-8 still top of the line, Camaro is also still unchanged, while Firebird has had a little shuffling done in the six-cylinder department. Long overdue in the transmission department, both our test Camaro and Javelin came equipped with Hurst shifters for the four-speed gear boxes. There's a new dimension added to the Camaro with the switch from Muncie. The Hurst makes it a much more versatile car. The same is true with the Javelin.
We wanted to make our comparison as close as possible, so ordered all the cars with mid- range engines and standard axle ratios, Only the Camaro and Javelin came through with four-on-the-floor. All the rest had automatics. Both the Camaro and Firebird had 350 cubic inch engines. Unfortunately, the Firebird came through with the low compression 350 that sports a two-barrel carburetor, so Firebird times were a little slower than the others. Both Mach I and Cougar had the new 351 V-8. Actually that was a little unfair to the Cougar as the 351 is the base engine in the line, but it proved equal to the task. Our Javelin, with a 343 cubic inch powerplant, had the smallest displacement, but it hung in there like a champ.
Base engine in the Cougar, the 351 fills the engine compartment to apparent capacity. Note the large amount of space between grille and radiators. Entering curve at speed, Cougar hugs road, is predictable and easy to control. Kicking rear end out is a matter of choice. Ride isn't overly hard.
351 engine fits snugly under Mach I hood with huge air cleaner covering everything. Ford engines with coil and distributor up front are easy to service. Plugs are easy to reach. Mach I lines are smooth and supple, showing notable lack of ostentation. Absence of fake bolt-on equipment is commendable. Spoiler, striping and hoodscoop all help enhance good looks.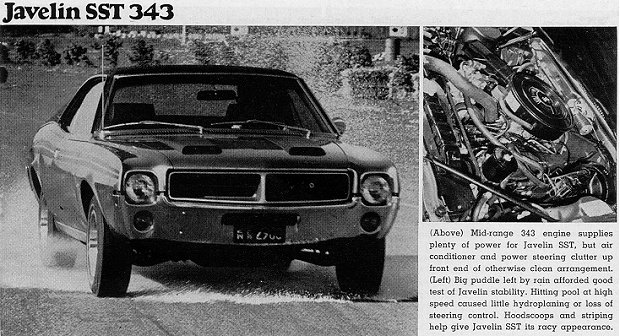 Mid-range 343 engine supplies plenty of power for Javelin SST, but air conditioner and power steering clutter up front end of otherwise clean arrangement. (Left) Big puddle left by rain afforded good test of Javelin stability. Hitting pool at high speed caused little hydroplaning or loss of steering control. Hoodscoops and striping help give Javelin SST its racy appearance.

Firebird 350 had lowest hp rating with two-barrel curb, low compression. Three-speed automatic gave good low gear torque. (Above right) New grille for 1969 has altered Firebird appearance slightly. Pontiac had widest tread front and rear of all cars tested.

Head-on, Camaro's new grille accents wide stance. Custom wheel covers stick out farther than tires, get scraped and dented on curbs quickly. (Above right) A look under the hood reveals a mass of hoses and tubes. GM 350 engine is difficult to service.

How They Perform

Glance at the performance chart and you can see what makes drag racing fans lose their cool. Acceleration times are as close as you can get without a Krona Chrome blade. Except for the Firebird, times are all only tenths of a second apart in most cases. The Firebird also had the highest rear end ratio at 2.78 :1, so it suffered even more in comparison. Still, it was peppy, despite the decreased horsepower and torque, A little fast, extra pressure on the throttle from dead starts and it would burn a stretch of rubber every time. And that's with regular gas! Low gear was great, but in second and third torque went out the window. In second the automatic felt like it would wind all day; in third the end was never even in sight.

Chevy's hottest 350 is rated at 300 horsepower and that's the one we got. With the Hurst shifter you can really snip off the shifts ...click ...click ..click. There's plenty of power under the hood and it will put you back in your seat. It ran almost as fast as the 396 we tested last year. It didn't fare too well against the new bomb from Ford though. Times were similar to those turned in by the Cougar, a car which weighs over 400 pounds more, and it was slower than the Mach I, also a heavier car. Both the Cougar and the Mach I also has ten less horses than the Camaro.

Lightest in weight and with the lowest axle ratio, the Javelin was in the same ball park as the Mach I in acceleration, even though it, too, gave away ten horsepower to the Mach 1. Shifting the Javelin with the new Hurst shifter is, if anything, even more of a kick than in the Camaro. Unfortunately there was a lot of transmission and throw-out bearing noise inside the Javelin. We couldn't tell if this was symptomatic of all or just with our car as it was one of the first off the line. If you like the feeling and sound of a race car, you may dig it.

Both Cougar and Mustang had automatics, but with console-mounted shifters, going through the gears was effortless and quite precise. The Mustang shifted instantly but there seemed to be a lag in upshifting the Merc. We noticed that most on a trip through mountainous country on a winding road. Acceleration after upshifting also seemed to be slow on our trip. But it didn't seem to be a problem at Orange County Raceway. The performance figures prove that without a doubt.

Handling and Steering

If they're gonna race 'em out there in Trans-Am land, then this is where all the marbles are going to count. And they do. If you want a sports car you've got to keep them honest. There can be no compromise.

The Ford boys have done it again. Their cars handle impeccably. Even the Cougar. It was barely a sporty car in length before. In '69, although it still retains a lll.l-inch wheel- base, they've added three inches to the overall length. No matter. Handling hasn't been affected in the least. The cars are quite similar, but the Mach I has a slight edge. Both cars go through corners flat and smooth. No rolling, no pitching. Push them as hard as you want ; they're predictable. Understeer is slight. No manufacturer wants neutral steering in his car but the Cougar comes close to it. Drift through a corner in either car. A little steering wheel, a little throttle and you power through. They go where you put them and they stay there. No wild afterthoughts ; you're in control. Power steering is also excellent in both cars. You have more wheel turns, lock- to-lock than the GM cars, but steering on the Fords has a little force behind it, a strong, heavy feel that gives you some message of what's happening with the front end. Both the Mach I and Cougar are equally at home on a winding road or on a sharp turn road course.

Good handling characteristics come from wide track town. Our Firebird got some good licks on the Irwindale Raceway circuit and hung in heavy all the way. Heavy is right, it was next heaviest to the big cat. It's interesting to note, too, that while it's also the second longest of the group, it's the lowest of all in height by almost an inch. It also has the widest track, naturally, both front and rear. Which also helps. Cornering was flat, but not as precise as the cat or pony. Understeer was noticeable, but drifts were possible without any loss of traction. Each of the other four cars had Goodyear wide treads, but our Pontiac had wide tread UniRoyal Tiger Paws, and we noticed they seemed to give somewhat better adhesion in cornering and breaking than the Good- years did for the Camaro. We're sure with more horsepower and torque to put down and possibly a four-speed manual, the Firebird 350 would be the equal of the Fords. Our test car's console-mounted shifter was also good for an automatic. The shifter was located close enough for accurate shifts without overshooting gears.

With lots of tire squeal from every low gear start, big wide tires, quick ratio steering and the special suspension that comes with the SS/RS package - we thought sure the Camaro was going to chew up all those mean corners on the road course. But it bit off more than it could chew. Handling response was quite unpredictable, It had a considerable amount of understeer, and when that rear end decided to leave the parade there was no stopping it. It would go right on around like the last man in crack-the-whip. Actually we were a little surprised because we had taken the same car over a rugged mountain road in the Angeles National Forest earlier. On that trip it took curves flat, with only minor understeer. But at the same time didn't oversleep excessively; in fact it was difficult to break the rear end loose even when the steering wheel was jerked purposely. lf it dove into a curve in a gear that was too high, it telegraphed the possibility of breaking traction, but with enough warning time to downshift or back off. The four-speed has a very versatile third gear for mountain driving. At fifty mph it maintains a good 3000 rpm level. Second gear is rarely needed, except in a climb to maintain the revs, or for more torque control in bard corners. Second gear in the Cougar automatic transmission is also as versatile. On the same highway we noticed the Cougar second gear ran exactly at 3000 rpm at fifty mph.

Handling characteristics vary as much as the length of mini skirts on Sunset Strip- Javelin (top left) makes some unpredictable moves at first, until you learn its whims. Getting rear end around corners in good shape takes some practice. Cougar (top right) shows understeer in tight esses, but handling is mostly flat and smooth without excessive roll or pitch. Mach I (center) goes through turn at speed with only slight understeer evident. Response in power drifts is always precise and immediate. Like the Cougar it is always flat and extremely stable. Big dice (bottom) between Firebird and Camaro has Camaro in high roll with understeer noticeably visible, Camaro and Javelin both had tendency to hop around in corners. Firebird handling was flat cmd smooth, but did understeer.

We hadn't gotten a real taste of squirrels goings on until we got the Javelin out on the circuit. There's no pseudo facade with the Javelin. From the minute you slide behind the wheel and look at that wood steering wheel and the giant speedometer and tachometer staring back at you, you know this is all man's car. You get the feeling that if you set it in motion you better be prepared for business. It seems to ask for only one kind of treatment: hard, rugged driving. It's not masochism. From the noisy transmission, from the unerring precision of the shifter, butted right up next to your thigh where it should be, you can tell this car is a plain, rugged individualist. And it is. In a straight line and in average mountain curves anyway. If you must push it further, you find out. Like the Maginot line, you learn it's not so tough after all. We tested a couple of corners easily at first. Then, the nitty gritty. Hard into the corner and we could feel it start to plow. A lot of flailing at the steering wheel and out of the understeer. Now, power out of the too wide drift. Wait, the car has other ideas. The rear end is still on a lateral course. And so it went.

American Motors power steering just doesn't have the solid feeling of the Fords and the Firebird. It is more akin to the Camaro and requires more attention and constant correcting, a tendency that leads to over corrections too often. The Javelin has the next longest wheelbase after the Cougar, but has the narrowest track both front and rear of all the cars. Because it's the lightest in weight, a stiff handling suspension affects handling and causes it to hop around a lot in corners.

Braking

All the cars stopped straight and true without any uncontrollable swerve except the Camaro. Even with front disc brakes the Camaro had a tendency to pull to the right and then get a little rear end heavy from side to side. We were impressed by the great stability of the Firebird with drum brakes all around. Panic stops from both 30 and 60 mph were both flat and constant. Stopping from 60 mph took a little more room but there was no lateral motion. Javelin's constant and invariable stops also rate high. The big E70 tires put a big footprint on the asphalt. Although they smoked like crazy there was no deviation from the straight.

Mach 1 and the Cougar really take the braking laurels, though. Both cars had quite a few more miles on the odometers than our other test cars, miles that used plenty of brake lining. Yet the Cougar actually stopped in 118 feet from 60 mph several times! None of the Cougar stops were full lock-up, and it didn't even lay down any rubber until the last several feet, The tires didn't smoke at all. Both the Mach I and, especially, the Cougar brakes had a tendency to heat up rather quickly after vigorous driving and really smoke, although there was never any fade and the brakes didn't appear to suffer unusually. None of the cars experienced any fade after continued hard use, not even the Firebird with front drums.

Interior Comfort and Ride

The Mustang Mach I probably has the most comfortable, best contoured seats of any American car today. And that's unqualified. It also has plenty of front seat leg room for even the tallest guy. Slip into the Mach 1, you feel surrounded and protected on all sides. We can testify to the comfort. On a round-trip drive f rom Los Angeles to San Francisco, including other points, and back in one weekend, we were never tired or fatigued. After nearly 1400 miles! In fact, when we were tired, the Mach I seats had a soothing effect. The Mach I is solidly built, extremely quiet and smooth riding for a car that handles the way it does. Ride is always excellent, even at highway speeds of 100 mph. At that speed there seems to be some instability, but it is easily corrected. Because the car is so quiet inside with a tight body, some road noise is transmitted to the interior but it is never annoying, it's only heard because there is absolutely no wind noise.

After the Mach 1, the Javelin is probably the most comfortable for sitting and driving, With American Motors' famous adjustable slotbacks you can get more variations of driving positions than with any of the other cars. The Javelin buckets adjust farther back than any except the Mach I. A good option that our car had is a fold down center armrest between the bucket seats. When it's up, three people can sit comfortably in front because of the absence of a console. Folded down, the armrest is just the right height for comfortable highway cruising and is generously padded. Javelin head restraints are also the most softly padded in case your head is ever snapped back unexpectedly. With the special suspension, ride is a little harsh on the Javelin, but it seems to be part of the car. You sort of expect it as part of the no nonsense impression it gives.

Firebird seating rates third for comfort and practicality. You sit low and secure with plenty of leg room. Firebird bucket seats, while not contoured as well as the Javelin or the Mach I especially, hold you firmly in place. Although they seem relatively low, visibility is good all around. Ride is comfortable yet firm for the heavy car it is. There is never any mushy baby carriage effect. The Firebird rides low and solid, but not hard.

Seats in both the Camaro and Cougar are travesties, especially in such a great all around car as the XR-7. It's amazing how there can be so much differenee between the Firebird and Camaro when they both use basically the same body shell and same bucket seats- Camaro seats push you up while Cougar seatbacks push you forward ; and both are uncomfortable. In the Camaro we were always brushing our hair on the headliner. There was plenty of room in the Firebird, yet it is nearly 1.5 inches lower overall than the Camaro. Cougar slotbacks always seemed to be pushing us into the steering wheel. Either the backs are too vertical or the tops are overly padded.

A tilting steering wheel is a highly desirable option on all but the Mach 1. You can forget about rear seat leg and head room on all but the Javelin, which still seems to have the most interior room. Even with the addition of three inches to the Cougar body there is still no rear seat leg room. Probably the least rear seat leg room is in the Mach 1. With a fastback they ought to turn it into a two-placer and leave the area behind the front seats for storage.

Cougar in profile shows increased length in hood and deck. New convertible gives much lower appearance. Sculpted wind sweep line is Cougar's new body treatment for 1969.

Back to back tug-of-war. Camaro and Firebird share same body; therefore, are remarkably similar in appearance. When together though, the Firebird is noticeably lower overall.

Mach I had accumulated several thousand miles by the time of test, but brakes performed in excellent style. Both Mach I and Cougar brakes heated quickly, but neither ever faded.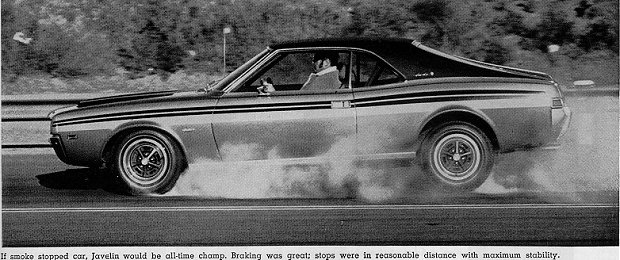 If smoke stopped car, Javelin would be all-time champ. Braking was great; stops were in reasonable distance with maximum stability.

Convenience and Utility

Probably the most luxurious overall, the Cougar XR-7 sports an instrument panel that comes closest to being an honest-to-goodness GT car in the European tradition. It's fully instrumented with well-placed, easy-to-read gauges. Both heater and radio controls are centrally located within easy reach of the passenger. The Cougar convertible is new to the line this year, it's simple and easy-to-operate and with the top up, wind noise is minimal. We did notice quite a few rattles and a loose feeling developing in the body, but a certain amount of that must be expected if you want to enjoy the pleasures of a convertible.

Everything is well placed and well thought out in the Mach 1. Full instrumentation is easy to read. The absence of a tach was the only minus feature. New, imitation teak paneling on the Mach I and Cougar add to the interior plushness without looking cheap. Everything in the Mach I is within easy reach of the driver, even when you're strapped in your seat. Especially convenient is the rim horn on the wooden steering wheel.

Like everything else about the car, the Javelin dash is rugged, masculine. The biggest and best speedometer and tach are placed squarely in front of you. There's also a small clock and fuel and water temperature gauges. The rest is flat and spartan. Like a race car. AMC has also added some imitation wood paneling this year and it looks good in a rugged way. Even Javelin carpeting is different. It has a smoother texture; like a thick grizzly bear rug.

Our Camaro was much better equipped than the Firebird 350, which had only a speedometer and idiot lights. Just the barest necessities. A good girl car. In fact, when our secretary took it home one night she fell in love with it. It didn't have all those silly gauges to check. Just put it in Drive and go. The Chevrolet men still insist on putting the fuel, amps, water temperature and oil pressure gauges down on the console where you can't see them without taking your eyes completely off the road. And they still reflect sunlight. The dash has been completely redesigned this year, with tach and speeds canted inward with a small clock in the center. They've also added imitation wood ; and it looks imitation. In deference to the Camaro's performance, we must say it had all the power options : brakes, stearing, windows, plus air conditioning. An unusual coincidence made itself apparent whenever we took sharp turns at speed : our left knee, resting on the door panel was at the exact height as the power window switches and with the pressure of the turn kept lowering the window in our door. Even changing position, our knee ended up in the same spot and zip-down went the window.

Inside door handles are difficult to reach on both the GM cars as they are under the door armrests. Ford puts the handles inside the armrests, but on top, making the doors easy to open. Inside handles on the Javelin are in front of the armrests and while somewhat difficult to operate, are better than GM's. Trunk openings on the Camaro, Firebird and especially the Mach 1 are small. Cougar has the biggest trunk opening and the biggest interior room, followed by the Javelin. But, none of the five have trunk space to carry any great amount of luggage.

Versatility unlimited. Mach I comes on mean in everything you ask it to do. Dragstrip starting line means fast acceleration

Mach I interior is tastefully done with new imitation teak dash panels. Front seats are probably most comfortable of any American car in 1969. Rear seats could be comfortable but no leg room exists to sit straight. Ford's new rim-blow steering wheel horn is a good item to have. Adjustable steering column is unnecessary option.

Cougar dash with XR-7 instrumentation came closest to European-type GT appointments of all the sporty group. Front seats were rather uncomfortable, but rest of front interior was superb. Cougar also had rim-blown horn. Rear seat leg room was also poor in Cougar. Wind turbulence was minimal with top down. Convertible makes good option.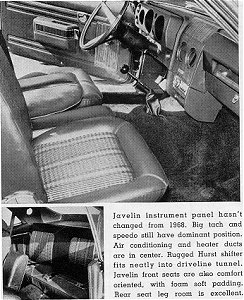 Javelin instrument panel hasn't changed from 1968. Big tach and speeds still have dominant position. Air conditioning and heater ducts are in center. Rugged Hurst shifter fits neatly into driveline tunnel. Javelin front seats are also comfort oriented, with foam soft padding. Rear seat leg room is excellent.

The nameplate reads Camaro and it's got four-on-the-floor. A gleaming Hurst shifter juts from console displaying imitation wood and peering gauges. Camaro and Firebird have temperature and radio controls on right side of steering column for passenger access.

Oh model year bring us some changes. Firebird hasn't done too badly, with redesigned instrument panel and a vinyl covered steering wheel. Bucket seats sit low to the floor, allowing plenty of leg room. Console shifter is close enough to let you go through gears easily. Rear seats leave no room for knees.

Sunlight flashes, rocks and dust fly; Firebird chews up the desert.

Trunk space is available in sizes from small to smaller. Javelin (far left) has interior space, but small opening. Cougar (center) has biggest opening and trunk space. Mach I is small. Camaro's (right) great for giant rocks.

How They Rate

Omnipotent judgments always carry the fingerprints of the judge, He can only be as objective as Ivory soap : ninety-nine, one hundreths percent pure. Criteria of evaluation must of necessity vary between groups of cars. With our sporty clan, emphasis goes on handling, performance, comfort, ride and convenience, in that order. After living with the five, and after due deliberation, our advice is : don't mess with the ponies. That's right, man. Mach I puts Mustang back where it all started - Numero Uno. That other Ford division over there wasn't killing time either. Mercury has another winner in the Cougar although those seats keep it from matching the feats of Mach I. Remember though, we're talking about both these cars with the 351 engine, not the 428 CJ. That's another story. We think that engine is a little too big and heavy for these cars to handle as well as they should. For sheer power, yes. For handling, no.

Even though our test car wasn't all it could have been, Firebird trails a way back third. Both the Camaro and Javelin run a dead heat to follow up. Now, go ride your pony. /MT

Performance and Engine/Option comparisons charts (large JPG)
Specifications and Price/Options comparisons charts (large JPG)
---
Top of page