---
Project: Lone Survivor
---
Back to the Javelin Home Page
---
Send me your every thought!

JohnRosa@JavelinAMX.com
---
---
This page has been setup to document the progress of the full-restoration of one of, if not THE, rarest AMCs left:


The only known surviving 1971 Matador 'MACHINE'.

Less than 50 were built, fewer than half were four-speeds. This car is that, and with the largest V8 available, the 330HP 401.

Most folks that know about the 'Machine' will say that it was a 1970 model of the AMC Rebel...and they'd be correct. About 1200 1970 'Machines' were built, all with a 340 Gross Horsepower version of the 390cid-V8 with Ram Air induction thru a hood scoop with a built-in Tachometer. The best known of these were painted white and treated to reflective stripes in red, white and blue, while others were available in normal solid colors with hood blackout.
For 1971, Rebel was re-designed and re-named 'Matador', and without much fanfare, the 'Machine' option was still available.... but the red/white/blue paintjob was gone as was the Ram Air, hood scoop/tachometer. However, now you had a choice of two engines- a 285HP 360cid-V8 and a 330HP 401cid-V8. All '71 'Machine Go' Matadors came with-


Dual Exhaust
15"x7" 5-slot 'Machine' wheels
E60x15 Polyglas white-lettered tires
Space-Saver spare tire
Power Disc Brakes
Handling Package (Heavy-Duty Springs, Shocks and Rear Anti-Sway Bar)

There is no decal, emblem or other obvious external marking on the car to indicate it is a 'Machine', so spotting one is quite a task if the original wheels and rear-sway bar are missing. Even the VIN doesn't tell as there were many 360 and 401-powered 2-doors built with an Automatic Transmission that didn't have the 'Machine Go' option (All four-speed manual transmission cars are 'Machines', as the manual tranny wasn't available without the Machine option. Only the automatic cars are Machine 'maybes'. About the only way to be certain is to find the original window sticker, dealer invoice, or build sheet.
It's funny to note that a Twin-Grip rear differential is *NOT* part of the 'Machine Go' package and not required for it! Imagine trying to plant all that power to the pavement with a one-legger!?!
Click HERE for a scan of a portion of the options list for 1971 Matadors, showing the Machine Go package option, it's detailed description, and the Handling Package that is part of the Machine Package.

The car has changed hands several times in the last few years, each owner deciding the rust damage was more than they cared to tackle. Luckily for this car, it is now owned by Brad Denning, of northern New Jersey, who has begun the mammoth task of bringing this car back from the brink of death. Read on for more on this car....and visit his other 401 Matador Coupe at the bottom of this page!
---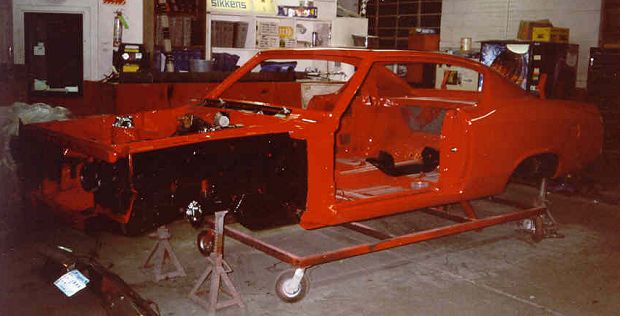 Reborn in Red, the Sole Survivor is ready for some wrenchin'!

12/22/02: It's been over four years since this car's last update here! Thanks to everyone that has Emailed for updates, but until now, there wasn't much to report! Brad was pulled away from the project long enough to lose interest. He even had tried selling the car unassembled, but there were no takers. But this year, he caught the itch again, and he's at it again. On 11/29, Brad said, "The body shell is complete and will probably be in paint by next week!! It came out 1st class!!! The rear, trans and engine are going to the machine shop Monday to be rebuilt. The body will be painted torch red with a black hood center and a rebel scoop and tach, no vinyl top. Somewhat souped-up 401 and 3.54 or 3.73 gears."
On 12/19, Brad reported the paint is done and re-assembly is underway!the car has been painted and the drivetrain is undergoing rebirth as I type this. Purists may want to take a deep breath, but Brad has taken a few liberties with the car, so don't expect a factory-correct resto on the car. But those that would complain that the car isn't being given a 'factory-correct' restoration should note a few facts.
This car was so badly rotted, no one but Brad was willing to do the restoration. Other potential buyers felt that moving all it's salvageable parts (and it's VIN) to another, more repairable car was the way to go. Folks, that's not 'restoring', it's re-badging, and it's not only unethical- swapping the VINs is illegal.
The car went unsold for YEARS because of it's deteriorated condition. Only Brad thought, "Yea, I can handle that."
Brad's money and effort went into this car- not anyone else's. It's his car to do with as he wishes. Anyone not liking that fact should have bought it years ago, and fixed it their way.
If not for Brad's efforts, by now, this car might have long ago gone to the crusher, leaving ZERO '71 Machines in existence.
The fact that Brad is taking the car this far back to life, purists can take heart that if and when Brad tires of the car and decides to sell her off, they can then put their money where their mouths are and buy it, and restore it to factory specs- having a much better starting point than Brad did!

Sermon over...on to the new pics-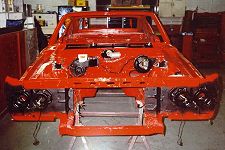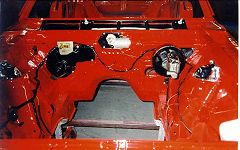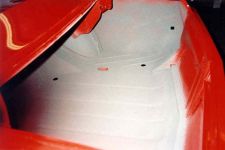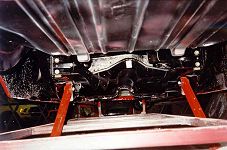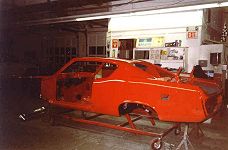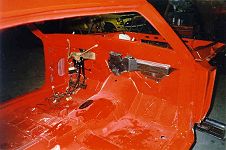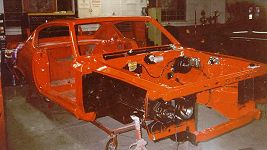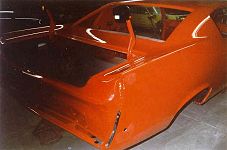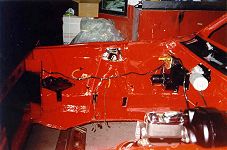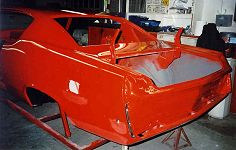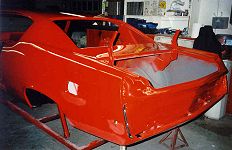 ---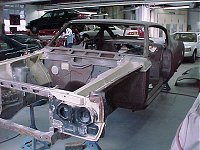 (4/28/99)- I visited Brad at the body shop today where his 'Machine' is undergoing it's rebirth.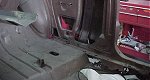 When Brad first acquired the car, it was considered a total-loss due to rust, and a person would need to be crazy to attempt to repair it all.
Above are a few shots of the driver's side floor of the car as it is right now. Now imagine the rest of the car looking like this and worse! But Brad is determined to not take any short-cuts. Certainly, swapping the car's VIN and Machine-specific parts to any other rust-free 2-door Matador body would have been easier...and most people wouldn't know the difference. But Brad would, and that's reason enough for him to spend the necessary time and money to bring this unique piece of AMC history back to life.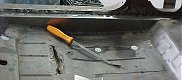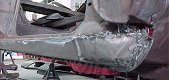 Here is the reconstructed passenger-side rocker area. Note the attention to factory details.





The shock towers and surrounding inner fenders were grafted in from a parts-car donor.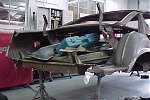 The right quarter panel is cut away, preparing for it's NOS replacement.
Note the rot holes all along the rear edge of the trunk floor pan.
Until buying this car, Brad was a Chevy man from childhood. But once he started tearing this car apart, AMC syndrome got under his skin...and other AMC nuts know the syndrome. It's a condition that forces the victim to not only adore their AMC vehicle to the point of annoying all their friends and family....but it quickly spreads, causing the victim to want...no....NEED more AMCs.....two? Three? More!? No problem! Brad is suffering with visions of an entire stable of rare AMCs, and his second purchase has already been made. It's the '74 Matador Coupe 401/4-speed at the bottom of this page! And that twinkling is his eye is the SC/Rambler he's considering buying next. AMC Syndrome...it never fails!
---
Another front shot

11/21/98: "All the new pics show how I sectioned the upper shock towers & cowl with parts from a 72 rust free mat wagon ( if you look at the 1st pics you could see how badly rotted the cowl & towers were). The frame pictures show how one of the my fabricators (Cosmo) carefully made templates and repaired the rusted out frame sections with 14 gauge steel to restore the strength as well as the original look"
---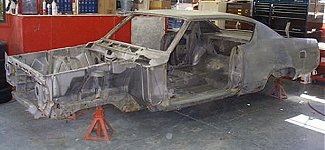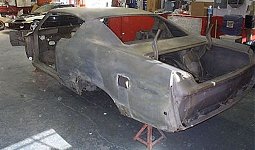 10/02/98: These pics show the car stripped of everything, acid-dipped and being readied for serious reconstruction. Cars don't get any rarer than 'one of one in existence', so no expense is being spared to complete this car RIGHT. Stay tuned for the progress!!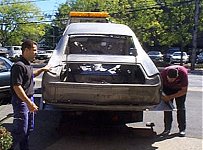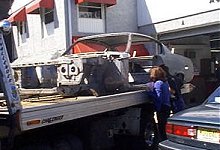 Much more to come....

---
Brad Denning's '74 Matador Coupe 401...
---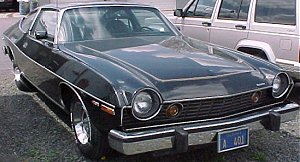 Brad acquired this beauty in 1998 in California. The mileage is in the 80,000s yet you'd swear it was one tenth of that. This baby is CLEAN!
The original owner didn't like the fact that AMC wouldn't factory-build a 401, 4-speed Matador Coupe, so when the car arrived at the dealership, the technicians there did a complete conversion using available AMC parts... and what a nice job!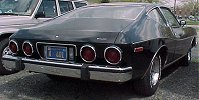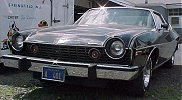 The body and paint on the car are simply outstanding. The chrome gleams with not a trace of pitting, the pinstripes are crack-free.





Even the interior is flawless. Note that the Vise-Grips on the shifter are there to keep it from falling out...the 401 was running a bit sluggish, so it and the tranny were yanked for a freshening up and will go back in shortly. At that point, this car will become Brad's daily-driver!


---
Top of page
Back to the Javelin Home Page