---
The Sincerest Form of Flattery:
---
Don Currie's 'Anti-Crime Roadster' For Sale!
CY Productions' "FUTURA II" For Sale!
NEW! Gilles Franc's Cadillac-based Batcar
'Nelson's Garage', South Dakota
At the Taj Mahal
The Caped Canadian
Clark Enslin's Car
Guiness' Car
Cars of the Stars Museum, Keswick, England
A Nice Futura-copy
'Fantasy Cars'

---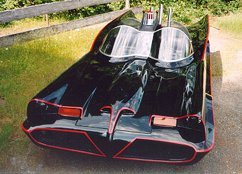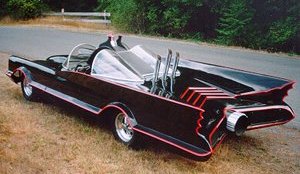 Don Currie, who built his first Bat-replica back in 1986, has built this beauty, powered by a Mopar 440cid V8...and it's now for sale at $55,000 US! Kits start at $12,000! See his website at:

http://www.islandserve.com/~dc99/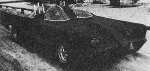 And here's a photo out of a magazine from around 1991 of another home-made Batmobile replica. The magazine said it was under construction and would receive a 440-V8. As it turns out, this car was one of Don's earlier Bat-creations!

---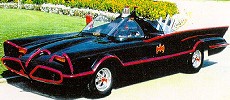 Clint Young is selling this sharp Bat-replica, called the 'Futura II', for $99,000, as well as complete kits to build your own at around $18,000! They are featured at the CY Productions website. They ARE STILL AVAILABLE, so visit them and contact Clint Young directly if interested.
Original reports said this replica is based on the #5 Batmobile, though this car has hood lines that mimick the original 'Futura/#1' car. This fact, coupled with other reports from my sources, state that in reality, Clint's car WAS to have a body formed from molds made off the #5 car, but those molds uncovered the fact that the #5 car is mis-aligned and sort of 'bent', as the new body wouldn't line up properly on it's frame. So Bob Butts arranged to borrow the #4 drag car for a few days, dis-assembled it, and made a new mold from it...and THAT is the mold that gave Clint the gorgeous body above.
So, if you like what you see, I've got 8 more close-up shots of the car for you RIGHT HERE!. As I'm not selling anything, I can show you the car as it is actually built (with it's 'Bat-logos' in place), while Clint's site shows the car minus the logos, for the usual legal reasons. Enjoy!
---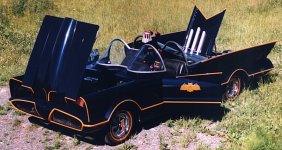 Another Northern beauty is this 1966 Cadillac-based Batmobile replica built by Gilles Franc of Sorel, Quebec, Canada. It was a six year project, started in 1991, and this photo shows a few interesting differences from other real and replica Batcars- like the hood scoop's protrusion is attached to the hood and goes down into a slot in the nose piece when the hood is raised. Also, the door bats are somewhat detailed rather than simple outlines. Not to mention the...interesting.....redwall tires?!?

---
12/8/98: This car is on display for several months at 'Nelson's Garage Performance Car Museum' in Sioux Falls, South Dakota, and is a nice replica belonging to David Bell, a police officer in Nebraska, who has provided the car to 'Nelson's Garage'. These pictures were provided by Ernie Renn.

Call 'Nelson's Garage Performance Car Museum' if you like at 605-338-4884 or visit their website at
http://www.performancecarmuseum.com
---
---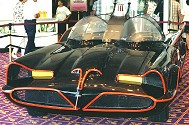 This replica was featured at an event at the Taj Mahal Hotel/Casino in Atlantic City, New Jersey in July, 1995. Judging by the details of both the body and interior, I'd guess it is one of the CY Productions kits. The interior is a combination of the #1 and #5 cars, with an interesting guage setup in the steering wheel. The afterburner details are very similar to the car CY Prod. has been trying to sell for some time (see above). On this car's fender, it says George Barris, Warner Bros. and DC Comics have 'licensed' the car but what the details of that license are is unknown at this time.
Here are more pictures of this car!
---
This Canadian Bat-repli-car, originally built in 1992 by Don Currie and his then-partners, is heavily 'upgraded' when compared to the 'real' cars. Owner Brad Moore decided that rather than build a 'correct' replica of the TV car, they would instead try to make his car 'functional' for street driving AND to have all the Bat-gadgets working!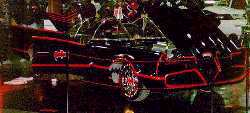 For driveability, this Batmobile would be completely STREET-LEGAL if it had wipers, and has working turn signals and other street touches. It has been driven at 60mph for sustained periods thanks to a 'push/pull' cooling system that has eliminated the famous over-heating problems of the original cars.
As for gadgets, almost everything works. The Bat-phone 'blinks', the chain-cutter pops out, the rocket tubes blow smoke... and it fires a 30 to 50-foot long flame out the back! More pictures are RIGHT HERE!

---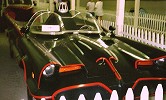 This is a picture of Clark Enslin's Bat-replica. It was reported by Ziebart representatives that Enslin's car is the one used in their new commercials starring Adam West. I've also heard that he has very recently (June '97) been negotiating a deal to have his car make some public appearances in the NorthEastern US for Ziebart. Mr.Enslin is also said to claim his car is one of the 'Barris original' cars, tho the details say otherwise. I had thought his car had black trim around the canopy glass, not chrome as the car in Ziebart's commercials has. Perhaps Enslin has made changes to it. It does have cheapy 70s tear-drop side mirrors and big, gawdy side-marker lenses. The wheels appear to be Cragar SS, like on Chinery's #5 car.
Overall, it's a sharp-looking copy, but if only a few details were cleaned up. The speedometer is a standard 70s 'sweep' guage. The steering wheel is an aftermarket piece. Nice touches are that steering wheel and the gas cap above the interestingly-detailed afterburner.

Here are more pictures of this car!
9/18/97: A sharp-eyed visitor pointed out that Clark's car has an unusual 'bulge' in the hood near it's rear edge on the driver's side. He suggested it might be a hood-tach, but I see no hint of a guage face. I'm betting it's there for clearance of the master brake cylinder, which many cars, with power brakes, have mounted at an extreme upward angle. Rather than modify the brake setup, the builder instead chose to add this 'bulge'......silly, eh?
---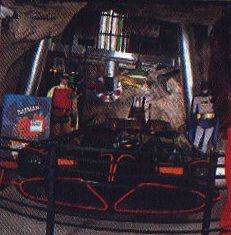 This picture is of a Bob Butts-built Bat-replica, on display at the Guiness World Records Museum, 631 Parkway, Gatlinburg, Tennessee [423-436-9100]. This museum once had the real #4 drag Bat-car on display, but money concerns forced them to go with a replica later.
---
Yet another Bat-replica is at the Cars of the Stars Museum in Keswick, England!
---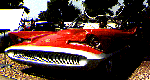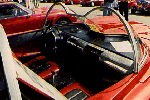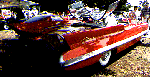 Here's a beautiful Futura replica at a car show...where and when, I don't know. Look closely at the interior and you'll see a correct steering wheel with turn signal buttons and all! One obvious error is the lack of front turn signals that should be set in the grille at each side. Instead, they've been put where the Batmobile has them (and where small grilles should be)...in the slot next to the headlamp openings. But still, a beautiful facsimile!
---


These pictures below were taken from the Bob Butts' 'Fantasy Cars' website that was looking to sell these replicas of the Futura and Batmobile...for $80,000 and $120,000 each!!!
For all I know, these are the same two cars noted above.
---
Top of page