Back to the library page
---
from: January 7, 1990, The Associated Press
[used without permission]
Note: [brackets] indicate corrections I have made to the article, and I alone am responsible for the information between them. All photos included here are intentionally of low quality to encourage you to purchase the original publication for the clearer pictures.
---
Scott Chinery
is young, rich and drives the Batmobile.
By Jo Astrid Glading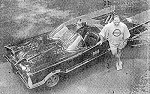 Scott Chinery stands beside the Batmobile at his Dover Township, N.J. home.
He bought the super-hero chariot, one of two used in the 1960s television series,
[just the #1 car appeared on film, no others] for $180,000 last year [1989].
DOVER TOWNSHIP, N.J. -- Never mind how Scott Chinery made his money. Consider instead that he claims the largest collection of pre-Castro Cuban cigars this side of Havana.
He counts between 11,000 to 12,000 of them, some 30 to 40 different brands.
Add to that about l00 guitars, dozens of valuable watches, 14 expensive cars, up to 3,500 comic books - including first editions of Batman and Superman - and a Batmobile and a Batcycle with sidecar from the 1960s television series. The latter two items cost him $240,000, but with Batmania revived by the new movie he says he's been offered $2 million for the car alone. He isn't selling.
In short, Scott Chinery, a multimillionaire by age 29, is larger the life. In fact, he stands 6-6 and weighs in at 275 pounds. Shaking his hand is like grabbing hold of a small ham.
He'd be smaller today, but as a kid he wanted to be bigger, and a college football coach told him steroids would do it. He quickly added 25 more pounds of muscle to an already impressive frame. That's how he made his money, selling what he calls a safe alternative to steroids to others who, like him, wanted to be bigger than nature intended. The Batmobile investment brought him fame faster than steroids put muscles on a 98-pound weakling.
"Want to go for a ride in the Batmobile?" he offers- "You cay be Robin." A visitor to his palatial garage has to step past the Bentley convertible, the Rolls-Royce, the Lamborghini Countach and the 1958 Thunderbird before getting to the sleek, black piece of television Americana.
Tne Bentley; incidentally, sports a $40,000 sound system, the floor strewn with compact discs, including his favorites, the Judds. "I'm in love with Naomi Judd." he confesses. The rest of his cars, a mint condition 1962 VW bug and a 1961 Corvette among them are warehoused.
Tne Batmobile, Chinery's prize possession, still bears its "Gotham City" license plates. It's sister vehicle, the only other in existence, remains impounded in Australia where it was involved in an accident.
[OK, this is true if you only count the STEEL cars as 'real' Batmobiles. I count Chinery's car as LESS 'real' than the 3 fiberglass cars due to this car NOT being made by Barris, but opinions vary. : ) ]
But at the risk of disappointing middle-age Bat fans, [this] Batmobile is a stretch[ed] Thunderbird (14 inches longer), laden with what are nothing more than Bat props.
The red Bat Phone is just a metal facsimile held to the holder by a magnet. The Bat Chute is just a red button. So be the Bat Ram, the Bat Ray, the Bat Scanner, the Bat Detect-A-Scope and the automatic tire repair.
It's a virtual Bat sham. Only the television works, and it's black-and-white. New York developer Donald Trump called one day to ask for a ride in the Batmobile and Chinery agreed to a three-block spin from the Plaza Hotel to the Trump Tower, providing Trump returned the favor with a ride in his helicopter. As they soared over Manhattan, Chinery recounts, "He said, 'I'll show you what I own'," promptly pointing out just about everything in sight.
Now Chinery is ready to roll, but the Batmobile is out of gas. He runs down the battery trying to start it.
Like a kid with lots of toys but a short attention span, he moves on to other pursuits and asks his aides to push it out of the garage, pump some gas and give it a jump-start from the Batcycle.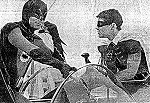 As Robin looks on, TVs Batman talks on the Bat Phone,
one of many Bat devices in the Batmobile.
A ruthless practical joker, Chinery's home security system has one camera trained on the front door. To torment visitors, he can hit a button next to his desk and spray the unsuspecting callers with water.
For his daughter's first birthday, he ordered a full-fledged circus for the back yard.
At the end of a national television interview, Chinery, in the midst of a divorce, confessed that being young and rich can get lonely, and what he'd really like to collect is a kind and loving wife.
He received more than 24,000 calls on a toll-free line. Callers were asked to send letters and pictures, and 12,000 did. Chinery talked to 1,200 of them by phone and had dates with 34. He's dated three of them more than once. His office is cluttered with the guitars - one belonged to rock star Rick Derringer and another to Eric Clapton - and he collects antique carnival games. A wooden Uncle Sam invites: "Shake with Uncle Sam. Only one cent. He will tell you the strength of your grip."
But Chinery's penchant for adolescent pursuits ends when he talks about steroids.
He said he and others he knew often took massive doses, downing a half bottle of black market steroids at a time.
"They were being misused then more than now, even though they're more widely used now," he said.
Normally easygoing, he recalls bouts of "roid rage," an uncharacteristic urge to destroy that often strikes steroid users.
When a neighbor in his college dormitory refused to turn down his music, "I ripped the Sheetrock down but I couldn't fit between the rafters. I went around through the door and then I pushed him through the ceiling."
The steroids wreaked havoc on his body: He landed in the hospital, ended a promising football career and dropped out of college.
Chinery came back with a vengeance. After spending years researching safe alternatives to steroids, he marketed his product called Cybergenics and quickly built a multimillion-dollar business.
He started out as a shoestring mail-order operation. Now he markets his product through 2,000 retail outlets in several countries. He sells a sophisticated blend of amino acids and a protein supplement, along with a workout guide and video - sort of a Jane Fonda of bodybuilding.
He lists a litany of nasty side effects that steroids can cause; liver damage, kidney damage, hair loss, enlarged breasts, impotence, high blood pressure. And he campaigns actively against them.
A handful of bodybuilding authorities say Chinery's product is a useful alternative to steroids.
Dominic Certo, former vice president of the International Federation of Body Building and a former Mr. North America, said the results at gyms have been good.
"I couldn't say scientifically that they're as effective as steroids. I could say they're the best alternative to taking Drugs," Certo said.
Robert Kennedy, publisher of the Toronto-based Muscle Mag International, agrees.
"It doesn't work like steroids," Kennedy says, "steroids work like a kind of magic. They'll kill you, of course, but the steroids will give you immediate size within a day or two. The muscles just become rock hard, and people get hooked on them."
Chinery knows the market to which he is appealing is a vulnerable one. "These people out there are so impressionable and so motivated- motivated to the point of obsession," he says.
These days, Chinery is flexing his financial muscles in other ventures. He's taken up charitable causes, working with epileptics and terminally ill Children.
He couldn't find a decent car stereo store, so he opened his own and installed a $40,000 sound system in his Bentley.
He loves a good cigar, so he markets his own line.
As he pulls out of his house in the Bentley, some teen-age girls are parked out front.
"Hi Scott," they say in unison.
"They're not groupies," shrugs Chinery, "I've got lots of groupies, but unfortunately, they're all skinny guys who want to be big"
---
Top of page