Back to the library page
---
from: 'Batmania II' 1992 Pioneer books Inc., Las Vegas, Nevada
[used without permission]
Note: [brackets] indicate corrections I have made to the article, and I alone am responsible for the information between them. All photos included here are intentionally of low quality to encourage you to purchase the original publication for the clearer pictures.
---
Although the Batman series in the Sixties marked the third time the character was put on-film, it was the first time anyone attempted to create a dynamic version of the Batmobile, or any other other of the Batman's weird arsenal of crime-fighting vehicles.
GEORGE BARRIS:
BUILDING THE BAT-VEHICLES
By James Van Hise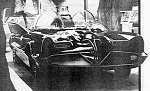 Bursting out of the concealed entrance of a secret cavern, the sleek transport of the caped crusaders races down the highway on its appointment with crime-fighting in Gotham City. It's dual canopy in a distinctive bubble design, and long, black body with red pinstripes and trademark bat-emblems mark it as the one-of-a-kind Batmobile! But was there really only one? As we'll soon discover, there were actually five of the black beauties built for the 120 episode run of the Batman TV series.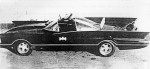 Even though there were two Batman serials made by Columbia Pictures in the Forties, neither featured any version of the Batmobile which had already become so familiar to comic book fans. In fact in the serial, Batman and Robin drove a plain, un-marked car which wasn't even sleek or distinctive by 1940s standards. It wasn't until twenty years later that the character would get the full Bat-treatment when television introduced the colorful and consciously visual adventures of the dynamic duo to anyone with access to a television set.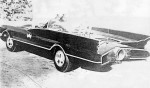 Originally producer Willing Dozier had lined up Dean Jeffries to design and build the Batmobile in 1965, but this was when Batman was scheduled to premiere in September of 1966. When ABC desperately needed a mid-season hit to prop up their sagging schedule, they decided to let Batman fly eight months early. This made if impossible for Jeffries to work the suddenly accelerated deadline into his schedule. Dozier then turned to George Barris of Barris Kustom Industries, whose work had begun to garner a lot of attention by the early Sixties.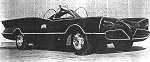 The original Batmobile was actually a customized Ford Futura, a unique experimental car which had previously appeared on-screen in the Glenn Ford/Debbie Reynolds comedy 'It Started With A Kiss' (1959).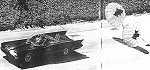 "The Futura was built way back in the Fifties," Barris recalls today, "It's not a production car. The Futura was the product of designer William Schmidt and the car was released to me when I was with the Ford Custom Caravan. I would take these experimental cars that come from the division and use them for film work In this case, I wanted to use the Futura because it already had the double bubbles. All I had to do was remove a part of the central section and keep the fore and aft. Then I put in the arches, lights and everything else. Using the Futura enabled me to save a lot of time and I only had three weeks to build the car!'' Other work on the car included extending the drive train eleven inches to compensate for the specially sculpted 23 foot aerodynamic' body, The engine is a moon-equipt 429 racing Ford, with dual Granitelli Paxton turbo chargers [correction, SUPER chargers] and nitro oxide thrust control. It also has a hydro-trans mounted into a locked positraction rear end.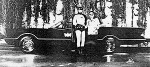 Barris was one of the first of the custom car designers to hear the siren call of Hollywood in the Fifties. Born in Chicago in 1925 he moved to California when he was three where his family opened a Greek restaurant in Sacramento. Although his family assumed their boy would get involved in the family business as he got older, George's interests were already expressing themselves in other directions.
At seven, Barris built balsa models of cars and by nine he'd become skilled enough to win local contests. By the time he was thirteen he'd learned enough from hanging around a local body shop to take on his first full-scale custom job, a castoff 1925 Buick owned by his mother.
During his high school years he developed his skills further by taking courses in art, mechanical drawing, wood shops and metal-working and applied what he'd learned to restyling a 1929 Model A and later a '32 Ford roadster. In 1940 he customized a '36 Ford convertible with such added features as an alligator hood, frenched headlights and fenders and push-button doors. This '36 Ford was the first car George referred to as a 'KUSTOM' with a capital "K," a trademark Barris retains to this day.
Barris moved to the Los Angeles area in 1945 and opened his first shop, in suburban Lynwood. Customizing enthtlsiasts were attracted to the new Barris Kustom Industries and with the Hollywood film community nearby, his roster of customers soon included such celebrities as Clark Gable, Donald O'Connor, Liberace and Keenan Wynn. Over the years these ranks of satisfied customers swelled to include such notables as Jayne Mansfield, Spike Jones, Barry Goldwater and others.
In 1957 disaster struck in the form of a raging fire at Barris Kustom City which destroyed the shop and 14 cars. Although George considered abandoning the smoldering remains of his business, his new bride, the former Shirley Nahas, convinced him otherwise. In less than a year he'd turned things around due to the success of his restyled '29 Model A Ford pickup known as the ALA KART which became one of the top show cars of all time. It was even released as a scale model kit.
At the 1960 Detroit Auto show, Barris displayed the XPAK-4OO, a machine which looked more like a flying saucer than a car and in fact appeared on a Sixties TV series as a small spaceship.
The Ford Motor Company took an interest in Barris and invited him to take part in its famed Custom Car Caravan for which George built six cars and toured the country with them.
Barris continued building show cars and other vehicles for various companies and relo- cated from his Lynwood shop to a larger facility in North Hollywood in 1961 . His mo- tion picture clientele increased and included custom vehicles built for such luminaries as Frank Sinatra, Dean Martin, Elvis Presley, James Darren, John Derek, Mike Connors, Adam West, Robert Vaughn and Sonny & Cher.
Motion picture and television had proved to be an outlet for Barris Kustom Industries as far back as the first episode of Jack Webb's Dragnet in 1952. He later built a special coupe for the Dobie Gillis series as well as the outrageous Munster Koach and Drag-u-la vehicles seen in the original Minsters. But the most well known television car of all time remains the original Batmobile which appeared in the first episode of Batman even before we were introduced to Batman and Robin!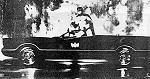 And to answer an earlier question, just how many Batmobiles were there built during the 1966-68 run of the Batman series?
"There were five Batmobiles made," Barris reveals, "the number one and number five were metal cars, with the stunt car being number five [Number 5 has never appeared on film and was not built by Barris]- Number two and three are Fibreglass cars and I still own number two. I've got the number one car and it's in Australia on a world tour, the number two car is also on tour"
The other three cars have all been sold to museums or private collectors, as Barris explains.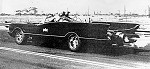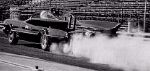 "The number three car is in Gatlinburg, Tennessee in a permanent museum [this car is actually #4]. It's the drag race car which had the bigger engine and locked rear end. It was sold out of the Chicago museum for more than $100.000.
"The number four car [actually #3] was the exhibition car which went out on tour in the United States in the Sixties, and it's owned by a private collector in New Jersey [actually, this car is in Branson, Missouri at the 'Legends' museum and is for sale. The car Barris mentions is really a replica owned by Clark Enslin, a New Jersey collector]. It was sold by me in my auction in 1983, also for more than $100 000.
The number five car, Barris continues, was sold six months ago [1989] to a man in New Jersey [Scott Chinery] for $185 thousand. His wife bought it for him for his 28th birthday.'' Some birthday present!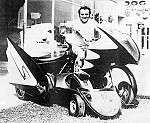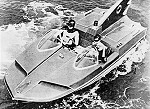 Barris Kustom Industries also built the the Bat-cycle and the Bat-boat for the 1966 movie, Although both were made to be first seen in the motion picture, the Bat-cycle was completed early enough for an episode late in the first season of Batman. Barris also knows where all of these vehicles are today.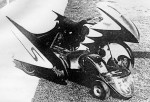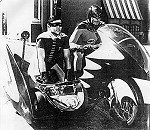 ''There were four Bat-cycles,'' Barris states, ''one of them is in San Diego at Fantasy Cars, Another is in the museum in Gatlinburg and one is in Chicago, We also have one of them out here.''
Regarding the spiffy Bat-boat, Barris says that there were two of them, but only one still exists.
"One of them was dismantled, The other one is at the boat yard where we're restoring it right now.''
The number two Batmobile was also undergoing some restoration work to refurbish it for a June 23rd, 1989 benefit screening in Los Angeles of the 1966 Batman movie, a gala event scheduled to have many of the original series stars in attendance. Barris had also had the Batmobile and the Bat-cycle out to film new promos for the Fall re-syndication push of the 1966 series being engineered by 20th Century Fox Television [#2 was sold by Barris about this time].
"We've been filming for two weeks with the cast at the Culver City Studios, which is the original studio we filmed at in the Sixties,'' George Barris enthusiastically explains. "We used the actual soundstage that we filmed at except that now we did interviews and wraparounds. We had the original Cat set, the original Pharaoh set, the original Gotham City signs and some of the skylight of the background. So we were fortunate to reuse that for the re-release of the TV series as well as to promote the home videos.''
Barris Kustom has remained active producing vehicles for film and television work over the past two decades, including vehicles seen on Knight Rider, Stingray, The A-Team, Street Hawk, Dukes Of Hazzard and Miami Vice. Although the walls of his North Hollywood studio are covered with over a hundred photos of customers and their Kustom cars, he knows the Batmobile will remain his most famous production. After all, how many twenty-five year old cars can support a world tour?
---
Top of page