---
AMX/3: Car "A"- The In-Studio Mock-Up
(referred to as "A" in the following text)
---
Send me your every thought!

JohnRosa@JavelinAMX.com
---
The following are the pictures I've collected recently, trying to detail the differences between the 6 or 7 existing AMX/3s. Your opinions and observations are welcome and invited.
---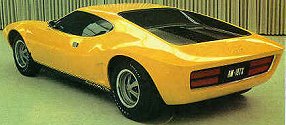 According to John Mahoney-
"What I'll call "A" is the final Plymouth Road design studio mockup.

This is one of two oft-seen mid-'68 photos taken in the AMC styling
auditorium and shows the Di-Noced and foiled final full-size mockup.  I
believe it's a fiberglass model (as was the AMX/2) rather than a wood-
armature clay, but the 7- [?] spoke wheels (that never reached production)
were custom made in Italy to a design seen in the "final" rendering release
(See Main page artwork) and are likely fully weight-bearing castings rather 
than just Saffalloy or plated plastic for show. 

Car "A" was a refinement of the AMX/2 competition model unveiled in 1969
(within AMC early in February '69 and publicly at the Chicago show later
the same month), and its concept was Teague's with significant fleshing-
out by Fred Hudson and Bob Nixon (interesting names, huh?).  AMX/3 "A"
buck sizing was somewhat changed from AMX/2, it being wider and with
certain other proportions minimally-altered perhaps as a result of
influences derived from the Ital Design competition entry penned by
Giorgio Giugiaro, which was slightly lower [!] and longer than the AMC
studio design.  Guigiaro's car was Fome-Cor, not fiberglass, probably
to minimize construction costs and shipping weight from Italy to Detroit. 

"A" also usually served as the photographic model for AMX/3 detail and
image renderings used both in-house and for various media releases."
---
Send me your every thought!

JohnRosa@JavelinAMX.com
---