---
AMX/3:
AMC's regular production mid-engined sports car.....if only.....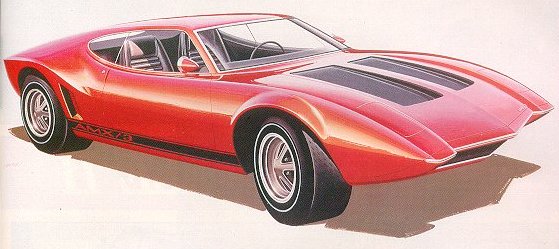 Note that in the artwork above, the car has no side-marker lights, no wipers,
and the black hood inserts have no vent louvres. The door mirrors are body colored.
---
Send me your every thought!

JohnRosa@JavelinAMX.com
---
The following are the pictures I've collected recently, trying to detail the differences between the 6 or 7 existing AMX/3s. Your opinions and observations are welcome and invited.

For those unaware of the history of these cars, here's the basics: AMC considered replacing it's 1968-70 Javelin-based 'AMX' two-seat sports car with a mid-engine, Italian-inspired sports car for the 1971 model year. Various prototypes were considered, with the 'AMX/3' version being the one that came closest to going into full-production. Sadly, the project was cancelled after a mere half-dozen (approx.) prototypes were built. These pictures are of those that survive today.

For more detailed info, read a document prepared by John Mahoney HERE.

---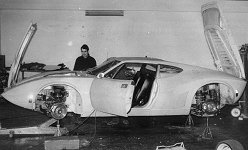 An AMX/3 under construction
Studio Mock-Up
Car #1
Car #2
Car #3
Car #4
Car #5
Car #6
Car #7
Car #8
Car #9
Car #10

---
Send me your every thought!

JohnRosa@JavelinAMX.com
---